Estimated Reading Time: 5 Minutes
Pasta is an unusual type of food to have for breakfast and Ticos usually have Gallo Pinto at that time of the day as you all know by now.
You might not know that soccer is almost a religion in Costa Rica.
Last Friday, the Costarican National Soccer Team had Italian pasta for breakfast by winning 1 – 0 from Italy. With that, head coach Jorge Luis Pinto put Costa Rica on the map AGAIN. All the Ticos were happy and Italians behaved agüevado.
Italy had never expected to be losing from a small and unknown country like Costa Rica. And honestly, I didn't either. See player Brian Ruiz, who scored, celebrating in the photo on left.
The #1 Sport
Soccer is and has always been the number one sport in Costa Rica. Here, we call it futból. If you are thinking of moving to Costa Rica, now is your chance of learning about soccer.  Because as soon as you put a foot on Costa Rican soil, you will have to get used to soccer being more important than anything else in life.
Costa Rica already has a #1 ranking on the Happy Planet Index. I invite you to enjoy the pasta party with us and get a real feeling of what Costa Rica is all about.
Nobel Prize
Costa Rica was virtually unknown until President Oscar Arias received the Nobel Prize for Peace in 1987 for his efforts to end the Central American crisis. The Nobel Prize in combined efforts with the start of green tourism has put Costa Rica on the map for the first time.  And now it has happened for the 2nd time.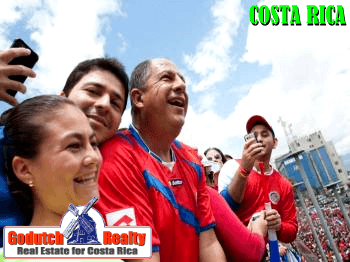 Brazil 2014
During the classification for the Soccer World Cup 2014 in Brazil, head coach Jorge Luis Pinto, a Colombian national, was able to form a strong national team. Nonetheless, they lost a doubtful game played during a blizzard in Denver, Colorado. Therefore, the finished second for the CONCACAF (Confederation of North, Central American and Caribbean Association Football).
The 2014 Soccer World Cup 2014, organized by FIFA is divided into 8 groups. Costa Rica ended up in Group D with Uruguay, Italy, and England, all three former world cup winners.
Anybody who knows a little bit about soccer (my home country Holland is also a soccer-loving country) was sure that Costa Rica was going to have an impossible world cup.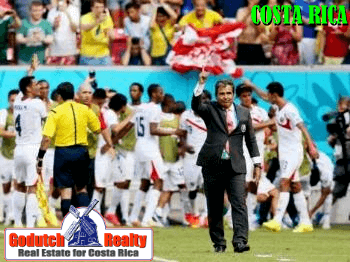 Surprise, surprise!
The first game against Uruguay was won by Costa Rica 3 -1. This was an unexpected turn since Uruguay finished 4th in the last world cup. Right after the game, Costa Rica turns crazy and the people hit the streets.
After two wins against known big teams, Costa Rica now believes history can be repeated. That's because, during the 1990 World Cup in Italy, Costa Rica came through to the quarter-finals. I remember the days of having party time forever.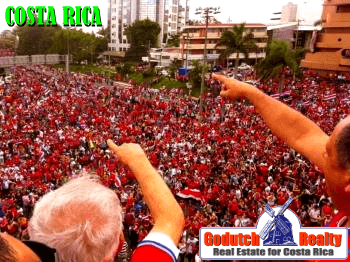 A standstill
Costa Rica President Luis Guillermo Ortiz allowed Governmental agencies to stop working during the game against Italy. Schools were allowed two hours for watching the game. The country was at a standstill.
The unbelievable happened on Friday, June 20th, 2014. Only the Ticos and foreigners who have lived in Costa Rica long enough had the courage to dream of a victory for Costa Rica. Costa Rica was making history by winning two games in a row in the world cup!
La Sele, as the national selection is called, not only surprised all soccer fans by winning 1 – 0! They stopped England from classifying for the next rounds.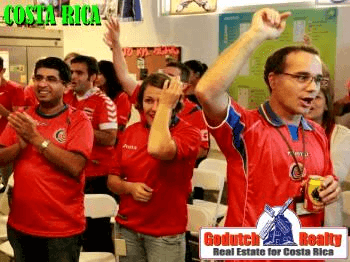 Jorge Luis Pinto
Head coach Jorge Luis Pinto did his homework. He studied videos and all the information he could find on the games played by Uruguay and Italy before. This enabled him to show his players to play a perfect game, TWICE.
Do you like pasta for breakfast? Then keep watching La Sele during the Worldcup!
If you do your homework before moving to Costa Rica as well as coach Pinto did, and you work with GoDutch Realty, your move to Costa Rica will be as successful as the Costa Rican national team. Contact us now!