Estimated Reading Time: 3 Minutes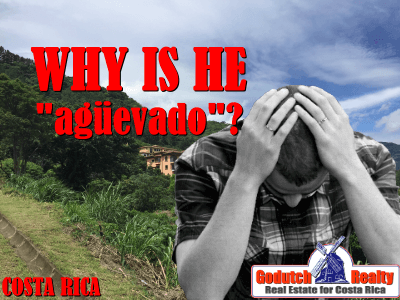 In Costa Rica, the word Aguevado is kind of the opposite of the well-known Pura Vida.
This word is almost as much used as Pura Vida, tuanis, or Mae. So I thought it necessary you include agüevado in your dictionary when you live in Costa Rica.
Moving to Costa Rica is easy; adjusting to your new home country is not. Unless you learn at least basic Spanish, Tiquismos, and even some Pachuco! Let's start today.
Aguevado or agüevado, can also be written as ahuevado, but the "g" needs to be pronounced.
The word agüevado is mostly used to express the mood of a person, but with a variety of meanings.
Depressed
Estoy totalmente aguevado, compré la propiedad equivocada = I am totally depressed, I bought the wrong property.
How sad
Qué agüevado que no pude comprar aquel condominio = How sad that couldn't buy that condo.
Boring
La fiesta de inauguración anoche estaba agüevadísima = Last night's housewarming party was incredibly boring.
Ultra bored, lazy, and a total nuisance – Estoy requete agüevado.
Frustrated
Estoy bien aguevado por no poder comprarme una casa con piscina = I am frustrated because I won't be able to buy a house with a swimming pool.
Annoyed
Aquel corredor de bienes raices no sirve, me tiene bien agüevado = That real estate agent is no good, he annoys me.
Disappointed
Estoy super agüevado con el vendedor, no me quiere bajar el precio de esta casa = I'm very disappointed with the seller; he doesn't want to come down on the price of the house.
Tiring
Me agüeva que me llega tanto spam a mi correo = It is tiring to receive so much spam emails in my inbox.
Bothering
Deje de estar agüevadandonos, ya sabemos que compramos una casa que no nos gusta = stop bothering us, we know we bought a house that we don't like.
Laziness
Estoy demasiado agüevado para ir a ver mas terrenos hoy = I'm too lazy to go see more building lots today.
Many thanks again to Alf Giebler, the writer of "A lo Tico"  and Christopher Howard, who has conducted one-of-a-kind relocation and retirement tours to Central America since 1997.
If you like to learn more about Costa Rican culture and how to prevent culture shock, read more blogs about this topic.
Feel free to leave your comments on this blog and share this article on your social media.
---
If you like this blog, connect with me on Google+ or subscribe to my newsletter by clicking the banner below.

I DO want to remind our readers that we appreciate any referrals you can send us. Please remember the GoDutch Realty agents when you talk about your home in Costa Rica, we appreciate it.