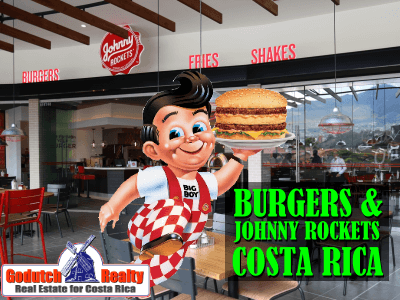 When you grow up with burgers, you cannot live without them. Moving to Costa Rica doesn't change your eating habits.
If you have grown up eating hamburgers and hotdogs, you cannot just start eating Gallo Pinto the next day. The advantage is that if you move to Costa Rica, thousands of US citizens have done so before you did. For that reason, you will find quite a few burger joints all over the country, some good and others not so good.
We Dutch don't really know how to make a good burger or even how to eat one; we eat French fries and mayonnaise. I see how some North American friends love to eat a huge hamburger with all kinds of stuff on it. I've already published a blog about Sports bars, where you can also get a burger.
At GoDutch, we do not only sell you the property you are looking for. We worry about your well-being, the reason for this blog about burgers. We hold your hand way past the closing and we update you all the time on important facts like finding your favorite burger shack for you.
Johnny Rocket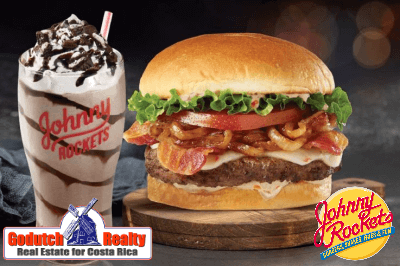 Do you like Johny Rocket burgers? In August 2013, Johnny Rocket has opened its first location in the Mall Lincoln Plaza food court in Moravia, on the north-side of San Jose. A local franchisee expects to open four Johnny Rocket 50's-style burger joints. You'll find several Johnny Rockets on Google Maps.
Tap House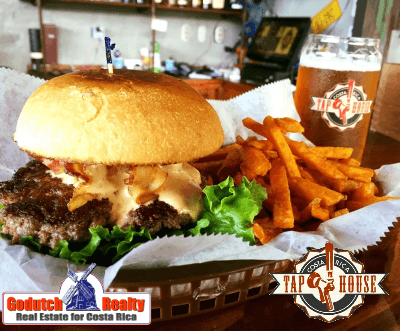 Tap House in Santa Ana City Place and the other one in Escazu should be on top of your list. My favorite is the pulled pork sandwich. But they also offer several burgers on their menu and they have lots of different types of artisan beers.
Tico hamburgers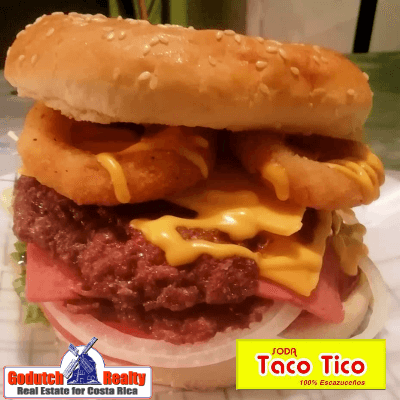 I know it's not the same; it's not what you're used to. But you can go native and get Tico hamburgers everywhere and at half the price you pay for the gringo style hamburgers. Just go into any soda in a Tico neighborhood or a central market in any city, you'll find Tico burgers with French fries.
Henry's Beach Cafe in Escazu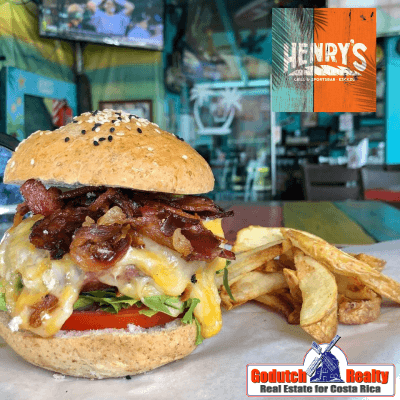 Once you try Henry's huge burgers, you'll keep going back, located only 50 yards from your favorite GoDutch Realty office in Escazu. Henry's Burger, Black & Blue, Cheeseburger in Paradise, Bacon Cheeseburger, Cowboy, Mushroom Cheeseburger, Double Stack Cheeseburger, and an unusual Salmon Hamburger, check it out on Facebook, hit their website or call 2228-0184 – 2289-6250 – 2289-6239. Thursday's is Burger Night and you get 30% off.
Hamburguesía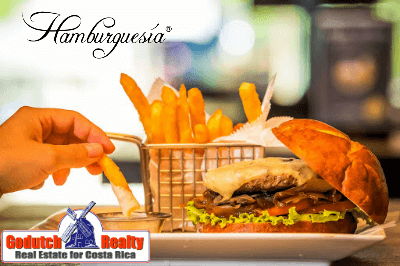 Hamburgesía is the latest burger joint where you can get a gourmet hamburger or build your own. They have several locations, check their website.
Hamburger Factory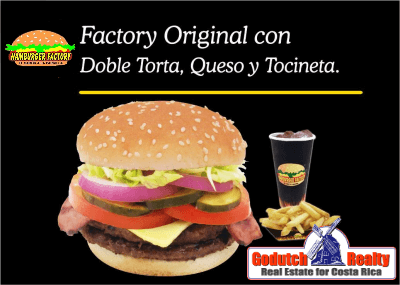 Top of the line Tico-style hamburger restaurants factory with 6 locations throughout San Jose: -Plaza Rofas across from Hospital San Juan de Dios, Calle Central 250m north of the big church, Avenida Central on Cuesta Mora, Mall San Pedro, "El Pueblo", La Uruca, across from Mercedes-Benz. Grilled hamburgers Tico style. You can check their Facebook here or call 2221-5022.
Carl's Junior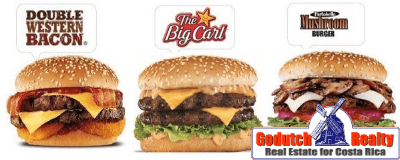 Carl's Junior is now available in many locations. This hamburger chain offers a broad range of burger options made with Black Angus beef, including the single-patty Famous Star, Western Bacon, Portobello, and Chili Cheeseburger. Jalapeño and Guacamole Bacon hamburgers. Check all their locations on Google Maps and website.
Porky's Santa Ana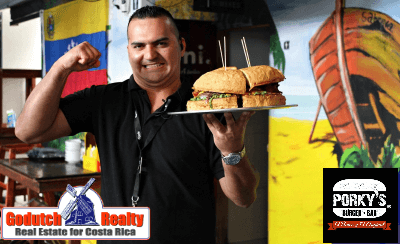 Don't miss out on Porky's in Santa Ana. This well-known establishment is famous amongst Gringos and Ticos alike. They offer almost 50 types of burgers. They're also famous for their ribs. Oh, and don't forget to ask for one of the 180 types of beers they have. They're also in Jaco.
Perro Loco Hotdogs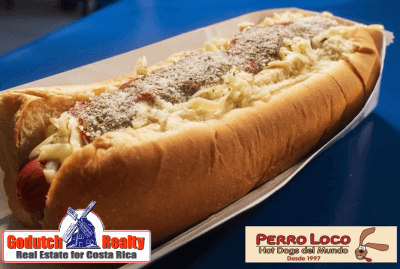 A gringo is not happy until he eats a burger, I know. Dogs are also important, real hot dogs. There is only one place I know of in Costa Rica that has dogs worth barking about: Perro Loco in El Cruce de Escazu, kind of next to Pops in the small strip mall, right on the corner at the traffic light. My friend Leigh Westcott has the best dogs in Central America, you really gotta try them, and they're huuuuuuge.
I wish you a great burger experience!