Estimated Reading Time: 5 Minutes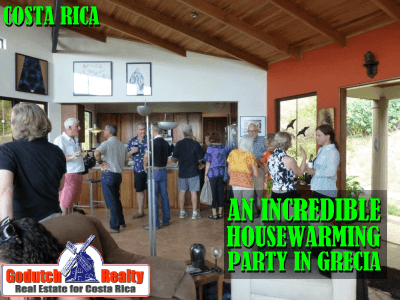 As real estate agents, we have housewarming parties all the time. A month ago, we received an invitation by email from Irina.
The invitation said "Jim and I have moved into our house in El Cajón (the one we bought from Joan & Sally). We would like to invite you to come, chat and mingle. Then you can see for yourselves the projects we have completed. You'll also love the art we have installed, both inside and in the sculpture garden".
My wife Dany and I, of course, confirmed to be part of this housewarming party of their new home in Grecia.
Irina and Jim had moved into their beautiful new view home in Cajón de Grecia in January. They bought the house from our star agent in Grecia, Brooke Bishop.
Grecia is one of those places that have all those different hillsides. If I would have been going on my own I would probably have picked the wrong hillside. For sure I'd have ended up on the Caribbean coast. Brooke was nice enough to pick us up in Grecia. She then also picked someone else up on the way and we arrived at Irina and Jim's house as planned.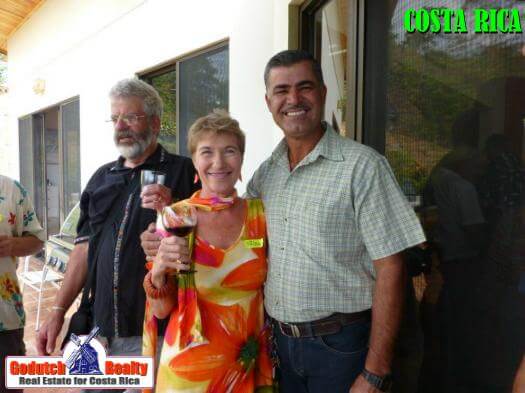 Potluck Party
The term "potluck party" has a much different ring to it than what I found last Sunday.  When I hear potluck party, I picture ladies in their Sunday bonnets and June Cleaver dresses. Imagine them teetering in high heels while carrying a large dish covered in a checkered cloth.
Look at these pictures and judge for yourself. The people gathered at the housewarming were a bunch of friendly retirees in shorts and on flip-flops. All men are somewhere between 40 and 75 years old. I think most of the ladies were way under 50.
Food
Potluck also suggests a random assortment of dishes. There was plenty of it since everybody brought a variety of dishes, desserts, mixed fruits. While the hosts had taken care of the pork and chicken.
The food at the housewarming was really good just like the drinks. Ligia, the housekeeper took care of getting me enough ice for my rum 'n coke. I also saw plenty of wine going around.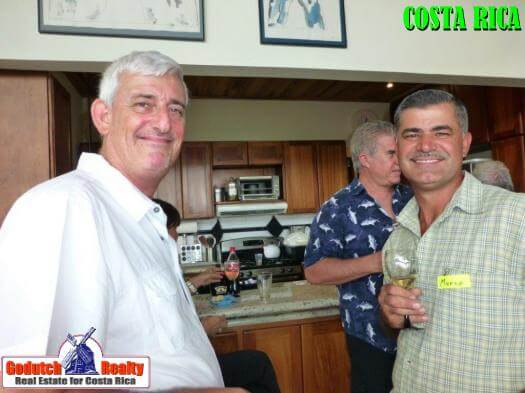 Meeting people
The Grecia ex-pats, as well as the Atenas ex-pats, seem to do potluck parties quite often. It is a great way to meet people "in town". You can pick the people you're interested in without being nasty about the ones you don't like.
I've never seen this kind of happenings in Escazu and Santa Ana. There, the international community doesn't stick together as much as they seem to do a little further "out of town".
Strangers
Then Irina balanced herself on the couch for her housewarming speech. She mentioned she didn't know half the people at the party.
That's exactly what this is all about. Get to know as many people as you can when you plan a party like this. Just tell all the people you have met to bring anyone along. I was surprised at so many people enjoying themselves and mingling. Here are some great housewarming party ideas if you don't want to do too much work.
The great open floor plan of the living room and kitchen helped everyone feel at home. Also, the large balcony to the views was full of people all the time. And we definitely enjoyed all the incredible art in the gardens and inside.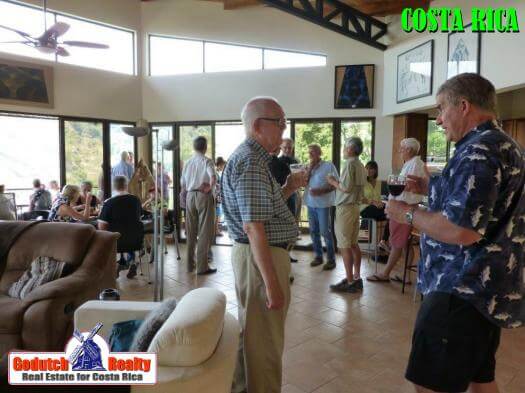 Adapting to Costa Rica
I did notice a few people had a hard time finding the location of the housewarming party. Although the hosts gave the exact address of the new home in their invitation. It's the exact address that some don't understand. That's because a Tico address is different than what you are used to. Especially when you go a bit out of town into the rural areas.
Plan to be moving to Costa Rica soon? Then you should look at homes for sale in Grecia with our agent Brooke Bishop. She is a great person and you'll love her as much as everyone else. I invite you to ask Brooke when you're ready.
---