Estimated Reading Time: 6 Minutes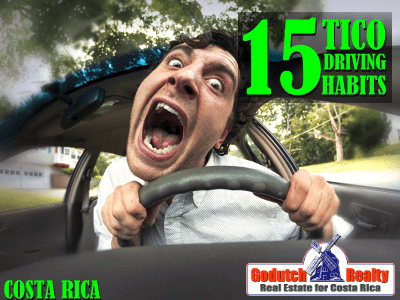 Driving habits are different because most drivers in Costa Rica probably don't have the discipline you might have. Learn about Costa Rican driving habits before you move to Costa Rica.
In my opinion, the reason is that the Latin-American mindset when driving is different.
Some might think I'm trying to ridicule the driving habits of the Ticos, I am not. I'm just trying to point out their driving habits, without denigrating them.
Plenty of people get killed on the Costa Rican roads as they do in other countries. But if you follow up on the next 15 habits Ticos have when they drive, you will adjust much better to your new life in Costa Rica. And you will feel safer when driving the roads here.
15 Tico Driving Habits
1. Left Lane
Tico drivers always drive on the left lane instead of the right lane. No matter how many lanes there are, they will still drive on the left lane. Don't try to honk – toquen el pito – or flash your lights it won't help. One reason is that they don't know that the left is the "fast lane", a lane is a lane. The second reason is that potholes are always in the right lane as that is where the rainwater goes. They try to stay away from those potholes.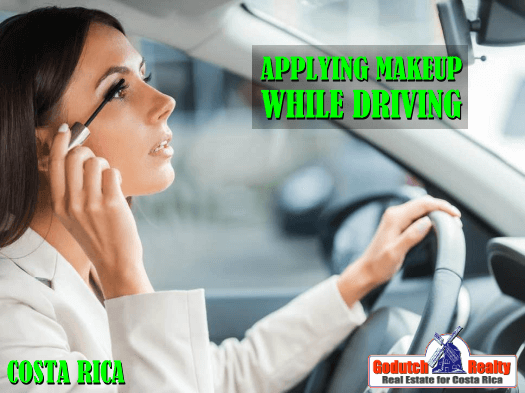 2. Turn Signals
Nine out of ten drivers do not use their turn signals before they make a turn. They also might have their signal turned on and decide not to turn.
3. Changing Lanes
Ticos do not change lanes well ahead before making a turn as most of you do. They might make a sudden turn just before the intersection. Or make a right turn trying to get across a lane at the last possible moment.
4. Off-Ramp
They might return in reverse to the off-ramp on the freeway when they have missed a turn.
5. Traffic Ligh on Sunday
On Sundays, they skip red traffic lights easily, because it is Sunday. Also, after 10 pm, you better be careful.
6. Potholes
They might swing around a pothole when they see one. Even if they have to invade your lane to do so. Sorry, you should have seen their pothole.
7. More Lines in one Lane
It is allowed to create several lines of cars in just one lane if there is a traffic jam somewhere. If there are two lanes, 5 or 6 lines are allowed, if they fit. If it doesn't fit, they'll make it fit.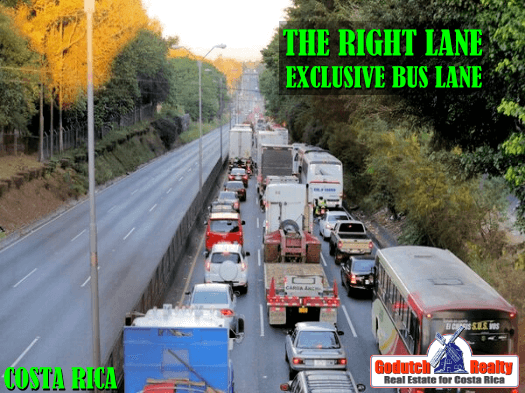 8. Bus Lane
Don't use the exclusive bus lanes. Especially on the freeway, you'll get a ticket. If you have to turn right do NOT use that lane, you'll get a ticket…….
9. Center Turn Lane
On some roads, we have a center left-turn lane. The middle lane is supposed to be used only for those who need to turn left.  Often, Ticos use this lane as a "fast lane". So use your mirrors before using the center lane for a turn.
10. No-Passing Markings
Solid yellow lines mark the center of a road used for two-way traffic. Broken yellow lines indicate that you may pass.  In Costa Rica, drivers will pass the solid yellow line at any time, as long as they think they can get away with it. They will also do so bends in the road and on bridges.
11. Taxi Drivers
Taxi drivers can do what they want; they are in La La land from the moment they get behind the wheel. Red lights, no-passing markings, sidewalks, they do not respect anything or anyone. Most taxis have a red color, so when you see one, keep your distance.
12. Cell Phones
Talking on a cell phone and even texting while going 20 miles an hour is not allowed. But everyone does it.
13. Apply Makeup
Since traffic jams are normal at peak hours, women apply their make-up while driving.
14. Toll Booths
Toll roads have three times as many toll booths as lanes going in and out. Be careful before and after paying, everyone will want to use the same lane as you do.
15. Demarcation and Signage
Road demarcation and road signs don't mean anything in Costa Rica. Drivers in Costa Rica do not even pay attention to it and do NOT respect it.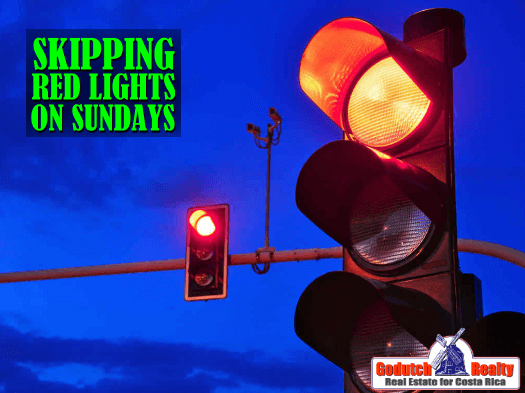 Adjust
Getting used to driving in your new home country won't be easy in the beginning. Until you start acquiring the same driving habits. You'll have to adjust to it unless you want to make Costa Rica your paradise and not your hell.
Don't forget, YOU need to adjust to THEM and not the other way around.
When driving, you could have an accident. So make sure you read our blogs about:
If you know of any other driving habits that I have missed, Feel free to leave your comments on this blog.
---
If you like this blog, subscribe to my newsletter by clicking the banner below.

I DO want to remind our readers that we appreciate any referrals you can send us. Also, please remember the GoDutch Realty agents when you talk about your home in Costa Rica, we appreciate it.