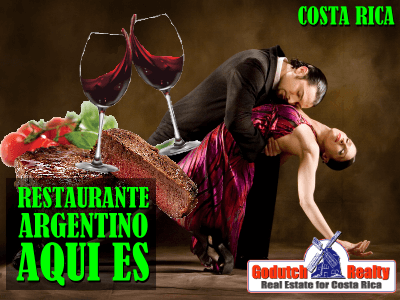 Do you like bife de chorizo? I had never heard of this Argentinian restaurant in San Jose, though I had driven past it many times.
I don't go to San Jose that often anymore, but it looks like the city is becoming a good place for great restaurants again. Once in a while, when I find a good restaurant that is worth writing about, I will tell you about it.
Last time we went to an Argentinian restaurant was to La Esquina de Buenos Aires, where we had great food and a lovely evening. This time, our friends suggested going to Restaurante Aqui Es, which means "Here it is".
The restaurant is really easy to find, it is 100 meters south of Subway restaurant on Paseo Colon. You can either park on the street, where there is a guachiman or half a block further south is a 24/7 parking lot. If you are not used to Tico addresses, turn onto Paseo Colon from Sabana Park, take a 2nd right (at Subway) and you'll see it at the end of the block on the left.  Reservations at phone 2221-5727.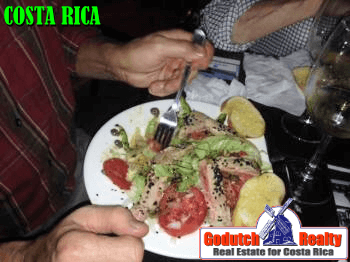 Reservation
The restaurant was packed, all tables were occupied, the ambiance was great. Our friends had made a reservation, so our table was secured. It took the waiter a while to take our order, but after that, he was like a well-oiled machine.  Two white wine for our friends, a sangria for my wife and a rum 'n coke for me. Nicaraguan rum, it never even occurred to me asking if they had Argentinian rum.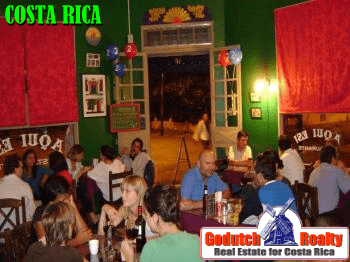 Empanadas or salad
We ordered the famous Argentinian empanadas for starters; they were as expected, fantastic. Our friends both ordered salads and they were large and well presented.  Dany ordered "entraña, which is a skirt steak. She likes her steak well done. Most of the time, we need to send it back to the kitchen twice. That way, she is always the last to eat, but not this time. The steak was perfect the first time, nicely presented and with delicious potatoes, grilled eggplant and zucchini. Dany was happy and Ivo too!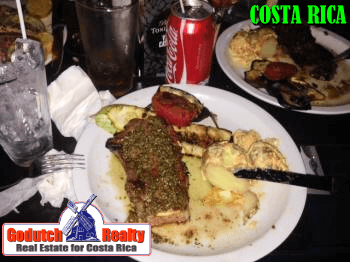 Bife de Chorizo
I ordered Bife de Chorizo. Many people think that is a chorizo or sausage but it is not. Bife de chorizo is a Sirloin Strip steak (Top Loin) and I order it because it is juicier than any other steak I know. This juicy steak is probably one of the most popular requested barbecue (parilla in Spanish) items by visitors and locals alike off of many menus throughout Argentina and the world. My steak also came with the same delicious potatoes and the grilled eggplant and zucchini. We all had cappuccinos after dinner and didn't try any desserts.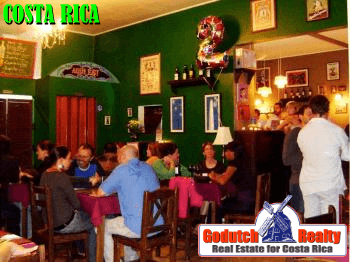 About $130 for 4
An incredible evening! Dinner was served within 20 minutes of ordering it, to perfection. Two orders of drinks each plus all the above. The total bill was ¢68,476, which is about $130. I guess the rent in San Jose is a lot cheaper than it is in Avenida Escazu!
Tango music
On Friday nights, Aqui Es has live tango music and you will want to make reservations at phone 2221-5727. There is no cover charge. When we were there, Maria Julia Berdé sang incredible tango and Manuel Meléndez played the guitar. Two other gentlemen also sang their tango repertoire. We had an amazing evening.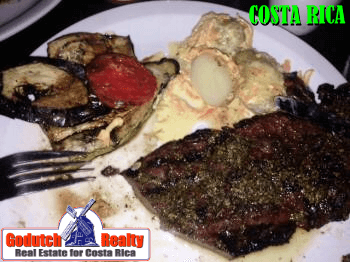 Check out Aqui Es Facebook, where you can stay up to date with all the happenings. I do recommend you try the bife de chorizo.
Reservations at 2221-5727, make sure you call if you go on a Friday night. I don't know how necessary a reservation is for the rest of the week.
---
If you like this blog, subscribe to my newsletter by clicking the banner below.

I DO want to remind our readers that we appreciate any referrals you can send us. Also, please remember the GoDutch Realty agents when you talk about your home in Costa Rica, we appreciate it.