Estimated Reading Time: 5 Minutes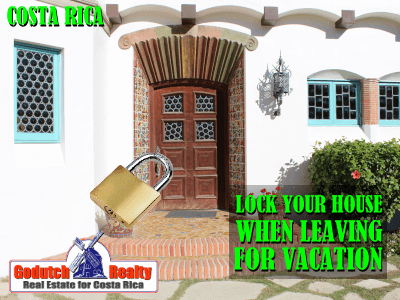 Do you lock your house in Costa Rica well enough when you go away?
It is summertime again in Costa Rica and that means trips to the beaches and national parks for all of us. For sure, you will have family and friends from back home visiting. They will want you to take them to see Lake Arenal and the Poas Volcano. Or even go with them on a tour around the country, from coast to coast.
When you do so, you want to make sure you put a lock on your house.
What is the reason for locking your house? Well, there are several. But the main one is that you would like to find your personal belongings to still be there when you come back.
I know, in some countries, you can just leave the back door open. Especially if you live in a rural area when the crime rate is very low. In the rural areas of Costa Rica it is kind of the same way, but don't count on it.
Here are 5 ways of protecting your property against thieves while you are away.
1. Your neighbors
Be nice to your neighbors during the whole year. Treat them like a neighbor, even though you do not speak their language well enough to have long conversations. Invite them over to your house once in a while. If you bake a cake, bake one for them too.
When you go on vacation, tell them ahead of time and ask them to keep an eye out for you. This is the best possible alarm system, the cheapest, and one that is the most fun. And it works!
Word will go around the neighborhood about those nice gringos quicker than you think. The whole neighborhood will help to protect your belongings.
Some neighborhoods are formally organized (with governmental training) and have a neighborhood watch. They call it Barrio Organizado, as in the image below.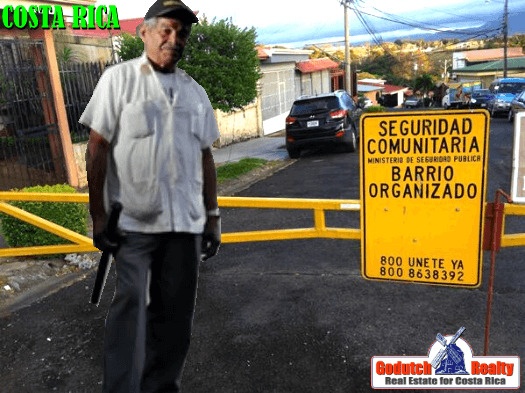 2. Your housekeeper
Your housekeeper or your neighbor's housekeeper will love to earn some extra money. The housekeeper can take well care of your house, water your plants, take care of your pets, and maybe the husband will cut your lawn while you are away.
Leave food in the fridge for them and make sure you keep enough rice & beans in storage. Give them some money to go to the farmer's market for fruits and vegetables. Also, give them a list of what you will need when you get back.
Lock away the specialty food that you don't want them to touch.
3. A house sitter
Your neighbor might have a nephew who doesn't have a job. Or your gardener might know of someone reliable who is a professional caretaker and is between jobs.
Look around on the Facebook Groups like North Americans in Costa Rica or Costa Rica Living.  There are plenty of gringos (foreigners) looking to house sit.
There are also worldwide organizations where you can look for housesitters that travel the world like Trusted House Sitters.
4. A well-trained dog
Get yourself a Doberman, a Pitbull, an American Stanford, or any other dangerous-looking dog. But train the dog well. Train your dog not to accept food from strangers. Because if you don't, they will be poisoned by a burglar.
Make VERY sure the dog can't get out so it won't attack a passerby or a neighbor's dog.
You will still need the daily help of an acquaintance to feed the dog every day and even water the plants.
5. A burglar alarm
You can connect a burglar alarm to all your doors and windows. But, someone has to show up when the alarm goes off to see what is going on.
Nowadays there are great security systems that have a CCTV system that can be connected to your phone and computer. This is a great way of being able to see what is going on on your property while you are away. I suggest you check out Vivint pricing so you can use the Vivint smart home app on your phone.
Some security companies send someone to check when the alarm goes off. Nonetheless, if they cannot get into your property, this service is no good. Most companies don't have anyone nearby anyway and they might take up to an hour to get to your property.
Just putting an ADT (or other security company) sign in the window is like a sign "watch out for the dog" and have a Chihuahua.
Just in case, take out home insurance against burglary.
When you are looking to purchase a property in Costa Rica, you should check on how secure the neighborhood is. Ask your home inspector to check how secure the property is against burglars.
GoDutch Realty agents are experienced and can help you with ideas, contact us now.
---
If you like this blog, subscribe to my newsletter by clicking the banner below.

I DO want to remind our readers that we appreciate any referrals you can send us. Also, please remember the GoDutch Realty agents when you talk about your home in Costa Rica, we appreciate it.