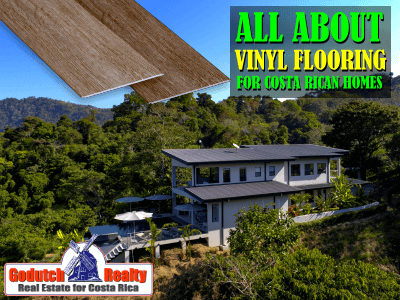 Have you thought about using vinyl plank flooring in your home? Costa Rica is characterized by the beautiful balance between indoor and outdoor living.
Spacious verandas, large glass sliding doors, and nature-inspired flooring are just a few features that blur the line between life within homes and their outdoor spaces.
For many homeowners in Costa Rica, going barefoot between spaces is the norm. Our climate allows for that and comfortable flooring that is soft to the touch and easy to clean is a great option.
Is vinyl planking instead of wood, marble, or other types of flooring an option? What are a few benefits of making this choice?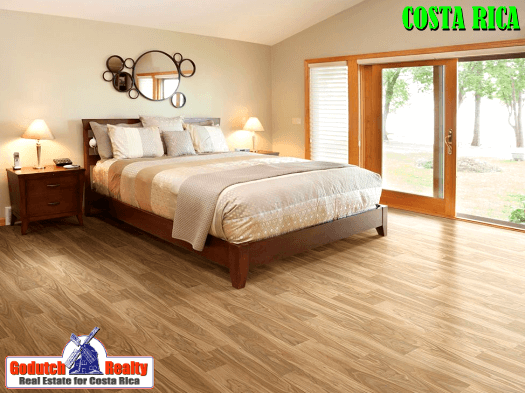 Strength And Durability
Vinyl plank flooring is ideal for families – especially those with little children. Although it can emulate the look of wood, slate, or other materials, it is resistant to slips and is water-resistant. Of course, there are different types to choose from – including vinyl sheets and tiles, as well as luxury vinyl. If you prefer a more rigid type of flooring, then luxury vinyl may be an optimal choice. You can add value to your home by using luxury vinyl as it offers more strength and rigidity. In this article by Household Advice, you can explore some of the best vinyl plank flooring brands.
In Costa Rica, not every brand is available. So you'll have to shop around a bit. Here they call this flooring type "piso de PVC" or "piso de LVT" for the luxury vinyl plank flooring.
Quick Fitting And Affordability
Vinyl flooring can be fitted into your home in a few hours since most brands sell flooring in 'plank form' that is similar to wood, or in tile form. The pieces simply 'snap' or fit together perfectly. So the installation requires very little work, other than the general prepping of floors.
Vinyl flooring can also be very affordable, with prices starting at less than a dollar per square foot. Of course, if you opt for a luxury brand or collection, then you could pay between $7 and $10 per square foot.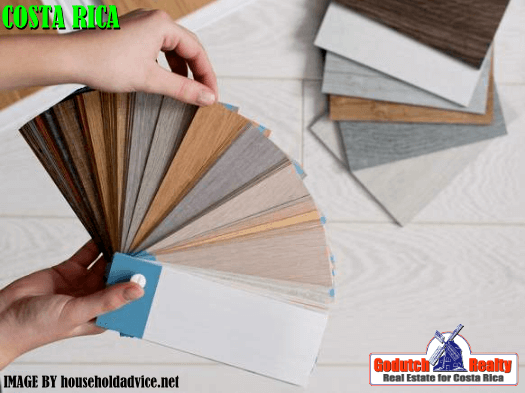 Easy Maintenance
Because vinyl flooring comprises planks or tiles, it is relatively easy to repair or replace. It is also easy to clean; the usual modus operandi involves a quick sweep (to remove dust) followed by mopping. Vinyl flooring lasts for years and is stain-resistant. BUT, avoid using rubber-soled shoes over it, as rubber does have a staining effect on this surface. Always opt for the highest quality vinyl you can afford so as to avoid chips and scratches.
A Wide Range Of Styles
For homeowners who swear by vinyl, the wide range of styles and colors is one of the biggest advantages. Top brands can have over 300 types of planks with a variety of finishes, such as dark wood, distressed white wood, and gray slate. Tiles, meanwhile, work beautifully in a range of spaces – including bathrooms and kitchens – with a host of marble finishes and mosaic looks in colors ranging from earthy to cool gray. Tiles come in a host of shapes and sizes as well. So whether you are after a tiny mosaic tile look or a large simple stone effect, it is easy to find what you are looking for.
Vinyl flooring is growing in popularity in Costa Rica. From wood to marble effects or delicate artistic tiles, there are so many choices that it might be difficult to choose just one.
Vinyl has many benefits – including affordability, durability, and ease of maintenance. Best of all, if one tile or plank is chipped or stained, you can simply remove it and leave the rest of your flooring intact.
At GoDutch Realty, we've had quite a few clients who have used vinyl plank flooring to remodel their condo in Costa Rica the easy way. Are you interested in having the ultimate Costa Rica real estate experience too? Then contact us now.
---
If you like this blog, connect with me on Google+ or subscribe to my newsletter by clicking the banner below.

I DO want to remind our readers that we appreciate any referrals you can send us. Please remember the GoDutch Realty agents when you talk about your home in Costa Rica, we appreciate it.