Estimated Reading Time: 4 Minutes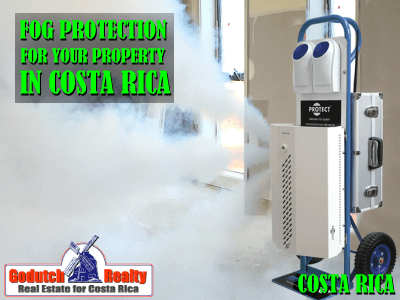 Have you heard of fog protection for your home? Probably not!
What if a burglar could not see anything, and could therefore not steal anything? Once in a while, like almost every day, we see on the news or read in the local papers that another burglary has happened. The same happens in almost every country included in top retirement destinations like International Living or Forbes.
Countries with a lower cost of living have more security problems and more burglaries happen because there are a lot more poor people than in a developed country that have a higher cost of living.
But do not worry, we now have the solution for your property in Costa Rica: fog protection.
I can almost hear you laugh, but this is for real and it is awesome. Just like I wrote a blog a while ago about using bougainvillea to protect your property in Costa Rica from burglars, I am now serious about this fantastic solution from PROTECT, the Danish developer of FOG SECURITY. With PROTECT FOG SECURITY, now available in Costa Rica, the burglar will not be able to see anything, and hence will not be able to steal anything!

Linked to your current alarm system in your home, office, or business, PROTECT FOG UNITS are activated when the alarm goes off, (activated by motion sensors, door/window sensors, vandalism sensors, and others) and in a matter of seconds injects a very dense fog into the room it is protecting, creating total fog coverage. As the burglar realizes he will lose his navigation almost immediately, he is forced to flee, leaving his belongings safe and untouched. He will also think about it twice to return. Check out in this video below how it works:
It stops the burglar in his tracks
PROTECT FOG SECURITY comes from Denmark, where it is a proven success. Having stopped thousands of burglaries around the world, this incredible technology is now available for properties in Costa Rica. PROTECT revolutionizes security.
The reasons
An armed guard to take action is not necessary,
There is no need to wait for the police or the security company to react after the fact,
The guard cannot be corrupted or fall asleep,
but it actively stops a burglary.
ON-SITE and AT THE MOMENT that a burglary (or assault, vandalism, or other crime) is being carried out on your property, PROTECT eliminates the burglar´s ability to see completely. Hence the crime has come to an end and the burglar is out the door.
A clean solution
PROTECT FOG is safe for humans, pets, technology, and other products (even paintings and delicate materials), and leaves no residue or anything to be cleaned up. Once the fog has dissipated, it is back to business as usual. Was there an attempt at burglary on your property, minutes after the burglary, the PROTECT UNIT is ready to go without requiring a re-charge, as it has many shots before requiring a fog replacement.

No confrontation
Security for your property in Costa Rica is becoming more and more important. Especially for those who travel a lot or live in remote locations. PROTECT´s take on security by combating it in a PASSIVE manner allows for
peace of mind,
no unnecessary and unwanted confrontation,
the assurance that you can leave your home, office, shop,
and come back to find PROTECT safeguarding it for you.
If you are interested in this great product you can contact PROTECT by email, check their website in Spanish, or have a look at their Facebook.
---
If you like this blog, subscribe to my newsletter by clicking the banner below.

I DO want to remind our readers that we appreciate any referrals you can send us. Also, remember GoDutch Realty when talking about your home in Costa Rica to friends and family. We appreciate it.