Estimated Reading Time: 5 Minutes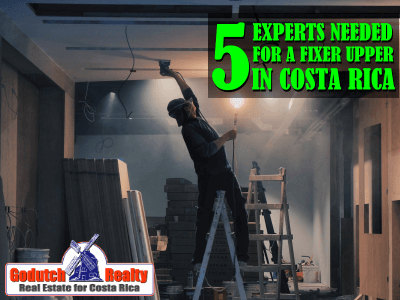 I have described in another blog why doing a fixer upper in Costa Rica is not so easy. Nonetheless, doing a fixer upper can be a profitable investment project, if you do all the right things.
Sometimes, the perfect home for you can be in that older neighborhood that you really love. In that neighborhood, you'll only find homes that are 30+ years old. Then you can either choose to tear a house down and start from scratch. Or you can choose for doing a fixer upper.
For sure you don't want to take the decision of doing a fixer upper too lightly. You would want to talk to 5 experts before you make this huge step in your life.
Some investors, when they see the word fixer upper, they think about buying, fixing, and selling also called flipping. Flipping a home is not so easy in Costa Rica, and there are reasons for that, here is why.
1. Banker
Banks in Costa Rica often do not lend on houses older than 25 years. Before you even start looking at houses with a real estate agent, first talk to your banker. First, see what your financial options are before you go any further. Unless you can pay for it all out of their pocket of course!
Now you know your financial options? Then contact expert #2.

2. Real estate agent
Hire a real estate agent who understands what you're trying to do. Not only do you need a seasoned realtor to find the right house. You will also need recommendations so you won't be buying yourself a huge white elephant. Someday, you'll want to sell the house again. So not investing too much in fixing up is very important.
Have you picked the properties that you like best? Then contact expert #3.
3. Home inspector
A home inspection is important to learn what is really important for you to remodel. This doesn't have anything to do with your taste and needs. It's crucial to find out what part of the house needs replacement.
A home inspector has no interest in showing more repairs than what is needed, while a general contractor will always try to push for more than that.
Do you know what repairs are of vital importance? And do you have your thoughts well organized? Then you're ready to contact expert #4.

4. Architect
Planning to tear walls down and re-distribute the house in some areas? Then, you will want an architect to have a good look at the project. If you're really doing a fixer upper, this is important to get some ideas before you involve a general contractor.
I'm sure the architect gave you some incredible ideas! Now you're ready for expert(s) #5.
5. General Contractor
Don't bring a general contractor to the project before you're totally sure what you want to do. Make a list of what you'll need and ask at least 3 general contractors to bring in a quote. It is important all three quote the exact same jobs.
If it is possible, get two more experts on the job: a plumber and an electrician. Or you can have it all done by the general contractor.

My recommendation
Building new(er) is a lot cheaper than doing a fixer upper. There are always a lot of hidden issues when doing a fixer upper. You also want to stick to the plan. Making changes to the plan during reconstruction is not very cost-effective. They will probably mean that you'll be going over budget.
Make totally sure that you cover all your options before you make the decision to do a fixer upper.
Planning to buy a fixer upper in Costa Rica? Then hire the experts, contact us now.
---
The grammar of the Spanish version of this blog was checked and corrected by Wagner Freer of Spanish School for Residents and Expats. We strongly recommend this language school as your best choice to learn Spanish, click here to contact them. 

---
If you like this blog, subscribe to my newsletter by clicking the banner below.

I DO want to remind our readers that we appreciate any referrals you can send us. Also, when talking about your home in Costa Rica, please remember the GoDutch Realty agents. We appreciate it.