In this blog, I'm going to cover some food for a healthy diet that is in abundance and an inexpensive way to have a healthy diet.
So, let's eat. I'll also mention several other specific examples of where to save money. This, in a few cases, means to go native.
I can't remember if I've mentioned viveros (nurseries) previously. Flowers and plants purchased at viveros are, pardon the pun, dirt cheap in Costa Rica. This is probably because you can stick almost any type of cutting or seed in the ground and if it gets water, it's going to grow.
You are not stuck with having a selection of merely ornamental plants and trees. Viveros have a vast selection of fruit-bearing choices also. And, not only are plants inexpensive, they grow to maturity much faster in Costa Rica—maybe 20 to 50% faster than a similar plant or tree in the States. So, you'll start harvesting edibles much sooner than you might expect and you're ready for a healthy diet.
A word of caution: look out for plants' and flowers' natural enemies. There are several enemies of growing things, but grasshoppers and leaf-cutter ants are the largest. A colony can travel from as far away as 150 meters and strip a large plant or a small tree of all living leaves and/or flowers in a night.
Do you have room on your Costa Rica property? Then there is a vast variety of familiar and unfamiliar healthy food products like fruits and vegetables that can come from your own garden.
My advice: plant as much as you can early in the Green Season (rainy season of roughly beginning of May to the end of October) so that they can get well established with free water from the sky and before the onset of the dry season when almost no rain falls.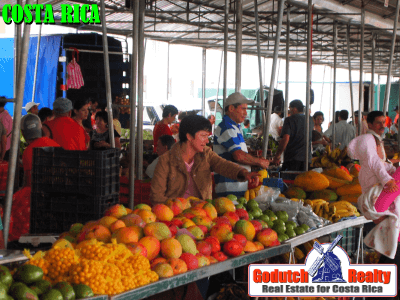 Fruits
Let me recap the familiar (and some unfamiliar) fruits and vegetables that you can grow to form your own healthy diet. Fruits that do well (although most are seasonal) include:
mangoes,
papayas,
coconuts,
moras (blackberries),
pineapples (bring home the whole "piña" from the feria, cut off the top, stick it in the ground, get it water and in two seasons harvest beautiful fruit),
bananos and platanos (bananas and plantains)—that appear to be self-replenishing (cut down a tree in a cluster and harvest the bunch, and another tree will grow up to take its place),
many types of citrus, strawberries
one variety of small apples (both do best at the higher elevations),
"melons" (a very close cousin of the cantaloupe),
guava,
guanabana (soursop),
a variety of avocados,
plus a number of interesting fruits such as
nance,
manzanas de agua (water apples),
jocote
and zapote that may or may not require an acquired taste.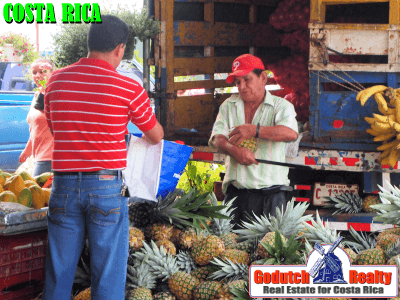 La Feria
Some fruits while seasonal in the Central Valley are in season year-round somewhere in Costa Rica and can usually be found fresh at the feria del agricultor or farmers' market. Also found at the feria will be imported fruits familiar on the breakfast table back in North America such as apple varieties, seasonal grapes, plums, peaches, nectarines, and citrus not commonly grown here such as yellow lemons and large navel oranges. Sadly, we've given up trying to buy Meyer lemons. They aren't available here as a fruit or a tree and since they are a hybrid cross; their seeds don't produce Meyer lemon trees.
To grow some of your own produce, vegetables, herbs, and spices, you may need to build a planting structure, elevated planters or some kind of fenced-off and covered land. Of course, all structures need to be able to protect your produce from insects and small animal predators and the sun if they require shade. I have built what started out as a potting shed, but I got about $700 into it and decided it needed a more dignified and upscale name. So, now we have a greenhouse.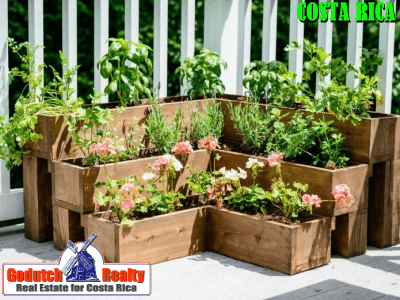 Our Greenhouse
In our greenhouse, we have already had some success with lettuce and cilantro from seed. We have also brought back some seeds from the States. We are trying other types of lettuce and a more delicate type of spinach than the heavy leafed bitter variety available here. Much of the produce grown here has the benefit of being fairly organic with the minimum of artificial additives used to grow them. The biggest benefit is they are usually very fresh. I mean we are talking about inexpensive, big, red, ripe, juicy tomatoes—not the still-green jobs you see in markets in the States.
Veggies
Other types of affordable vegetable produce that can be commonly found at the feria are:
beets,
carrots,
lettuce,
broccoli,
green beans,
cherry tomatoes,
packaged dried or occasionally fresh peas,
onions,
garlic,
cilantro,
all types and varieties of squash,
corn (our experience is that it is abundant, but tends to be a bit short on flavor),
starches (potatoes, yucca root—not from the cactus, packaged rice, black, red and white packaged bean varieties, a red-skinned tuber that seems to be a cross between a potato and a sweet potato),
a selection of fresh herbs and spices,
plus a plethora of unfamiliar veggies as well as the occasional sugar pea,
brussels sprouts,
hongos (mushrooms),
and asparagus.
These last four, unfortunately, are seldom "affordable."
I hope you will be able to start a new healthy diet in Costa Rica and enjoy all the healthy food that you can so easily grow in your own yard.
The Author
The author of this blog, Ticonuevo, is a US expat who moved to Costa Rica. Ticonuevo used the services of GoDutch Realty to purchase a property in Costa Rica. In his blogs, Ticonuevo describes his own experiences of taking the step of moving to Costa Rica and getting a new life started.