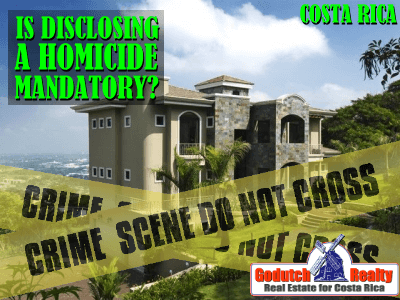 "Are you serious, you mean the homicide was right here?
And you want me to live here?"  This could be the reproach from a serious buyer who was at a showing with his realtor in Costa Rica. This is not from a suspense novel, written by a client.
During the showing, he heard from the neighbor, peeking over the fence, that the seller's husband got killed in the house for sale.
People in Costa Rica also die, as you probably already suspected, from a homicide.  Once they die, their family might, or might not put the house up for sale.
The real estate agent probably didn't have a clue about the homicide issue, unless he's seen it on the news.
Unless it was a widely advertised homicide, the agent probably never found out about it. Costa Rica is a small country. But in the barrios where expats live, homicides are not very usual, unless you believe the statements by the US embassy in Costa Rica.
Before you will be killed in your own home, you probably have a better chance to be hit by a bus while crossing the street here.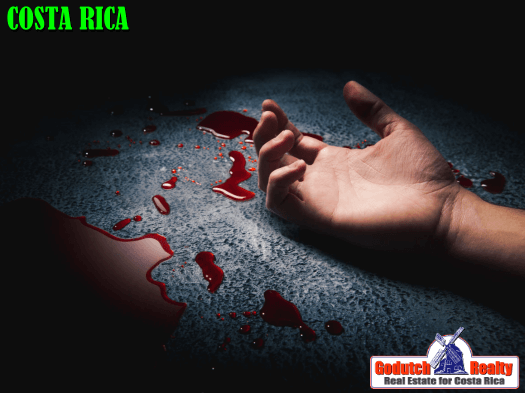 Just One Case
It's really hard to find out if there was a homicide in a house that is for sale or not. In my whole real estate career, I only knew about one case because he was a friend of mine. This friend was a Dutch-American. He got killed because his Tica wife wanted his money.
She didn't know he was on a pension. And the house they were living on was owned by his nephew. She thought he had a lot of money.
But he got killed in another place and not even in the house. So I never felt bad about advertising his house for sale. The wife and her two young friends in crime received a 20-year jail sentence.
Disclosure?
But will a Costa Rica real estate agent disclose a homicide in the home that is for sale?
Honestly, I doubt a real estate agent will disclose the homicide, even if it was disclosed to him or her by the seller.  Even in the US, in most states, there is no obligation to disclose homicide. It is in California, Texas, and Hawaii for example. In California, it is only an obligation if the murder was committed within the last three years. Unlike Florida where the seller has no legal obligation (or the realtor) to disclose a homicide on the property.
Value
Not only will the value of the house drop tremendously if the murder was disclosed. It will also be incredibly difficult to sell the house to a local buyer. That's because Latin Americans are even more superstitious than we Caucasians are. They generally talk easier to a neighbor than a foreign ex-pat does.
If I find out that someone was killed in the house, I probably won't take the listing in the first place. Unless it is a great investment property and the price is right.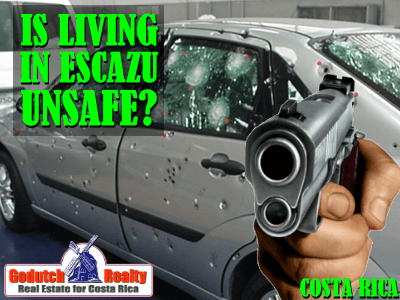 Most real estate investors wouldn't care if there was a murder on the property. As long as they can buy it at a great price, rent it out, and get the right ROI.  So if you had a homicide on your property and you want to sell, assure yourself to price the house right. Also, find a good and hardworking real estate agent. Be sure to disclose the homicide to the agent though. So the agent won't be caught not disclosing it to the buyer and feel cheated.
This blog was written in honor of my old friend Willem Ouwehand, may he rest in peace.
Feel free to contact us to list your property in Costa Rica if we have an agent in your area.
---
If you like this blog, subscribe to my newsletter by clicking the banner below.

I DO want to remind our readers that we appreciate any referrals you can send us. Also, please remember the GoDutch Realty agents when you talk about your home in Costa Rica, we appreciate it.