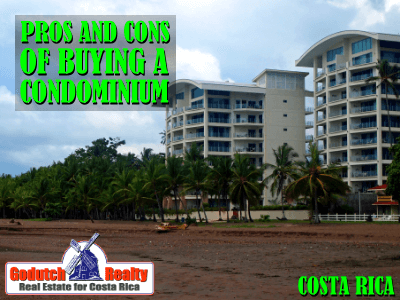 If you are buying a condominium in Costa Rica, will you be able to adapt to a new lifestyle? Those who have always lived in a single-family home might find a new lifestyle unacceptable.
For your information, a condominium in Costa Rica can be an apartment building, a townhouse in a gated community, or even a single-family home in a gated community.
For example, you might have never lived in a place where there are rules and bylaws. But for homeowners to live in harmony, it is necessary to constitute these bylaws.
Many have raised a family in that single-family or custom-built home, that had all the specifics to match their lifestyle. But once they retire, they look into other options. Younger generations are looking for a different lifestyle.  Better security, amenities, and less maintenance are a few reasons to have a good look into buying a condominium.
Is condo living for you? Did you know that the Home Owner Association (HOA) will play an important part of your future life as a condo owner? Allow me to help you make the right decision by giving you some of the pros and the cons of buying a condominium in Costa Rica.
Pros
•   Less Investment
Buying a condominium results in less investment. It's possible you have shared walls and a shared roof. You have full property rights to a smaller piece of real estate. You will own your unit and a percentage of the common areas.
•    Taxes
You share ownership of exterior and common areas so you pay less property tax.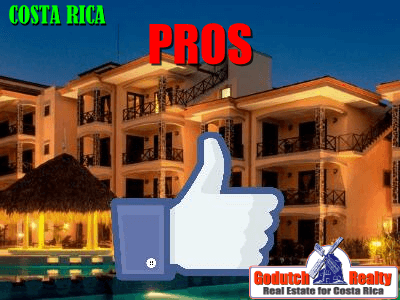 •    Location, location, location.
An apartment or a townhouse may be more affordable in higher-priced markets, especially in central locations.
•    Amenities
The condominium or gated community may include amenities, such as a fitness center, swimming pool, playground, clubhouse, and guards.
•    Bad neighbors
Neighbor disputes are taken before the Home Owner Association (HOA) board.
•    Maintenance
Your HOA fees cover most maintenance costs and insurance. You don't have to worry about cutting the grass or cleaning the pool. The HOA will also take care of buying a new treadmill and replacement of the water treatment plant, and the exterior maintenance of your unit.
•    Repairs
A larger HOA usually has a maintenance employee available for any necessary repairs.
Cons
•    Pay, like it or not
You pay monthly HOA (homeowners association) dues. You will have to contribute to assessments for major maintenance or renovations.
•    Bylaws
You may find bylaws or condominium rules and regulations restrictive. If you have pets, check the bylaws on pet regulations before you purchase.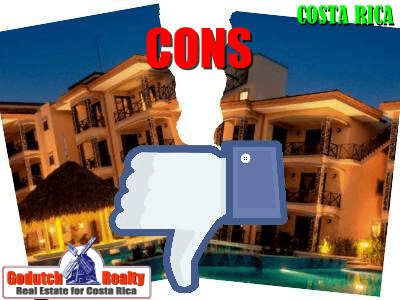 •    HOA meetings
Ownership responsibilities of condos are sometimes legally and financially complex.
•    Lack of privacy
You are bound to share common areas with people you might not like or behave differently than you and your family does. Usually, the homes in a condominium or gated community are very close to each other, if not attached.
•    Mortgage restrictions
Some lenders have restrictions on making loans for a condominium (if they're set up as a Coop).
•    Re-sale
A re-sale condo, apartment, or townhouse is more sensitive to market trends than a single-family home.
•    Living by the rules
You might be surrounded by tenants who do not live by the HOA rules and it is sometimes difficult to oblige a tenant to live by the regulations.
•    Delinquency
If due to divorces or other financial problems your co-owners cannot make HOA fee payments, the cost will have to be carried by the rest until foreclosure. This might take years.
•    HOA Meetings
During HOA meetings, usually very few homeowners show up. You might not agree with propositions from a majority of votes.
•    Bad finances
Financial control over condo administration is usually very poor and the high salary of the administrator can make HOA fees unaffordable. It's possible the HOA is bankrupt.
•    Headaches
Unfortunately, buyers generally do not realize there are many more details involved in condo ownership than they think.
•    Noise
Many condominiums have no internal ceiling heights and floor slab levels with height requirements to stop neighbor noise.
•    Storage
Many condominiums have no storage areas except for the bedroom closets.
•    Change in HOA fees
HOA fees are low while the developer is in control. But once the HOA takes over the administration, usually condo fees go up a lot. After that, they change at least once a year.
Every condo re-sale our office experiences, new issues come up. I will try to write about those experiences like this long list of concerns you should cover before buying a condominium in Costa Rica. Take advantage of our experience that will enable you to make a smooth purchase, contact us now.
---
If you like this blog, subscribe to my newsletter by clicking the banner below.

I DO want to remind our readers that we appreciate any referrals you can send us. Also, please remember the GoDutch Realty agents when you talk about your home in Costa Rica, we appreciate it.