Yes, there are squatters in Costa Rica. Landowners often complain about it. And, yes, I have an opinion about the fact that squatters can take over an unused and unguarded property in Costa Rica.
Quite some years ago, when nobody had a website, all the Costa Rica real estate companies used to advertise in The Tico Times.
In 1985, there were no real estate magazines or online newspapers and the Tico Times was the only weekly newspaper in English in print. Once a year, they would publish their real estate supplement and there were like 15 real estate companies in the whole country.
A competing real estate agency paid The Tico Times for ½ a page advertisement. It turned out that the other half page was used for an article about squatters in Costa Ria, and how easy it was to lose your property. That agency did not buy any advertising from the paper again for many years! BUT, back then, squatters were everywhere.
When I owned a spice factory in Escazy, there was a 10-Acre property across the street, long abandoned by the owner. The property wasn't fenced or anything. It was a quiet neighborhood until COPAN tried to take over the property. 50 Busloads full of farmers unloaded another 50 truckloads of cardboard and used construction materials and overnight built a shantytown. I had 25 Guardia Civil (police) camping in my factory for 3 months. That was because the police would break the shantytown down and send the people away, but a couple of days later it would start all over again.
COPAN
From 1980 – 1990, Comité Patriótico Nacional, (COPAN) was the action coordinator for decent housing. Its objective was to propose the formation of a political movement, which participated together with other organizations and movements, in a strategy for the transformation of society. Its ideology was based on Marxism, with a centralized axis, but their actions were aimed at promoting social struggles. COPAN took over many unused farms which are located in San Felipe de Alajuelita.
Rural areas
It's very rare to see squatters taking over land located in urban areas anymore. But in rural areas, I have seen properties mostly owned by foreigners, taken by squatters. Often, these foreigners bought the property and then left the country. In other cases, local farmers were hired as caretakers, but since the owner didn't make any monthly payments, these caretakers became owners eventually. If you plan to buy a property in the middle of nowhere, talk to your lawyer about how to take care of it and how to hire a caretaker.
In my own experience, if you just abandon your property in Costa Rica, you run a good chance someone will move in. It is like abandoning a nice Mercedes Benz SUV with the windows open in the Bronx for a couple of weeks. Do you think the car will still be in one piece after a while? I honestly doubt it.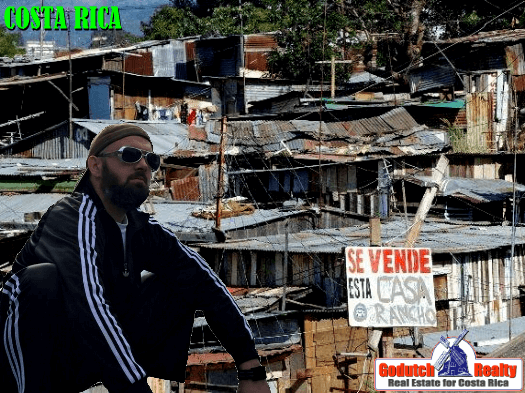 Case Hasseltine
If you own or plan to buy land in Costa Rica, should you be afraid of squatters or not? This question comes to mind when you listen to Sheldon Hasseltine. Mr. Hasseltine's 14-year-old case, against a Costarican businessman who is linked with companies like Century 21, Stewart Title, and others, has been widely published.
How to stop squatting
Do you have invested in land in Costa Rica? Would you like to keep squatters away? Then make sure you do as follows:
1. Pay property taxes on time
In Costa Rica, the municipality where your land is located will be able to tell you by the end of February by phone how much the property taxes will be for the whole year.
2. Fenced.
Have your property fenced at all times. It's amazing how many properties are not property fenced or the fence is not maintained.
3. Cleaned
Have your property cleaned at least twice a year, before and after the rainy season.
4. Check on the property
Ask someone you trust (and pay for it) to check on the property at least twice a year. You want to make sure it is still fenced, clean, and without squatters. Ask for photos with the date on the photo, every camera can do that.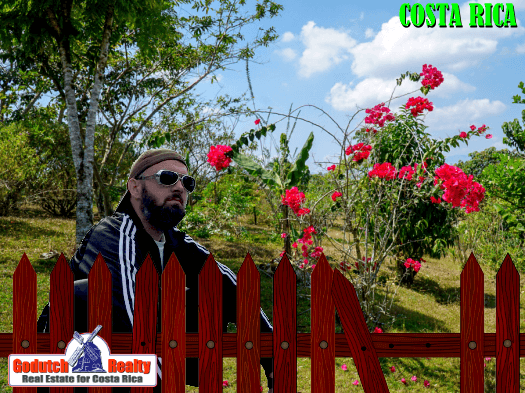 Squatter rights
Squatters get squatter rights only when they have been living on the land for 10 years. After 10 years, they can claim possession. Possession needs to be proven by the neighbors. Most squatters will only invade abandoned farms and not smaller building lots. But once the squatters move onto your land, they are very difficult to get rid of. Even though they cannot prove ownership.
There are quite a few large cases like Haseltine's and some even famous shootouts between owners and squatters in the Pavones area in the South Pacific. The reason to purchase land from an established real estate agent in the area, so you can follow the agent's recommendations.
Warning
I personally oppose those who bad-mouth land investment in Costa Rica because of their bad experience with squatters. I have been accused by people, who have never bought any property from our company, that their property was taken by squatters. Those who do that, do not accept their own responsibilities of not taking care of their own property. They are just looking for a scapegoat.
In many cases, landowners did nothing to protect their property and started to complain when it was too late. In another country, if you abandon your land, and you do not pay your property taxes, the government will foreclose on the property. That's the reason for this blog, as a warning for future property owners in Costa Rica.
I do not agree
It is important to make this clear: this does not mean I agree with squatters! I disagree with anybody appropriating something that is not legally theirs!
Attorney Roger Petersen also did a great video for the Tico Times about squatters.
If you want to make sure not to have to worry about squatters in Costa Rica, buy a property with the assistance of a GoDutch Realty agent, contact us now.
---
If you like this blog, connect with me on Google+ or subscribe to my newsletter by clicking the banner below.

I DO want to remind our readers that we appreciate any referrals you can send us. Please remember the GoDutch Realty agents when you talk about your home in Costa Rica, we appreciate it.