Estimated Reading Time: 7 Minutes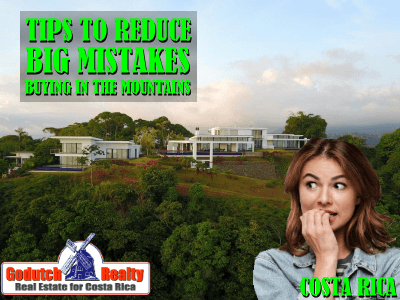 Buying mountain property in Costa Rica is not difficult at all, as long as you do your homework.
Many buyers do not realize that Costa Rica is famous for its microclimates and that every mountain in Costa Rica is different.
First, climate preferences are very important, as well as rainfall. One mountain can have low temperatures and another a high one.
Although there is a lot of volcanic soil in Costa Rica, you'll have to decide which crops you want to grow because the soil is different everywhere.
Another limitation is that you might have to drive through bad neighborhoods to get to a property.
Legal limitations the property might have is another important issue. There are lots of protected areas in the mountains of Costa Rica if you think buying mountain property is your interest.
We sell a lot of mountain property in the Central Valley locations of Atenas as well as in Grecia, the reason for this article.
To be able to reduce any mistakes you might make when buying mountain property in Costa Rica, I have put together these 5 tips:
Bad Location
A seller wanted us to list his mountain property in Costa Rica for sale. He sent an FSBO ad announcing beautiful acreage for residential development in Higuito de Desamparados.  Many of the slums in Costa Rica are located on the south side of San Jose. So I kind of figured out right away that this was probably not a listing I would be interested in.
Nonetheless, the owner was a gringo, so I thought it would be interesting to check it out. If the price was right…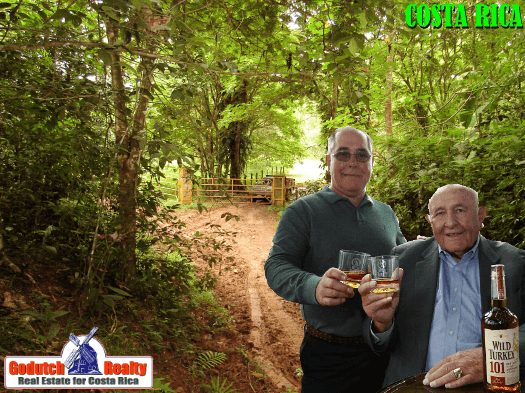 It was a long drive from Escazu to Desamparados and from there to Higuito. This is located right past Los Guidos, a neighborhood you don't want to drive through at night.
The property was indeed beautiful, an oasis of about 13 acres. Unfortunately, the seller wanted to ask triple the value by selling to gringos. I told him the problem was the access from there. He then showed me how to get there from El Guarco de Cartago, a scenic drive of about 2 hours through unpaved mountain roads.
Tip 1: Talk to those who know the area well. Ask if there are any negatives to the location before you purchase a property.
Squatters
Many years ago, when I was still selling property all over the country, I listed a mountain property in Tres Equis de Turrialba. This is a small village between the cities of Turrialba and Siquirres. The owner left the country and had abandoned the farm.
It took me a while to locate the 50-acre farm with a survey in hand. When I arrived, I found 75 squatter families had taken over the most inaccessible and hidden part of the farm. It took me years to get rid of the squatters. The owner had to pay me a lot of extra money to get to the point of selling that mountain property in Costa Rica.
Tip 2: Never abandon your property if you ever want to sell it again.
Wrong Crop
In 2005, I sold a farm in Copey de Dota. The buyer wanted to escape from city life once in a while. The farm, listed by an affiliate in our real estate network, had abandoned blueberry fields all over.  We also found a shack full of boxes with empty Wild Turkey bottles.
It turns out that the owner drank himself penniless while trying to grow blueberries. The lender foreclosed on him after he tried for years trying to change the crop from avocados to blueberries. The Dota valley is famous for its avocado crops.  After a few years, we sold the farm again, but this time to someone who started a vineyard project…
Tip 3: Before you start planting, talk to the neighbors. See if they have any experience in growing a different crop.
No Property Fences
Did you hire a surveyor to check the property boundaries before closing on the purchase? Even when a mountain property in Costa Rica is enclosed by other constructions, the boundaries might be elsewhere. Asking the neighbor to tear down his house is not a good idea. Going to court on a boundary dispute is an even worse idea.
When you buy a larger mountain property, where you cannot always control the fences. Where you cannot see them, it is possible a neighbor moved the fences.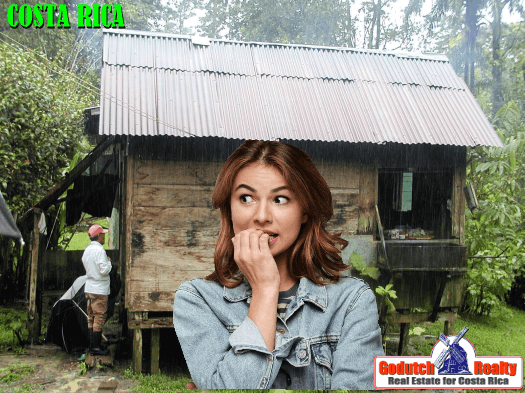 In 1983, I was closing on a property in the Liberia area. When I listed this mountain property, it was owned by a Dutch family. They lived out of the country. An attorney in Liberia told me to check the fences first because she knew the neighbor.
When I hired a surveyor, he found out that indeed the neighbor "took" almost 5 acres. It took us a year to "convince" him to return the missing property.
I learned from the attorney's tip and made sure that from then on, I'd give buyers the following tip:
Tip 4: Always hire a surveyor to check if the fences. Control if they are located in the right places and if the property is complete.
Earthquakes and Landslides
In 1996, a Canadian ex-pat asked me to show him some mountain property in the Grecia and Alajuela areas. He thought it was all overpriced and disappeared on me. Costa Rica mountain property was really cheap back then. In 2008, the man called me again and asked me to help him sell a property. He had bought between La Paz Waterfalls and Vara Blanca without the assistance of a realtor.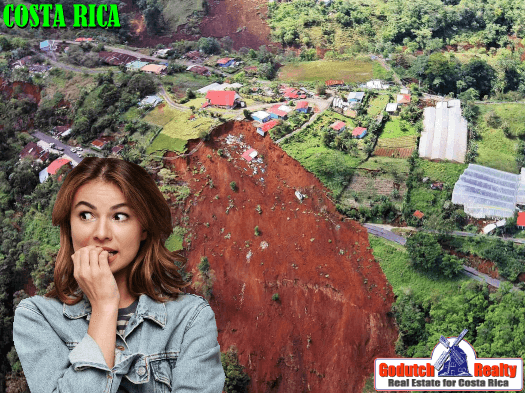 I had an appointment with an attorney in Guapiles. It would be a scenic drive to go from Escazu to Gualiples through Puerto Viejo de Sarapiqui, but a fun drive. So I agreed to drive by and check out the property.
When I inspected the property, I could see a lot of wide cracks in the soil and there was a canyon running right through the property. When I see cracks in the soil close to a canyon or a drop-off, I don't touch the property. I have seen some scary things happen in the past.
Less than a year later, in January 2009, the Cinchona 6.1 earthquake created a huge landslide. 64 People went missing. I've never been able to find the courage to call the man to see if he survived or not.
Tip 5: Check property for large cracks when close to a river or canyon.
Who says selling real estate in Costa Rica is boring! GoDutch Realty has agents in areas of the Central Valley, such as Atenas, Grecia, and Sarchi. There, you'll find great mountain property listed that is very easily accessible and at affordable prices.
Contact us now and tell us what kind of mountain property in Costa Rica you are looking for.
---
If you like this blog, subscribe to my newsletter by clicking the banner below.

I DO want to remind our readers that we appreciate any referrals you can send us. Also, please remember the GoDutch Realty agents when you talk about your home in Costa Rica, we appreciate it.