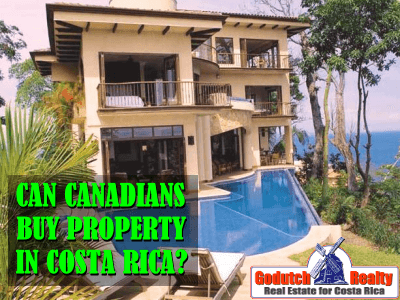 A common question from Canadians is if Canadian home buyers can purchase property in Costa Rica or not? Our friendly partner in Vancouver Canada strawhomes.com often mentions property in Costa Rica is on the tips of their buyers' tongues. Extended winters have led to an increase in Canadians affected with SAD. But the north's frosty outdoors has also encouraged a healthier growing trend—the purchase of vacation homes in sunnier climes.
Costa Rica has become a popular choice among Canadians exploring migration, retirement and investment options in Central America. In fact, the Globe and Mail mentions, "as one of the most economically and politically stable countries in Latin America, Costa Rica is viewed as a safe bet for Canadians."
For starters, the flight doesn't take too long. The weather is a dream, particularly for Canadians bombarded with snowstorms for nearly half the year. It's known for scenic beaches, idyllic forests, and a colorful wildlife. The taxes are far from oppressive. The market isn't saturated yet, and prices remain budget-friendly. The country also poses little risk, as a peaceful, democratic state.
Most importantly, Costa Rica is widely known for being foreign-friendly – and that is sweet music to Vancouver and the rest of Canada. This extends to dream home purchases in the country. Unlike other countries, it essentially offers the same straightforward process for Canadian home buyers who wish to acquire property in their name.
How do they get a key to their own private piece of paradise? What are a few concerns, if any, for Canadians to consider? In general, they need only to look for the assistance of a bilingual real estate agent and a real estate attorney.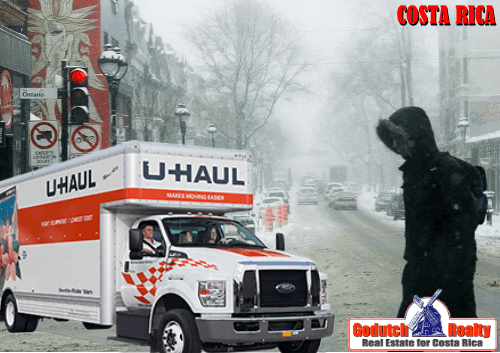 Is it possible for Canadian home buyers to purchase at any location?
The general rule is that foreigners, like locals, are free to buy titled property. Thanks to the country's central land registry, it's also easy for the purchaser and a reputable agent to check whether an ideal summer oasis has a clear title.
There are only a few restrictions to full ownership for Canadian homebuyers. One of them is the maritime zone, which has many restrictions. The prohibition is absolute regarding any type of property within the first 50 meters from the high-tide line. Municipalities may grant concessions within the first 200 meters, in the form of long leases.
Vacation homes in these prized waterfront areas past the 250-meter line still enjoy panoramic beachfront views. Therefore, inform yourself about maritime zoning first and then check with your attorney before you make a purchase.
How much is the deposit?
After the agent successfully negotiates terms based on the initial offer, it's time to secure the agreement with a deposit. The amount is customarily 10% but is usually negotiated. The deposit is recommended to be held in a SUGEF or a government-registered escrow account.
An escrow agent can assist in obtaining such an account.
How much will it cost?
As with property anywhere else in the world, the cost would depend primarily on particulars, like the location and use of the property. This is especially true in an unregulated market like Costa Rica's. The range is a wide spectrum, from a modest $100,000 to a cool $5M.
Again, Costa Rica entices with its foreign-friendly outlook. The pricing here discriminates against no one. There is no special property tax on foreigners. The fees, as with the process of purchasing, is the same for locals and foreigners, residents and non-residents alike.
Compared to other countries, Costa Rica requires a much lower property tax, at .25% of the property value on record at the public registry. If the assessed value were $100,000, the annual property taxes would only amount to $250. Even the so-called "luxury tax" tacked on pricier estates is very low.
The parties shoulder the title transfer costs equally unless negotiated differently. The cost is variable but average 3% over the sales price, contact a notary public for details.
The real estate agent's commission is paid by the seller.
When does final closing take place?
Buyers can usually expect to close 30 to 60 days after the parties have ironed out all details regarding pricing and other terms. Then the property is duly registered under the purchaser's name by a notary public.
It's important for Canadian homebuyers to routinely check on the property, especially if you are going to be an absent owner. When you're planning to rent the vacation home out, hiring a reputable property manager is advisable.
Check for homes in Costa Rica on the inventory now.
The Author
Richard Morrison is widely recognized as one of the top real estate experts in BC Canada. His passion is helping people succeed with real estate, which is why he's constantly in the trenches creating new business opportunities for his clients. Additionally, he has created a wealth of real estate assets worldwide on his own.
The grammar of the Spanish version of this blog was checked and corrected by Wagner Freer of Spanish School for Residents and Expats. We strongly recommend this language school as your best choice to learn Spanish, click here to contact them. Now also in Green Project Language School, Ojochal.

---
If you like this blog, connect with me on Google+ or subscribe to my newsletter by clicking the banner below.

I DO want to remind our readers that we appreciate any referrals you can send us. Also, please remember the GoDutch Realty agents when you talk about your home in Costa Rica, we appreciate it.