Estimated Reading Time: 5 Minutes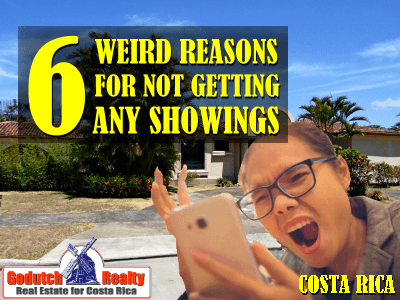 Homes in Costa Rica do not sell in 72 hours, and you can count on not even getting showings during the first couple of days.
I've written about the reasons a property doesn't sell quite often. If nobody even shows your property, it will never sell.
You'd like buyers to take your property into account on their home search, don't you?
Usually, it's just the fact that the sales price is much too high that you're not getting showings. Sometimes it's the curb appeal that keeps agents away from your home. But what are the reasons you can't get the realtors interested in showing your house?
1. Pain in the butt
You are a pain in the butt. Nobody wants to deal with you and me don't either. You are impossible to get on the phone. When I do, you keep complaining about everything. If I don't answer your phone calls immediately, even though I'm in a meeting, you expect me to answer your calls right away.
The other day, while I was at a wedding, you called me 17 times in 10 minutes. You don't need a real estate agent; you need a husband. Maybe having a husband will help a lot getting showings.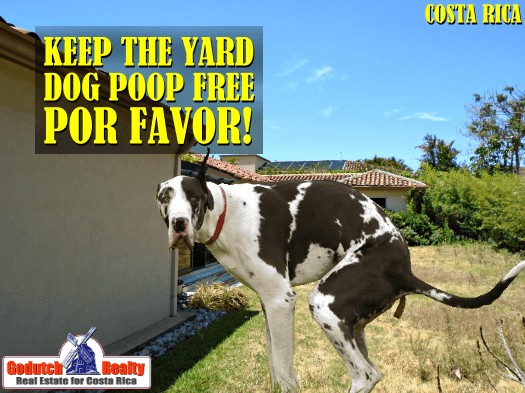 2. Your property stinks
Buyers can smell your house almost a block away. You must pay an urgent visit to your otolaryngologist if you don't smell it yourself. It seems your septic tank is full and you don't clean up the poop that your 8 Great Danes drop in the garden every day.
Clean up and I'm sure you'll be getting showing much more often.
3. Wrong time
When the agent calls, it's always at the wrong time to make an appointment. It's also the wrong time at 9 am, as it is too early to show. At 11 am, you're cooking lunch. Of course, at 2 pm it will rain and you don't want to show the house. At 5:30 pm it's starting to get dark. Also, during the weekends, the kids are home or you are away and we can't get in.
When the agent finally gets an appointment for a showing, you are not at home on the agreed upon time.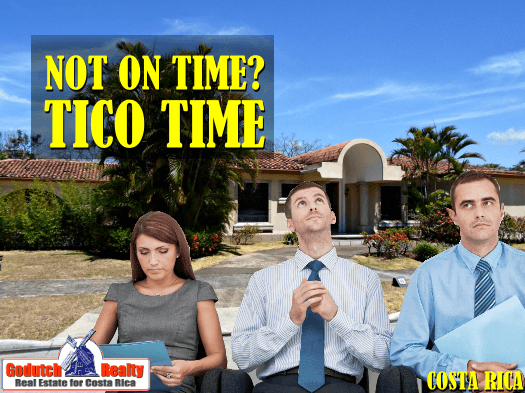 4. A Machete
Your garden is terribly overgrown, and the agent needs a machete to show the garden. The machete is not only needed to clear a path. I already lost 2 clients who saw a snake in your garden and it freaked them out.
Honestly, I won't show your property until I can walk the property without a machete.
5. Your agent
Your agent sucks. You don't get along with me. I'm easy to get along with, but I'm very opinionated. And, apparently, you don't like my opinions. The solution is pretty simple: fire me and find another agent. Maybe you will be getting showings that will sell your home.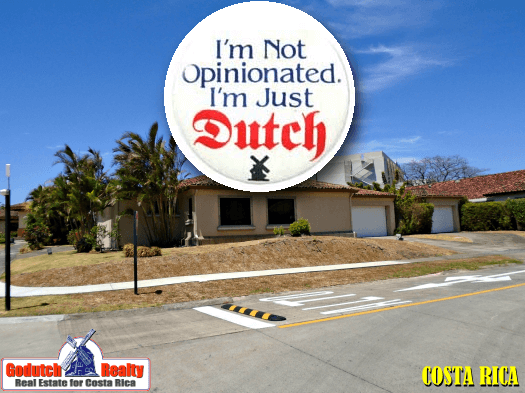 6. Photos
It's impossible to take any decent photos of your house, it's always a mess. I really don't care much that it's dirty. I just hate it we need to climb over the furniture to get to the other side of the living room. And the kitchen, oh my God, what a mess. Also, your master bathroom countertops are so full of bottles that you can't see what color the countertop is.
Not getting showings
I could go on and on about it. I've asked you many times to start getting rid of all that stuff that you have, you can't even call it a cluster anymore. Call me again when you have been able to "de-clutter" seriously.
These 6 weird reasons your home is not getting showings are not made up. I'm sure our agents could come up with a few reasons of their own.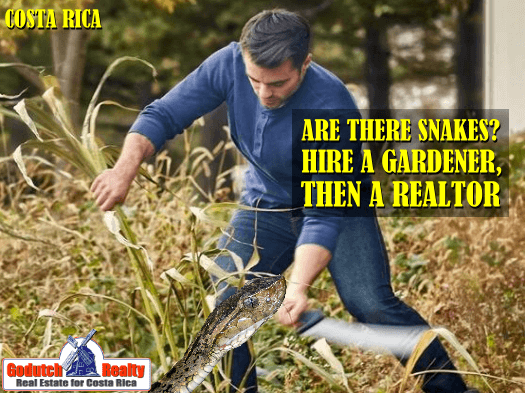 Are you a motivated seller? Do you have a good reason for looking for the assistance of a serious real estate agent to sell your property in Costa Rica? Then please contact us now.
The grammar of the Spanish version of this blog was checked and corrected by Wagner Freer of Spanish School for Residents and Expats. We strongly recommend this language school as your best choice to learn Spanish, click here to contact them.

---
If you like this blog, subscribe to my newsletter by clicking the banner below.

I DO want to remind our readers that we appreciate any referrals you can send us. Also, remember GoDutch Realty when talking about your home in Costa Rica to friends and family. We appreciate it.