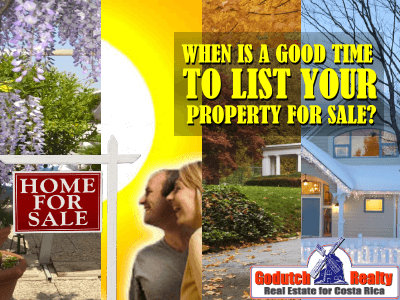 When keeping up with international real estate news, I always see great international articles about when to list a property. Some experts like Catherine Sherman at Zillow say that it is best to list a property early in the year. Others have very different opinions.
Maggie Wilson at Real Estate Daily says it's best to list a property in the late spring.
Teresa Hunter at the Telegraph says that NOW is the time to sell.
The statement I like best is Joanne Kaufman's, at the NY Times, who says that the right time to sell is anytime.
So what about Costa Rica? When should you list a property in Costa Rica for sale?
Seasons
In Costa Rica, we don't have spring, summer, fall, and winter. Our seasons are only two: a dry season and a green season. So at least it's a lot easier to choose when to list a property for sale.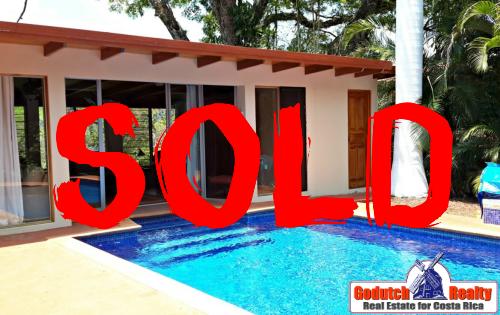 When it rains
As to my knowledge, there are no statistics that show if property sells faster during the dry season or the green season. Of course, showing a property during the dry season is a lot easier. Because when it rains, it pours. Some property owners hate showing their property when it rains.
There are some really interesting resources available if you plan to list property during the rainy season:
To-do list before the Costa Rica rainy season starts
13 Tips for the Costa Rica rainy season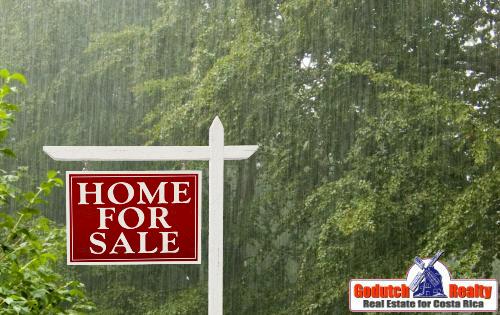 Does it matter?
In my opinion, it really doesn't matter when you want to list a property in Costa Rica for sale. There are so many details that are more important than that. Details that many sellers tend to forget. Properties sit on the market for years. That has many reasons, see why here.
Pricing
Sellers strongmindedly overprice their property to start with. Most don't even listen to what their real estate agent tells them, I even wrote an article about it.
Just 3 weeks ago, our agent, Marian Veltman, listed a great property in Atenas and has now an accepted offer on it. This shows that it can be done if the seller listens to the agent.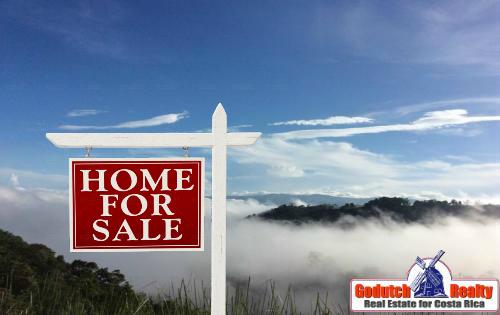 Magic window
In Costa Rica, we do NOT have a magic window to list a property in Costa Rica, as Zillow shows they have in Atlanta, Boston, Miami, and some other cities in the article mentioned at the beginning of this blog.
The magic is merely in pricing the property right and following any and all suggestions the real estate agents have.
Are you interested to have us list a property in Costa Rica? Then contact us now.
The grammar of the Spanish version of this blog was checked and corrected by Wagner Freer of Spanish School for Residents and Expats. We strongly recommend this language school as your best choice to learn Spanish, click here to contact them.

---
If you like this blog, subscribe to my newsletter by clicking the banner below.

I DO want to remind our readers that we appreciate any referrals you can send us. Also, please remember the GoDutch Realty agents when you talk about your home in Costa Rica, we appreciate it.