I want to share with you comments about For Sale by Owner that I hope will be informative to you. My comments are based on my personal perspective of the real estate market here in Costa Rica.
Several months ago there was a discussion buying For Sale by Owner property on the CostaRicaLiving forum. One article caught my eye stating number one – DO NOT HIRE A REALTOR.
That is interesting because a person much wiser than me warned me many years ago about making broad generalizations about people, professions, and even countries. I have always believed that and generalizations can sometimes get you in trouble.
Therefore, I would like to share with you my perspective of "For Sale By Owner ".
Before evolving into sales I did consult here in Costa Rica real estate for one year. I enjoyed consulting except for dealing with continuous problems people had gotten themselves into.
For Sale by Owner
Private Seller
Ninety-eight percent of the problems were buyers who went directly to an owner or developer. Owners may think their property is registered, segregated, etc. and ready to sell. Or they know it is not and hope someone comes along and writes a check.
Often the buyer learns about the problems after giving the seller a down payment. It happens.
Real estate developer
Many buyers never check a developer's contract. The contract is often skewed a little – usually totally in favor of the developer. Representing a client – the developer contract should be changed to be fair to both parties. Paragon Properties tool many deposits from people who contacted, asking for a return deposit.  It was too late because Paragon has legal problems all over.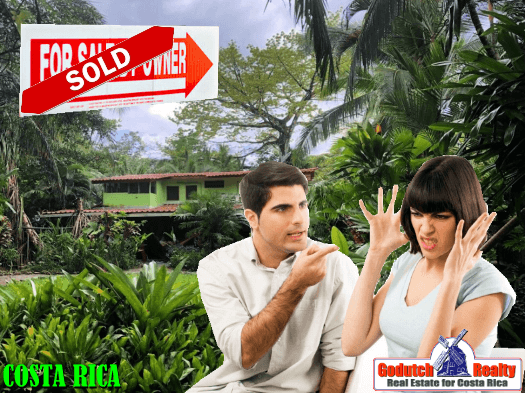 A True Story
For instance, last month a client from Hawaii has contacted a For Sale by Owner on Viviun. After the buyer arrived he made an offer on a different property. The offer was not accepted by the seller. He then had to leave early due to a problem back home.
Then the buyer asked me to check out the 200 acres he had an interest in. I visited the property. It was divided into four sections. The sellers gave me the information on the three sections that were registered. On the fourth, a 160 -acre parcel – they had a survey only. This was the largest parcel of all four.
I checked it out and found that the property was registered as IDA property. Buyers can only own IDA property if they are Costa Ricans or residents with more than 5 years of residency. The access was terrible. The land was cheap and will continue to be so.
The buyer could have sent them a check and regretted it.
How to Proceed
Everyone has choices and I respect that. Many deals through For Sale by Owner may proceed and close without problems. I feel that REPRESENTATION is the factor you want on your side. Any professional realtor has to check a property before listing it – most don't. Also, the real estate agent represents you and gives many additional services you might not know about.  A good realtor works very hard for you.
In addition, Patrick Mulheren has an excellent detailed article on For Sale by Owner if you wish more information.

The Author
Rudy Matthews is a former Tampa, Florida resident with a vast and varied experience in real estate. Rudy was our primary Costa Rica Home Specialist for many years. He can provide you with an excellent perspective of "Quality Lifestyle Communities". His in-depth background in real estate is very helpful to you in identifying sound and safe opportunities here in Costa Rica. 
---
If you like this blog, subscribe to my newsletter by clicking the banner below.

I DO want to remind our readers that we appreciate any referrals you can send us. Also, please remember the GoDutch Realty agents when you talk about your home in Costa Rica, we appreciate it.