Estimated Driving Time: 7 Minutes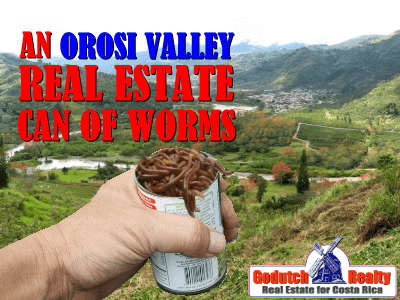 I'd like to introduce you to a couple of Orosi Valley real estate agents: Carol and BF Wilkinson of Land and Homes in Costa Rica.
Not that I want you to purchase real estate from them!
It's quite the contrary to that. If you are not careful when you buy a property from them, you might end up with lots of legal problems on that property.
In 2014, I referred a client to them. This client was not happy at all. AND, Carol and BF didn't pay me the referral fee we agreed on.
Why do I write about it? Not because I'm starving to death, because I'm not.
In my opinion, someone who doesn't speak Spanish doesn't know how to do a title search, and is not honest enough to tell the client so, shouldn't be allowed to sell real estate. If that agent on top of everything, doesn't pay the full referral fee to a broker who sends them business, something is seriously wrong!
They didn't pay me almost $1,500 real estate referral commission that was rightly mine. More important was the fact that a deal can go wrong with a bad  Orosi real estate agent. The worst part of it all is that I referred those buyers to agents I had never done business with. After this adventure, I never will again!
As you know, I am not only the owner of GoDutch Realty but also the coordinator of the American European real estate network. Our network has 29 real estate agents from coast to coast. I was contacted by clients, who we will call the Joneses on this blog. The Joneses were looking for their piece of paradise in Costa Rica real estate.
I want to apologize publicly to the Joneses for such a terrible referral.
Their first email request said "We have visited Costa Rica many times. We are planning to make our retirement move there by the end of the year. We think our best options may be Grecia or the Orosi Valley. The San Ramón area is not completely off the radar. We have not visited the Los Santos area before but are very intrigued by it. We would like to know more about it."
Orosi Valley real estate
The American European real estate network has agents in all those cities but not in Orosi. So I asked if anyone knew an agent who sells Orosi Valley real estate. Someone said he had heard about Carol and BF Wilkinson of Land and Homes in Costa Rica. They had started a while ago, and they had worked in real estate in Tennessee.
In our business, it is normal to refer the buyer to the other agent and agree beforehand on a 25% referral fee after closing. This is calculated on the total commission earned by the agent to the client is referred to. I did exactly that by email, and they never disclosed the existence of any listing agent to me. I think all the properties listed on their website are their listings since they don't use an MLS IDX.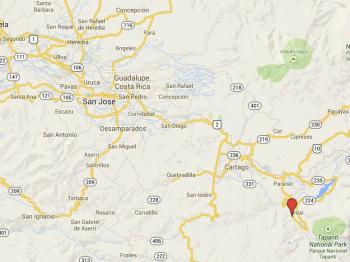 Legal problems
A long story short: the Orosi Valley property had legal problems that the buyer's attorney had to rectify, so they couldn't close in March. The realtors didn't bother to tell me, I heard all about that from the closing attorney. On July 1st, I receive a call from Carol Wilkinson, saying that the buyer's attorney would have my check and thanks for the business.
The client's version
That same day, the buyer sent me a very nice email that stated among other things:
"Ivo, I want to tell you again that your company and its people are absolutely outstanding.  We can't say enough good things about Brooke (in Grecia).   Tony went out of his way to show us around Los Santos and introduced us to a couple that have become good friends already.  Over the past 35 years we have each worked with numerous realtors but none of them was as helpful or delightful as Brooke.

And now the bad news,

Carol and BF

We have each worked with many, many realtors during our lives–some very good, some just ok, but we have never had a realtor who did absolutely nothing — until we met Carol and BF.   We want to tell you this so that you will know for future reference.   They did NOTHING except unlock the door to the property one time and let us in.  The only emails we ever got from them were usually asking us how much longer before we would close and the rare time she sent us information, it was wrong.

A bad title

To start with, she showed us 2500 m2 of untitled  land in addition to the 9500 m2 that the house sits on and she said it was all together the land that was for sale and included in the price.  Of course, it wasn't.   Luckily, we had retained Roger Petersen as our attorney and he was able to get it sorted out for us.

Another recommendation?

I just simply want you to know that if you should recommend the Wilkinsons ever again, that you know just what exactly you are getting with that referral.  It could reflect badly on you and your company which we hold in the highest regard."
Half a commission check
When I received the commission check I found that half of the commission was missing. So I sent Carol and BF an email asking for the reason. They claimed that the property was listed by other agents, even though the property was listed on their own website. When I asked for their contact info, they emailed back "If Rolen and Harold wish to contact you I will give them your email."
I have never been able to find Rolen and Harold online. The way Carol answers shows that those people don't exist.
Listing agent
It is common practice in Costa Rica to inform the referring agent who else is involved in a real estate deal. If the buyer's agent isn't also the listing agent, that is the FIRST thing you tell the referring agent.  Otherwise, the referring agent can expect 25% of the full 5% commission.  Throughout this entire process, nothing was said by Carol or BF of Land and Homes in Costa Rica.
Would it be possible that Carol and BF invented a listing agent? This way they could take, instead of the 75% of the total commission paid, 87.5% of the commission? Apparently, these Orosi Valley real estate agents needed the money more than I do.
Seen on a Forum
The other day somebody wrote on a Costa Rica forum
"All the real estate agents here in Costa Rica are worthless. You want to be a Real Estate agent in Costa Rica, just create a website and call yourself one."
The person who wrote that must have had Carol and BF Wilkinson as agents.
If you are looking to purchase Orosi Valley real estate, or any other Costa Rica real estate, it is very easy to ask for references (and check them out too!) or surf around on Google to find out who the good and honest real estate agents are; I invite you to do so.
Unfortunately, I have yet to find another Orosi Valley real estate agent to send any referrals to.
For other properties for sale and for rent in the Central Valley, please contact us now.