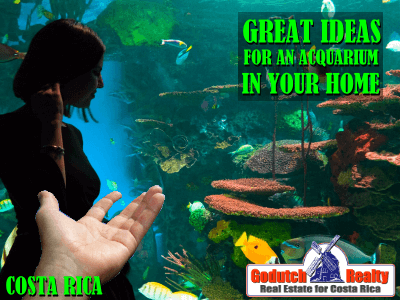 I know, you usually wouldn't think of decorating your home in Costa Rica with an aquarium.
That's probably because Costa Rica's natural beauty is a major draw for people moving here. And we have 763 miles of coastline, so we're surrounded by an aquarium!
When decorating your own property in Costa Rica, incorporating tropical fish and aquariums can add a touch of natural beauty to your interiors.
Whether you want your aquarium to be the main feature of a room or a subtle addition, there are numerous creative ways you can do this.
Aquascaping
Aquascaping is the art of creatively decorating your fish tank with plants, rocks, ornaments, and driftwood. It's a great way to add style and interest to your tank, as well as the entire room.
For example, if your property has a retro or vintage vibe, decorate your aquarium with a sunken ship ornament or a natural structure like driftwood. If, on the other hand, your home is contemporary, place plants and stones that match the colors of the room around the tank.
The fish itself is a vital decorative component in aquascaping. In particular, the Costa Rican blue-and-gold snapper can add vibrant pops of color.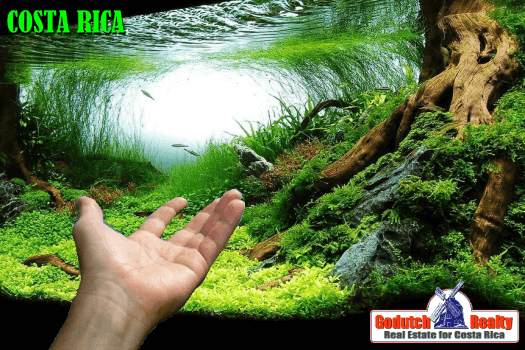 Fish tank bookcase
Your aquarium will likely be too large to fit safely on any pre-existing bookcase. Instead, you can sit it on a stand against the wall and construct a bookcase around the tank.
Your fish tank will therefore look like it's built into the bookcase and make a stylish design statement. If you're unable to build your own bookcase, hanging tiered shelving around the tank is a great substitute. Once you've made your aquarium bookcase, you'll need to fill it with beautiful tropical fish. In particular, koi fish can be a great addition to your aquarium. They come in a number of different types like black and white, butterfly, or dragon.
Since this species lives in small groups that swim in coordination, they end up looking very aesthetically pleasing.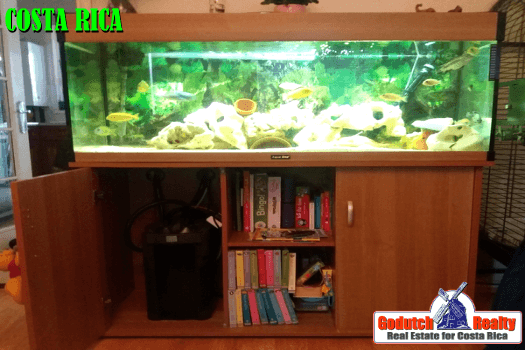 Room divider
Would you like to segment your living room, kitchen, or dining room? Then an aquarium room divider is a unique way to create extra privacy anywhere in your home. They're both beautiful and functional design features.
For example, a wall-length aquarium that stands from floor to ceiling is a striking way to divide up a room.
As for the fish, Cardinal brachy  — a species native to Costa Rica — can be a beautiful finishing touch to the room divider.
Ultimately, no matter your chosen method of decorating, aquariums can lend style, beauty, and harmony to your Costa Rica home.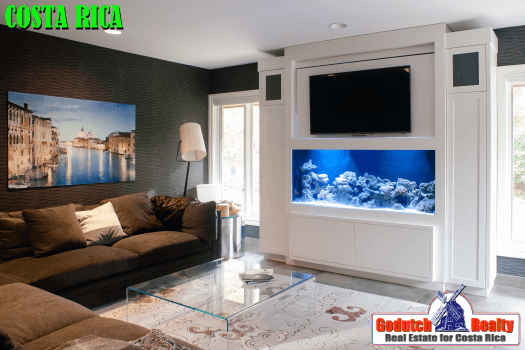 At GoDutch Realty, we do not only assist you in the purchase of your house in Costa Rica. We hold your hand all the way through the purchase process and assist, wherever we can, like in the decoration of your new home. Do you need professional real estate assistance? Then contact us now.
---
If you like this blog, subscribe to my newsletter by clicking the banner below.

I DO want to remind our readers that we appreciate any referrals you can send us. Also, please remember the GoDutch Realty agents when you talk about your home in Costa Rica, we appreciate it.