Estimated Reading Time: 7 Minutes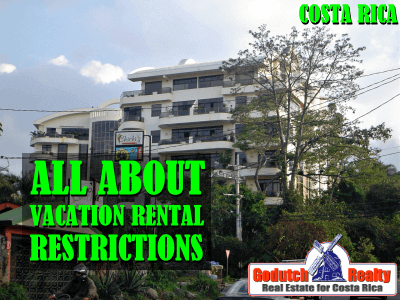 Before buying a condo in Costa Rica, you first want to know if there are any vacation rental restrictions in the condominium.
There are already some condo owners in Costa Rica who have had their problems with the condo administration about their short-term rental clients in their condo. Some do not allow for vacation rentals although this is legally very difficult to accomplish.
How can you find out if vacation rental restrictions exist or not?
Part of your due diligence process is telling both your real estate agent and your attorney what your plans are for the condo you are buying. Your attorney, for example, might just assume you are buying a condo for your own vacations. So there is no need for your attorney to look for any vacation rental restrictions.
Vacation rentals have skyrocketed. Airbnb, VRBO, Expedia, and Booking.com continue to grow.
When you look at the sheer number of online vacation rentals offered, you will understand why it some condo administrations shun vacation rental clients and would like to introduce having vacation rental restrictions in the condominium bylaws.
In the bylaws
We asked real estate attorney Francisco Molinero of Landco for his professional opinion on this matter:
The Law #7527 "Arrendamientos Urbanos y Suburbanos" (art.78) specifically prohibits sub-leasing, unless otherwise stipulated between the landlord and the leaseholder. Nonetheless, it is perfectly legal for the owner of a condo to lease his/her property for either short, medium or long terms.

Some HOA Bylaws in Costa Rica prohibit short-term leaseholds. However, this could be fought in court, due to the fact that the right to dispose of a property could not be restricted by an HOA bylaw. 

An excellent alternative for the administrator is to enforce other restrictions contained in the bylaws, with a verbal warning, written warning, penalty or even eviction of the tenant.

In other countries, the HOA administration obliges owners to have short-term leasehold agreements and to inform the administration each time a short-term leaseholder is in their property, such as Airbnb and HomeAway, for example.
The numbers
Some home and condo owners might have their vacation rental listed on several sites. Therefore, it is difficult to see how many vacation rentals really exist. But have a look at the number of online vacation rentals in Costa Rica
VRBO offers 5,446
Booking.com offers 4,087
Rent by owner offers 7,931
TripAdvisor offers 3,956
Airbnb offers 300+

Vacation rental restrictions
If there are any vacation rental restrictions, they have to be in the bylaws of the condominium. These bylaws can be found in the constitution of the condominium. The constitution, in turn, can be found in the National Register. Be aware that not everything called a gated community by the realtor is indeed a formal condominium with registered bylaws.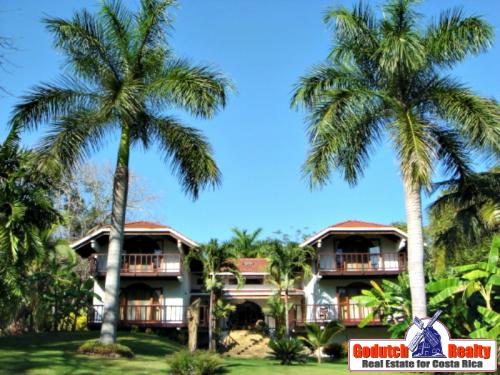 Rights
Basically, a tenant has the same rights and obligations a homeowner has. When renting out, the homeowner is responsible for the tenant's behavior. Usually, the homeowner is not on the premises when a problem between the tenant and the neighbors arises. Therefore, the tenants' behavior becomes a nuisance for the rest of the community. It is the task of the HOA administrator to take action when this happens.
Why?
Now you wonder why condo owners might object to why a neighbor uses a condo as a vacation rental? Homeowners behave differently than long-term tenants do. Long-term tenants also behave differently than short-term tenants do. Why?
"…there's a mutual interest in the upkeep of the property… Tenants who can feel the property is their proper home for a long time, and that the some of the rent they pay will go towards repairs and maintenance are far more likely to look after it well." – Maureen, who has been a landlord for twelve years.
Which problems?
Why would there be a problem between the neighbors and a tenant? Let's see for a moment which problems happen often enough:
Noise and misbehavior in the common areas,
Offensive language,
Prostitutes on the premises,
Loud music,
Drug abuse,
Pollution by smoking,
Damage or misusage of pool furniture, gym equipment, and other common property.
All the above can result in a fine to the homeowner, but the tenants will be long gone by then.
Change in the bylaws
As you can see in the above professional opinion by attorney Molinero, it is almost impossible (though legal opinions can vary) to include vacation rental restrictions if they don't exist in the bylaws of a condominium. In some other countries, neighbors have already started to defend their rights, as you can see in some of the images.
Due diligence
Are you buying a home in Costa Rica to use it as a vacation rental? Then you want to make sure there are no vacation rental restrictions! Before you buy, hire a bilingual lawyer for the due diligence and ask explicitly to check on the restrictions.
Thinking of hiring a real estate expert to purchase a vacation home in Costa Rica? Contact us now.
The grammar of the Spanish version of this blog was checked and corrected by Wagner Freer of Spanish School for Residents and Expats. We strongly recommend this language school as your best choice to learn Spanish, click here to contact them.

---
Other Vacation rental resources
Should vacation rental accommodations have to pay taxes soon? – click here
Use a self-directed IRA to buy a vacation rental long before retirement – click here
Atenas Park Benches for rent or is a vacation rental better? – click here
How to find a Costa Rica Vacation Rental Property Manager? – click here
How to market your Vacation Rental property in Costa Rica better – click here
Where to promote your Costa Rican Vacation Rental? – click here
Is tourism hurting due to vacation rentals in Costa Rica? – click here
How to finance vacation rental investment in Costa Rica – click here