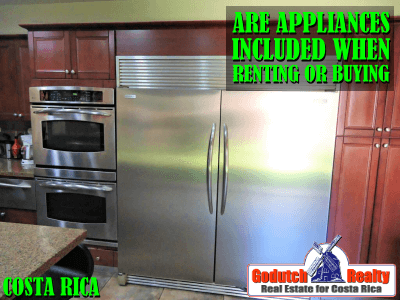 "Darling, I love that luxury condo in Escazu, all those appliances are included; I just sent you the link so you can have a look at the photos. I asked the realtor if that 36" Sub-Zero side-by-side built-in is included in the sale."
"And you should see the rest of the appliances in the kitchen; imagine if they include
GE Profile Stainless Steel Fridge and freezer,
GE Warming drawer,
built-in GE Profile Double Ovens,
Gas 6 burner Viking range, 15,000 BTUs per burner
and Dishwasher.
It's wow! I'd buy that place in a heartbeat if they really include all the appliances in the sale."
When you look for Costa Rica home for sale online, it's usually not very clear if the appliances are included in the sale or not. A smart real estate agent would probably remember to mention it in the description of the home or condo, especially if the appliances are top of the line.
Many websites have a separate section where the agent just clicks what is included in the property for sale or for rent.  So what is customary?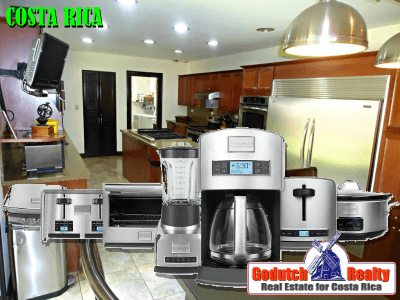 The cost of appliances
Appliances carry a high import tax rate in Costa Rica and are all imported; therefore the cost to purchase appliances is high. A 36" Sub-Zero can cost somewhere around $25,000 and might not be included in the sale of a luxury condo. There are many large appliances stores in Costa Rica where you have a good choice of inventory of different brands. There are also many stores that sell used appliances.
Before you purchase, check on online forums if the distributor/importer of a brand you are interested in has its own repair shop and import spare parts. That can be of great help when making a decision on which brand to choose.
For rent
When a Costa Rica home or luxury condo is for rent, it's not unusual that the appliances shown in the photos are not included in the rent. Double-check with the listing agent to make sure they are included or not included. The purchase of appliances can run at several thousand dollars and might make the difference when you want to sign a lease agreement on a particular house for rent.
For rent furnished
When you see a house for rent advertised furnished or furnished & equipped, usually, the mayor appliances are included when a house is rented furnished.
For sale
Most Costa Rica homes and luxury condos for sale do not have the appliances included in the sales price unless it is advertised turnkey. Luxury homes for sale usually do not have the appliances included in the sales price, unless they're built-in.
Built-in
Sometimes, appliances are built-in, such as a range hood or exhaust hood, an oven, a cooktop or water filter systems, but never assume they are included. Always ask if they're included or not and have them included in the rental agreement or the option to purchase sale-agreement.
Ask your real estate agent specifically if the appliances are included in the sale of the offered property.  Have your agent always include an inventory list of what is supposed to be included in your offer and in the option to purchase sale agreement, so there will be no misunderstandings later.
Dishwasher
Many families in Costa Rica have a full-time housekeeper so they don't need a dishwasher. Many houses in Costa Rica don't even have a space for a dishwasher or the water connection and drain in the kitchen. Even newer condos in a condo building might not have a dishwasher or the space to install one, check before you assume.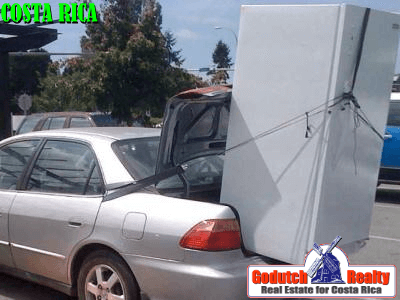 Smaller appliances
You will learn that most of the time only the larger appliances are included such as
Refrigerator,
Stove,
Oven,
Dishwasher,
Washer and dryer.
If the listing shows that appliances are included, microwave, blender, and toaster are usually not included.
If you have any doubt about a Costa Rica home listing, for sale or for rent, hire a GoDutch Realty agent to be your buyer's agent. I assure you that you can trust you get all the right answers to your questions. Renting or buying? Then contact us now.
---
If you like this blog, connect with me on Google+ or subscribe to my newsletter by clicking the banner below.

I DO want to remind our readers that we appreciate any referrals you can send us. Also, please remember the GoDutch Realty agents when you talk about your home in Costa Rica, we appreciate it.