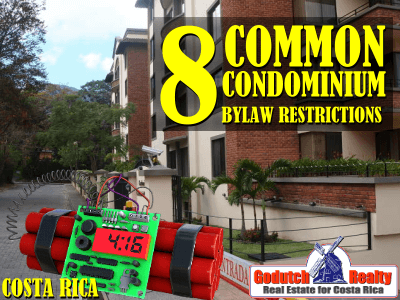 Thinking of buying or renting a condominium in Costa Rica? Then you should know about some of the condominium bylaw restrictions first. Maybe there are restrictions that won't allow you the living comfort as expected.
Bylaws are very important when you live in a condominium. Actually, they can give you a lot more living comfort that you might enjoy in a normal neighborhood. Because they are also supposed to protect you against neighbors who don't want to live by the rules.
Some bylaws are great for some and not for others, depending on the type of condominium bylaw restrictions. The prohibition of pets can be a relief for some and the reason for not buying or renting a condo for others.
What are the condominium bylaws?
The condominium bylaws describe the rights and obligations of the property owners in a condominium.  All condo owners are governed by these bylaws. They're also called rules and regulations, covenants, conditions, and/or restrictions (CC&Rs). In Spanish, they're called Reglamento de Condominio y Administración, or Reglamento Interno de Condominio.
Where can you find the condominium bylaws?
They are registered in the National Registry when the condominium is constituted. The easiest way to acquire them is to ask your real estate agent, the seller's lawyer or go to the National registry yourself.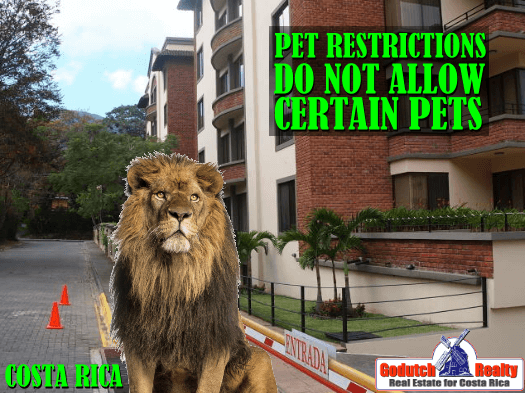 8 Condominium bylaw restrictions
1. Pets
Lions, tigers, snakes, spiders, crocodiles and some dog breeds are usually prohibited in a condominium. One of the most important condominium bylaw restrictions is the pet restriction. Some bylaws restrict all pets. Others only the size of the pet or certain breeds.
If you love pets and want to have one, or several, please check the condominium bylaw restrictions before you purchase.
If you are allergic to pets, hate barking dogs or are afraid for them, you'd also want to check the condominium bylaw restrictions first.
2. Noise
If you love to party or enjoy listening to your music at full blast (or your kids do), better check the condominium bylaw restrictions first. The use of boom boxes, motorbikes, a noisy spin cycle washing machine, or other intolerant noise level creatures like teething toddlers might not be accepted in a condo.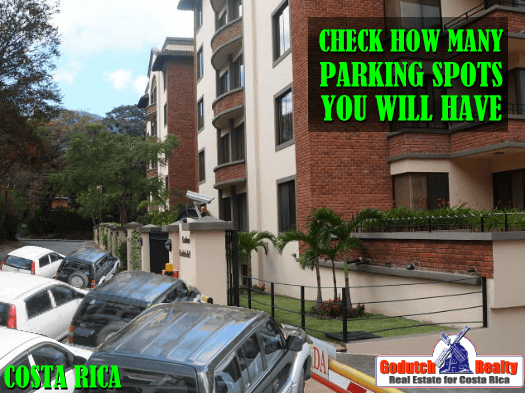 3. Parking
If you and your family own several vehicles, you need to check first how many parking spots you're buying or renting with the condo. Some have only one, others have two. Usually, it's prohibited to use the guest parking for your own vehicles. If you own an RV, you'll run into trouble for sure.
4. Hanging laundry
Most condominiums do not allow laundry, carpets, and towels over the railing of the balconies. Therefore, make sure that the laundry area does have space for a dryer. Most condos do NOT have an exhaust vent for the dryer, so a MacGyver might be necessary.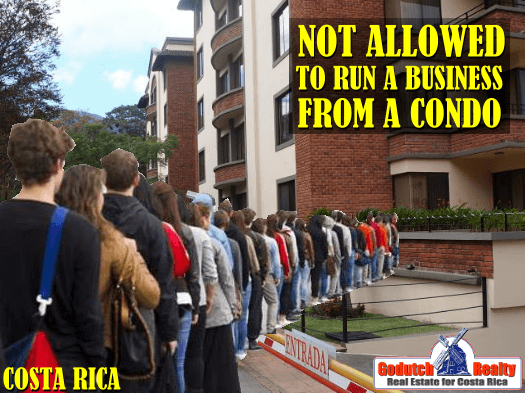 5. Business
If you plan to start a print shop or a fish market in your home, a condo is not for you. One of the most important condominium bylaw restrictions is that you are not allowed to run a business from your condominium. If you have a home office and never have any visitors, other homeowners might not notice it and complain.
6. Paint
You are not allowed to paint your façade or front door in a different color than your neighbors. So if you're an artsy person or you just enjoy being different than your neighbors, I suggest you do not buy or rent a condo.
7. Flammables
Do you like to play with a flamethrower or dynamite? Then don't buy or rent a condominium. An important condominium bylaw restriction is not being able to keep explosives, flammable material or toxic waste in your condo. This might sound a little restrictive, but I guess it's necessary to have those rules in place and keep the condo safe for all.
8. Guns
Quite a few condominiums prohibit residents and their visitors to carry guns. So if you love your guns and love to show them off, don't buy or rent a condominium where condominium bylaw restrictions include gun ownership.
Of course, there are always other restrictions you might not be happy with. Some condominiums have bylaws that carry fines for violations, others don't.  What can happen to you if you want to break the bylaws of your condominium? Ask your lawyer before you break anything!
Do you still want to buy or rent a condominium in Costa Rica? Then contact us, we're the experts.
The grammar of the Spanish version of this blog was checked and corrected by Wagner Freer of Spanish School for Residents and Expats. We strongly recommend this language school as your best choice to learn Spanish, click here to contact them. 

---
If you like this blog, subscribe to my newsletter by clicking the banner below.

I DO want to remind our readers that we appreciate any referrals you can send us. Also, when talking about your home in Costa Rica, please remember the GoDutch Realty agents. We appreciate it.