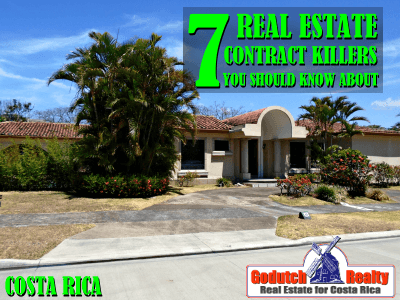 Do you think that as soon as the real estate contract is signed, you can take the day off and celebrate? Had you heard about those horrible contract killers than can happen to anyone?
I'm sorry but unless you have the perfect real estate contract and everything else falls in place, you will not be able to celebrate until after closing.
I know quite a few real estate agents who, as soon as the real estate contract is signed start booking their family vacation or even purchase a new car. I have seen sellers go crazy spending their savings in their celebration that their house was sold. Well, don't do that YET.
A signed offer is not a legal commitment. Our agents use a written offer so there won't be any disagreements later on.
The buyer's attorney uses that written offer to write up the formal real estate contract, which we call option to purchase – sale agreement. Others in Costa Rica call it a buy-sell agreement, a property purchase agreement or sometimes a promise to purchase.
When buyers and sellers sign this real estate contract, 10% of the purchase price or any other agreed-on amount goes into escrow. Usually, this earnest money is non-refundable. Ticos negotiate differently and usually the seller receives the earnest money since they don't use escrow.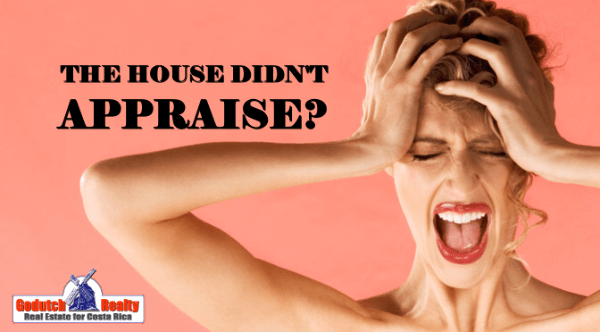 I once had a Tico seller pass away before closing and the family used the earnest money for the burial. That should tell you why we prefer to do it differently.
There are 7 real estate contract killers that buyers and sellers should know about
1.    Getting Financing
Before you go any further, it is important to know that you need to be a resident of Costa Rica to get home financing. If you have found a private lender, first check what the cost of formalization of a mortgage is, before you go any further. Do not make any offers on a home without having your home financing in place.
If the buyer cannot find a mortgage and is not able to close, the buyer loses the earnest money. Don't allow a real estate contract to be killed because the buyer can't get financing.
2.    A financing contingency
In Costa Rica, it is not customary to make an offer subject to financing. It is imperative for any buyer to get pre-approved before making that offer. That way you know your budget to shop for a home and the cost of financing.
The buyer loses the earnest money if the banker disqualifies the buyer's income. Don't let a real estate contract go bad because of a financing contingency that was badly described.
3.    Appraisal
You can make the offer contingent on the appraisal. If the buyer is pre-approved at the bank, it is only a matter of days to get the appraiser to the home. Do not sign a final real estate contract until you know the appraisal came out positive. Once the buyer has deposited the earnest money and signed the real estate contract, the deal is set.
Most sellers will not accept any contingencies once the earnest money is in escrow. Do not let an appraisal interfere unnecessarily in a real estate contract.
4.    Home inspection
Homes in Costa Rica sell "as is". Get the home inspection done and approved by both parties before you sign the real estate contract. That way there will never be a dangerous contingency that can turn the agreement into a commitment killer.
Don't allow a home inspection to turn your real estate contract into a nightmare.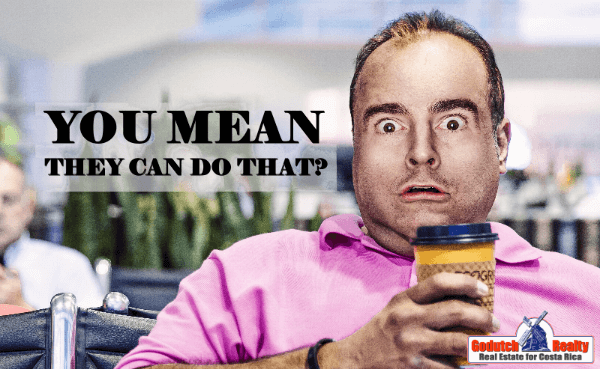 5.    Title issues
A good real estate agent checks the Property Registry for liens and title issues when listing the property and again when writing up the offer. A good real estate attorney checks the Property Registry again when writing up the real estate contract. That does not mean though, that during the term of the contract a lien cannot show up for some reason.
That's why it's important the closing attorney checks the Property Registry again for liens right before closing. Double-check with your closing attorney that a title check is well taken care of. Don't let it kill your purchase or sale.
6.    Buyer's remorse
It is possible, though not very common, that the buyers have remorse after signing the real estate contract. Maybe they're scared of not being able to pay the monthly bills. Maybe it is because they're not sure about the neighborhood. Or they're not sure if the backyard is large enough. There are many reasons for the buyer's remorse.
The only way to assure the completion of the real estate contract is to request a large enough earnest money deposit.
7.    Seller's remorse
During the term of the contract, sellers sometimes like to get a back-up buyer and keep showing the property. If they get a better offer than what the real estate agreement was signed for, what can happen?
The buyer can stop a seller from selling a property for a better price. The attorney should write up the real estate contract in such a way that such a sale would result in a lien on the property. This would tie up the property for years in court and no smart seller would want to get to this point. Or there can be a penalty clause in the contract.
As a last recommendation: if you a buying or selling Costa Rica real estate, contact an established real estate agent. You also need to hire an attorney who is well versed in real estate matters.
---
If you like this blog, subscribe to my newsletter by clicking the banner below.

I DO want to remind our readers that we appreciate any referrals you can send us. Also, when talking about your home in Costa Rica, please remember the GoDutch Realty agents. We appreciate it.