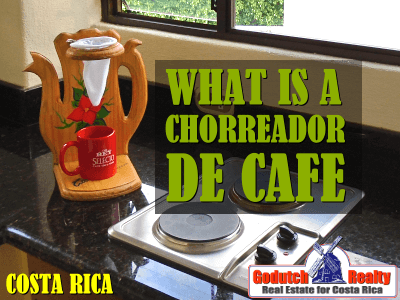 I'm pretty sure you don't know what a chorreador de cafe in Costa Rica is. In simple English, it's a Tico coffee maker.
The correct verb for using a chorreador is chorrear café = to pour coffee.
Ticos swear by a real cup of coffee. Why wouldn't they, we have the best coffee in the world! And the best cup of coffee is poured the traditional way, manually, by using a chorreador de cafe.
When I moved to Costa Rica in 1980, coffee makers were really hard to find. Few appliance stores carried a coffee maker on inventory. The traditional and manual coffee maker could be purchased in any grocery store like Mas por Menos.
This traditional chorreador is a very simple coffee maker. It is made of a small wooden base and some steel wire. To make the "machine" complete, you also need a pouch or bag. The Spanish name for this bag is colador o bolsa.
Over the years, other designs were created, mainly for the tourism industry.  I have been able to find a nice assortment of them online, see the photos in this article.
MacGyver
You can still find the fabric pouches for sale in some supermarkets. In case you can't find the pouches anywhere, here's a tip. It's what we call a MacGyver in Costa Rica. It's the way my mom used to do it.
Cut a pocket out of man's pants that you are not using anymore. Use a piece of steel wire and sew it to the pocket. Wash it well before use.
Where to buy one?
Would you like to drink your coffee the traditional way? Then check out Woodcraft, a local company that makes a handmade chorreador de cafe like I have not seen any other.
Any local central market sells chorreadores, try the markets of San Jose, Atenas or Grecia.
Preparation
How to prepare a great cup of coffee by using a chorreador de cafe?
Before you use the fabric filter or pouch, rinse it just with clean water (no soap please) and drain it.
Place a heat resistant recipient under the chorreador and hang the pouch in the hole on top.
Bring water to a boil.
Place the ground coffee beans of your choice in the pouch.
Pour boiling water slowly into the pouch. Don't pour too fast, you'll make a mess.
The freshly brewed coffee will drip through the pouch into the recipient.
If you like your coffee stronger, run the hot water through the filter twice.
Y listo, buen provecho!
Are you looking for a chorreador de cafe that is nicely painted? They sell them in most souvenir stores.
For those who are learning Spanish, after reading this blog, you have learned at least 2 more words, supposing that you already knew the word de in Spanish.
Feel free to leave your comments on this blog and share this article on your social media.
---
If you like this blog, connect with me on Google+ or subscribe to my newsletter by clicking the banner below.

I DO want to remind our readers that we appreciate any referrals you can send us. Also, please remember the GoDutch Realty agents when you talk about your home in Costa Rica, we appreciate it.