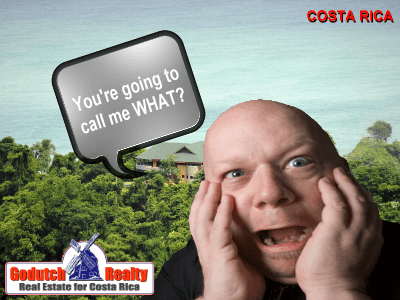 Just like in many other countries, it is customary for people to have short names in Costa Rica, just like in other languages. You will find it interesting to know why the city of San Jose is called Chepe (look up the name Jose below) and why your gardener is called Juancho or Chuz (pronounced "tshoes") and your housekeeper's name is Chavela. Learn all about short names in Costa Rica now.
No matter how short the name is, the Ticos just enjoy changing the names into a shortened name (even though it is longer); below you will find the most important ones that I can come up with. You'll find there are more for men than for women, I don't really know the reason.
If your name is Don (we had one recently), start thinking about a new name. Don means Mister in English and locals will call you don Bill, don Jim and don Ivo. So if your real name is Don, you would be don Don, which is a bit weird.
If you have a difficult name and your housekeeper or gardener has a hard time pronouncing, pick any of the short names in Costa Rica below. The locals will love you for it.
Short Names in Costa Rica
Alberto/Gilberto/Roberto = Beto
Alfonso = Poncho
Camilla = Cami
Carlos = Caliche
Cecilia = Chila
Domingo = Mingo
Don William = Dongui
Enrique= Quique
Ernesto = Neto
Fabiola = Lola
Federico = Kiko
Felipe = Pipo
Fernando = Nando
Francisco = Chico/Paco
Gerardo  = Lalo
Gonzalo = Chalo
Guadalupe – Lupe/Lupita
Guillermo = Memo
Gustavo = Tavo
Ignacio = Nacho
Isabelle = Chavela
Jesus = Chuz
José = Chepe/Pepe
José maria = Chema
Juan = Juancho
Juan José =  Juanjo
Marcela = Chela
Marianela = Nela
Rodolfo =  Fofo
Ronald = Rolo
Rosario = Chayo/Chayito
Roxana = Chana
Sergio = Checho
A gringo name?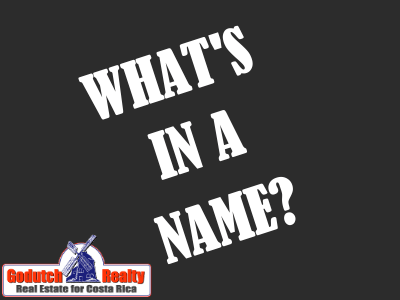 The above might help if you want to give yourself a Tico name. If you are William or Bill you can call yourself Memo, when your name is Hank, Henrik, Henk, or Hendrik, you can call yourself Kike.
If your name is John, Johnny, Jan, Johannes or Johan, from now on you can call yourself Juancho. There are plenty of other great short names in Costa Rica to use.
My name is Ivo, which sounds easy but you'd be surprised how many people manage to pronounce it wrong. But that's an inside joke. Buy Costa Rica real estate from me and I will explain the inside joke to you. Contact me now.
Feel free to leave your comments on this blog.
---
If you like this blog, connect with me on Google+ or subscribe to my newsletter by clicking the banner below.

I DO want to remind our readers that we appreciate any referrals you can send us. Please remember the GoDutch Realty agents when you talk about your home in Costa Rica, we appreciate it.