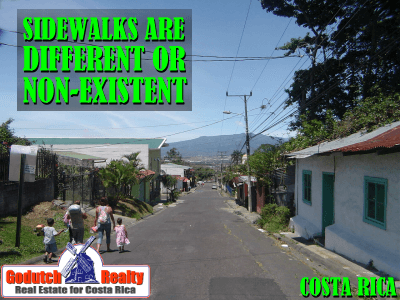 Sidewalks in Costa Rica? What's that, a sidewalk? Who needs sidewalks anyway? Costa Ricans don't use sidewalks, even if they have one.
Costa Ricans walk on the road, mostly for lack of sidewalks or there are too many obstacles. A few weeks ago, I wrote about obstacles on the roads of Costa Rica.
This blog is all about obstacles you might find when walking on a sidewalk. You will find lamp posts, trees, power posts, advertising signs, billboards, fences, garages, and the most incredible objects cross your path.
I have been in many cities in the US where they don't have sidewalks either because people don't walk, they drive. But in Costa Rica, many people walk and jog and walk the dog. If you are in a wheelchair or you want to the baby in the stroller, you're in for a treat.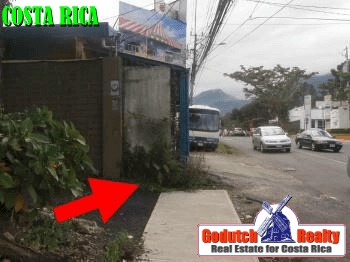 Planification?
Walking in Costa Rica is not an easy task and if you plan to practice jogging, think twice. Escazu, where I live for example as well as many other communities in Costa Rica, has no sidewalks on more than half the streets. To have space to build one, you need planning. And city planning (or any planning) is not what they do well in Costa Rica.
Narrow Streets
In many towns and even cities in Costa Rica, the streets were originally oxcart trails until someone invented cars. With the invention of pavement, years later, now we suddenly needed two lanes plus a sidewalk, which of course wouldn't fit.
Therefore you might find a sidewalk on one side of the street and none on the other side. Or it will suddenly bump end at a wall or someone's carport.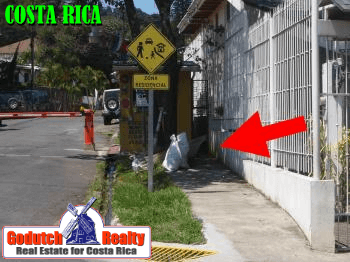 Irregular Topography
The topography of Costa Rica is slightly irregular in most places as you probably know, so it is very difficult to build a sidewalk even if there is space to build one and make it level seems to be impossible. Most property owners in Costa Rica think it's nice to have that extra space as part of your front yard.
Sidewalks in Costa Rica are built as driveways into properties, not as sidewalks. If you have bad knees or your ankles aren't like the million dollar man, don't try to walk or run on a Costa Rican sidewalk in a residential neighborhood.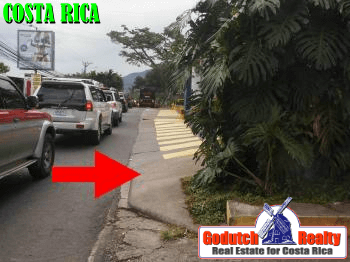 The Rain
Besides, when it rains it pours, so just a sidewalk next to the road won't work. We need large ditches to get rid of all that rainwater.  Of course, storm ditches don't understand corners and why a pedestrian would need to cross the street. To be able to do so, you need to be a practiced jumper.
Other times, you might not find a storm ditch, or a sidewalk, as you can see in this picture of the old road in Escazu.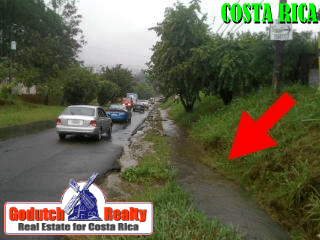 Commercial Parking
It is pretty common to use the sidewalk to park your car.  Builders do not bother to calculate the length of a parking spot and add the width of the space that's meant to be used by pedestrians. Lots of commercial real estate is short of parking spaces and car owners will just use the sidewalk and block access.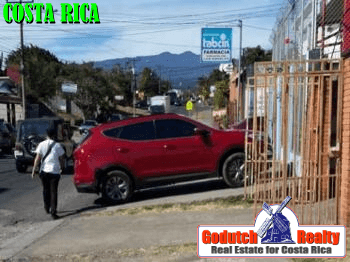 The Inclination
Of course, if you look at the property building codes, you will find that they oblige anyone who builds on his property, to also build a sidewalk.  Law indicates that sidewalks need to have a minimum of 1.20 meters, just over 13 feet with no more than 3% inclination, which nobody really controls.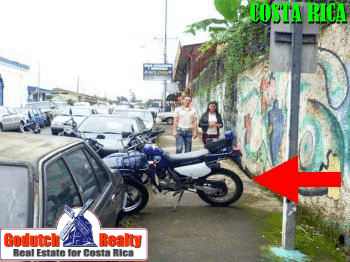 They'll build it for you
In Escazu, as well as some other municipalities they started many years ago to oblige property owners to build a sidewalk. Even those who have just a building lot. If the property owner doesn't build one, the municipality will do it for you and will charge you when you pay your property taxes. It is a slow process and it will probably take them at least 100 years to do it everywhere.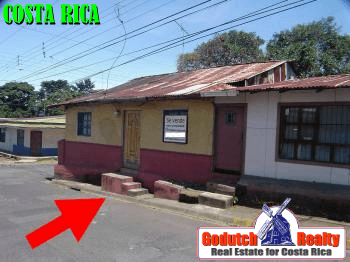 Window Shopping
In downtown areas of cities, shoppers will stroll very slowly. They stop in the middle of the sidewalk to look into a window. So that it is impossible to walk faster than anyone else. For that reason, many people walk on the street. Which is a good reason to be careful when driving in busy shopping areas.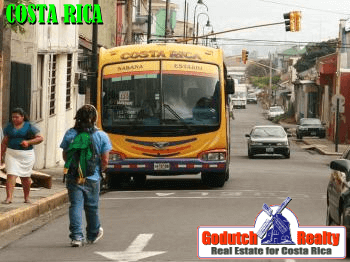 More reasons to drive carefully so you won't create any accidents are: Costa Ricans might use dark clothes at night, or they might walk with their back to traffic or hold the hand of their child but have the child on the roadside.
Don't hesitate to contact us when you are in the market to purchase a property in Costa Rica. We'll make sure it will have a sidewalk.
---
If you like this blog, subscribe to my newsletter by clicking the banner below.

I DO want to remind our readers that we appreciate any referrals you can send us. Also, please remember the GoDutch Realty agents when you talk about your home in Costa Rica, we appreciate it.