Estimated Reading Time: 7 Minutes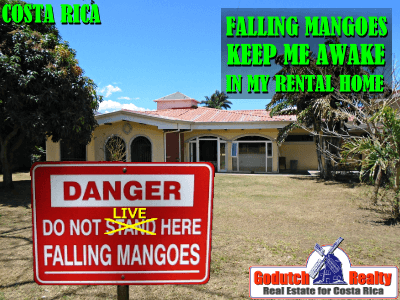 I read the complaint "the mangoes are keeping me awake". This complaint was from a client who had signed an agreement on an Atenas rental home. Strange, I thought, I never have any heartburn when I eat mangoes. I get it from pineapple but not from mango.
When I read the Atenas rental home tenant's complaint further, I found out that the letter also mentioned: "Fruit is constantly bouncing off the rancho roof which is particularly startling to the heart".
This is where I started to worry because it seemed we had tenants with a heart condition. So mangoes are not only bad for your sleep, but they're also bad for your heart. Jeez, I thought, I should quit eating mangoes. Then tell you all about it so you're warned and can't complain about it later.
It seems to be that when you rent a home in Atenas like this complaining client did, there is a chance you will have a huge problem with the mangoes in your yard. Unless we cut like 413,659 trees, take or leave a few, because there are mango trees everywhere in Atenas. It's a miracle nobody got killed by a mango yet.
Rain
I like the rain a lot because without rain, we wouldn't have any mangoes and I love them. It only seems that in this particular area in Atenas it doesn't rain cats and dogs, but it rains mangoes no matter if you live in a rental home or on your own. This tenant wrote in his complaint that his wife, "cannot even work in the rancho of our Atenas rental home like she had originally intended because of the constant banging on the rancho roof. I know, he was worried about his "media naranja". BUT, here we had another expat who was not willing to adjust.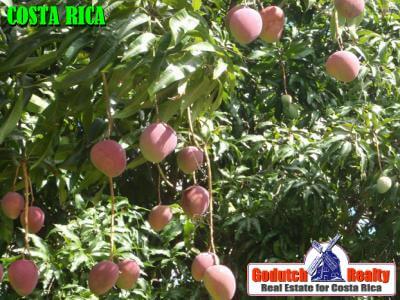 How to fix the problem
We were at a loss and not sure what to do, we had only three options to fix the problem.
Cut down the mango tree because keeping the tree free of ripened mangoes was going to be impossible. On the other hand, the mango tree gives the rancho a very nice shade and the rancho has a tin roof. Which is the reason why it's so noisy when a ripe mango falls off the tree? If we'd cut the mango tree, there would be no shade, the roof gets hot. And the next complaint from the tenant will for sure be "she cannot even work in the rancho as she had originally intended because it is too hot in the rancho. The sun shines on it all the time". So that option was out.
Ask the landlord of the Atenas rental home to change the roof of the rancho with a less noisy material that won't bang when hit by a mango storm. We can't put tile on it because the tile will break. The landlord would have to spend quite a bit of money to replace the zinc roof for a plastic tile roof, which is the only roof that won't make a "banging" sound every time a mango drops. But then, the next request would be to replace the roof of the house also. So maybe not such a good idea.
Tell the tenants to find a rental home in Poas de Alajuela, which is strawberry country. Strawberries have the huge advantage of growing IN the ground and not up in trees. Now we just hope there won't be any ashes from the Poas volcano soon. Then we'll back to a "rain" complaint again.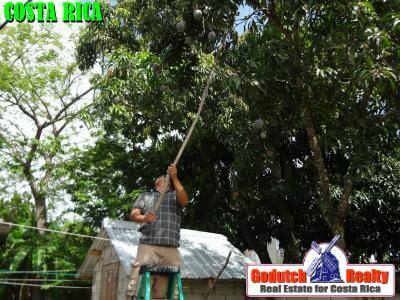 Mango is delicious
It's really a pity these Atenas tenants didn't realize that the mango is an incredible fruit and doesn't only bring sleepless nights and heart trouble. Ticos eat green unripe mango, in Spanish "Mango Sele" with salt. They sell them everywhere along the roads in mango country like Orotina and Atenas, just before mango season.
You can use the mango for fruit salads, alcoholic and non-alcoholic drinks, desserts, and many other ways. The other day, I had an awesome tuna ceviche with mango in La Cebichería, near Multiplaza. If you want to find some incredibly good recipes with mango, try AllRecipes.com. These recipes might make living in an Atenas rental home much more fun.
Not every mango is good to eat, my neighbor has 5 trees and most mangoes fall on my side of the fence and they're horrible. She doesn't eat them either it seems.
A 7-page complaint
Let's go back to the Atenas tenant again. This particular client had been renting a home in Atenas for about 1 ½ month and first sent a 7-page complaint to the landlord and then a 2-page email to me to complain about the agent in Atenas, Marian Veltman. Marian, he stated in his complaint, was not capable to fix the (352) complaints in his letter.
The tenant of this now almost famous rental home is now complaining to everyone in town about how badly he got treated. Even though the landlord agreed to give him back his security deposit (without having completed the lease term). Also, Marian has agreed to return the commission to the landlord in full for the unused lease term. Hopefully, the tenant will move out by the 15th of the month and will take his possessions to another destination.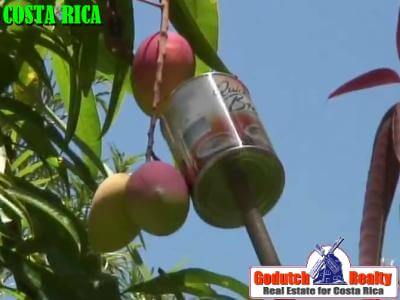 Many more blogs in the future
Long story short, I have now about 30 topics for Ivo's blog to warn future expats who want to move to Costa Rica and to Atenas in particular. All based on his letter and email about how bad it is to live here. All the unacceptable issues you have to live with that can turn paradise into a personal hell if you don't move here with an open mind to adjust. That was a lot for one sentence, but so is a 7-page complaint to your landlord…
Today's lesson: Wherever you want to live, in an Atenas rental home or one you purchased, you'll have to adjust to your environment, the environment will not adjust to you.
This blog was originally from September 2016 and updated in 2019. Watch out for our next blogs. And in the meanwhile, if you decide to purchase a home in Atenas, or anywhere else in the Central Valley, contact us please, we'd appreciate your business.
---
If you like this blog, subscribe to my newsletter by clicking the banner below.

I DO want to remind our readers that we appreciate any referrals you can send us. Also, when talking about your home in Costa Rica, please remember the GoDutch Realty agents. We appreciate it.