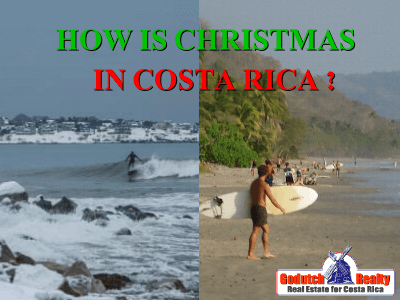 Christmas in Costa Rica is quite different from what I was used to. Where I was born and raised, December is pretty cold. I'm from Haarlem, a city almost right on the North Sea, close to Amsterdam.
Christmas in Haarlem, when I grew up, was generally under 32ºF and we could skate the famous canals and get really cold. Christmas in Costa Rica is different and that is one of the reasons I liked the idea of moving to Costa Rica.
During the month of December, the temperature in Escazu is around 80ºF most of the time, though we have a lot of wind. Nothing compared to Haarlem, Holland. The rains have mostly disappeared now, though once in a while we still might get a drop or two.
So we don't have a white Christmas in Costa Rica. No snow so no snowman, no snowballs, and no ice skating, though you could bring your roller skates if you insist. Honestly, I don't miss the snow and the cold at all.
A Christmas tree in Costa Rica
Christmas in Costa Rica is quite different than it is in other countries because Ticos have other traditions. At the beginning of December, most families start looking at buying a Christmas tree. Here we have cypress trees and not pine trees, so it is less messy. They grow them in the higher altitudes of the Central Valley like Heredia, San Antonio de Escazu, Alajuelita, San Ramon de Tres Ríos, San Ramon and Grecia where the climate is cooler.
People seem to become more in favor of the artificial tree. That's because of the prices of the natural trees. Now you can buy artificial Chrismas trees in Walmart and many other stores. Other, prefer to dress up their palm tree in the garden, which is a great idea!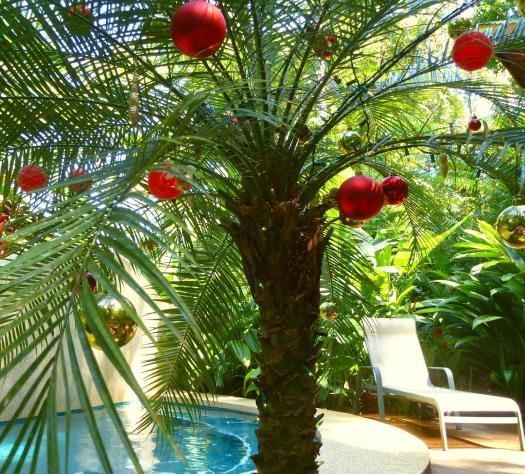 Colacho and El Niño Dios
 Christmas The Ticos have Santa Claus in Costa Rica, which they call "Colacho", but also "El Niño" or El Niño Dios". A recent survey showed that "El Niño Dios" has the preference mostly with the Catholics. El Niño Dios is the child Jesus who brings the presents and not Santa. Nonetheless, they put the Christmas presents under the Christmas tree but also try to have a nice portal with figurines. I have seen some that resemble a whole city. The Ticos also like to have Christmas lights in the front of their house so the neighbors can enjoy, just like the North Americans do.
The Catholics go to mass on Christmas Eve at midnight, which is called the "Misa de Gallo".
Christmas Dinner is different
For Christmas dinner in Costa Rica, the Ticos generally kill a pig or just buy a leg at Pricemart, have a turkey or just eat tamales. Most Ticos have their Christmas dinner at midnight. I never liked that because by then, I'm too sleepy to eat heavy food. I see more people starting earlier dinners, especially those with small children.
Festival de la Luz in San Jose
During the month of December, you don't have to get bored at all, there are plenty of events organized by the different organizations, like on the 15th of December we had The "Festival de la Luz", the light festival with spectacular fireworks and a beautiful parade on Paseo Colon. See below part of this festival on Youtube.
The Tope on Paseo Colon
On Monday, the 26th of December, we have the famous "tope". This is the annual horse parade on Paseo Colon, see a Youtube video below. For all you horse lovers and cowboys, this is a must-see happening.
See the video below:
Fiestas de Zapote
The "Fiestas de Zapote", which is the largest fair in Costa Rica, starts this year on the 25th. This fair offers all kind of entertainment but the main attraction is the "Corridas de Toros", the bullfights.
They don't kill the bull; they let a bunch of fanatics in there and let the bull loose on them. There will be plenty of fireworks at night.
See the video below what this is all about:
Christmas at the beach
If you don't like to stay in the Central Valley, you can still go to the beach. Many will spend most of the holiday in one of the many beaches in Costa Rica. Some make a reservation in a hotel, or they own a beach apartment or beach house but some just go camping on the beach. If you grow up in the cold and now suddenly you can spend your Christmas on the beach, I must admit that it is hard to keep the Christmas spirit. Sitting in your swimsuit on a fallen coconut tree with a beer in one hand and a piece of pork leg or a tamal in the other has its charm though. You should try it.
We wish everyone a Merry Christmas. In January, we're at your service for any real estate service again. Contact us now!
---
If you like this blog, connect with me on Google+ or subscribe to my newsletter by clicking the banner below.

I DO want to remind our readers that we appreciate any referrals you can send us. Also, please remember the GoDutch Realty agents when you talk about your home in Costa Rica, we appreciate it.