Estimated Reading Time: 9 Minutes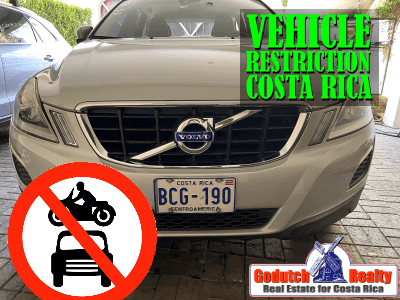 I was updating this blog about vehicle restriction or tag day and realized that the government started implementing this restriction on the 6th of April, 2013 for the first time. So, it's about time for an update, especially with all the Covid restrictions.
For a realtor, before Covid started, vehicle restriction day or tag day was a problem. Back then, I'd have to tell the client, "I am sorry, sir, if you want me to show you Costa Rica real estate on Friday. I cannot pick you up at your hotel. I can meet you anywhere outside the beltway; you will have to get a taxi out of San Jose. Friday is my tag day."
Things have now changed. But I'm sure that as soon as Covid is over, we'll go back to the tag day from before. Everyone has learned to have one car with an even license plate number and a second car with an uneven one if they can afford it.
Most people who are planning to move to Costa Rica have no idea what tag day is. But when you drive on tag day, you might get an expensive ticket.
Because of this, you must know some essential rules, and you want to drive in Costa Rica. So let's start with the Covid Tag day.
Be aware that you will NOT have any driving restrictions if you rent a car from a formal Rent-A-Car.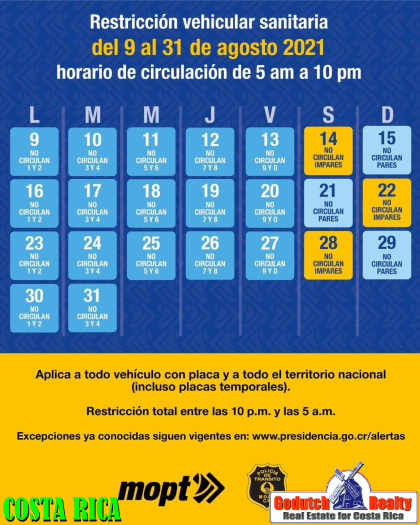 Covid Tag Day
During Covid, you have to stay on top of the restrictions. That's because they change it all the time. The restriction is for the whole country now, not only in San Jose. You can always check the last updates on the Presidency website.
They will put a strict curfew that will NOT allow you to drive all week from time to time. This curfew has happened like three times during Covid. But typically, the restriction is one day a week, which is as follows:
Restriction hours
The restricted hours are usually from 9:00 pm – 5:00 am. However, sometimes they will change the evening hours until 10:00 for a couple of days.
If you live in a beach area, be aware that sometimes the government will also restrict the hours you are allowed to use the beach, so stay informed.
Weekdays
The restriction goes with the last number of your license plate. Do NOT drive during these days:
1-2 Tag on Monday
3-4 Tag on Tuesday
5-6 Tag on Wednesday
7-8 Tag on Thursday
9-0 Friday

Weekends
Now the vehicle restriction goes for even or uneven (last number) of your license plate. Usually, you're not allowed to drive one day during the weekend. However, if this is Saturday, you can drive on Sunday.
BUT, the next week, they'll turn it around. So you will be allowed on Saturday but not on Sunday.
An Exception Letter
If you have a business, you can write a formal letter that explains why your employee needs to drive. I, for example, write a letter for all my agents, signed with the digital signature. This letter has to be accompanied by a badge every month. They carry this letter and badge on their dashboard.
It is a restriction that all cars in Costa Rica have: your car cannot go into San Jose 1 day a week at certain hours. The restriction conceived by the Costa Rican transport authorities (MOPT) uses the last number of your number plate to reduce the amount of traffic going into San Jose and save gas. However, I am sure nobody has measured the amount of gas wasted by cars seeking alternate routes to get around San Jose.
You can also make it easy for yourself and use the bus on tag day, leave your errand for another day, park your car somewhere outside the beltway, and get a taxi to take you to your destination.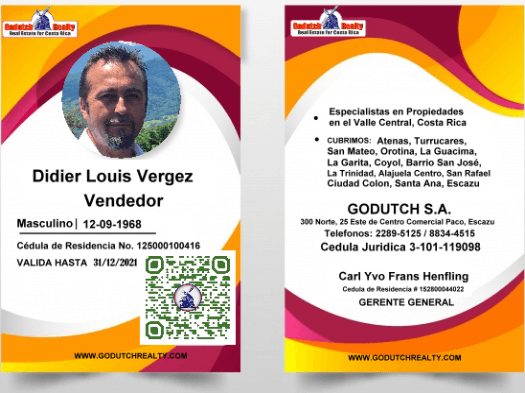 Holidays
The government has decided to move all official holidays to the Monday of that week to promote tourism. This way, such weekends become 3-day weekends. But, are you planning to go to the beach during the weekend? In that case, there is a solution to your vehicle restriction. You can print your hotel reservation to show when the traffic police stop you.
I have heard people complain about renting a privately owned beach home and that this private reservation is not acceptable as an exception to the restriction.
What is the penalty?
So what happens if you break the rules? You won't be the first one to be stopped by the police. The penalty for violating these restrictions is ¢ 20,000 plus tax (in March 2013 and can change at any time).
For a while, the traffic police were confiscating the license plate. This confiscation was creating havoc because the government couldn't manage the administration of all the seized license plates for return. Illegal driving on tag day doesn't accumulate the 6 points on losing your driving license either.
Therefore, the penalty is now ¢107,000, and those funds will automatically go to the CCSS or Caja.
After Covid
We don't know what the government will do with the tag day when Covid When is it your turn for tag day? For sure, we'll go back to the old vehicle restriction, which is only for San Jose.
It is your turn not to go on, the inside of the beltway, or ring road in British English, from 6:30, am – 7:00 pm from Monday to Friday.
Check what the last number of your tag is, then you'll know which day you are not allowed to drive:
1-2 Monday
3-4 Tuesday
5-6 Wednesday
7-8 Thursday
9-0 Friday
Post-Covid Tag Day
I'm pretty sure that, once Covid is over, we'll go back to the post-covid tag day. So that's why I'm leaving this part of this blog here.
You are not allowed ON the beltway that runs around San Jose on tag day, called "circunvalacion" in Spanish. Many think the restriction is on the inside of the beltway, but that is a mistake; you cannot use the beltway. See the map below for indications.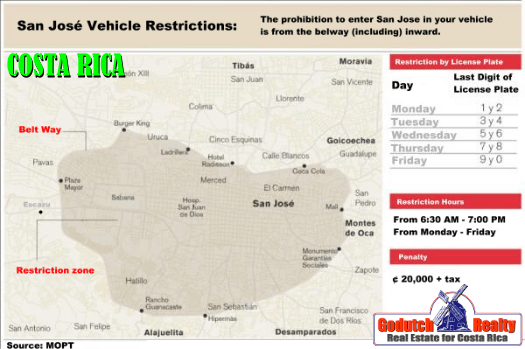 For those who do not know San Jose well, I will indicate where to turn off the four main highways so you will not get a ticket:
On Highway 1
When arriving in San Jose from the International Airport Juan Santamaria Alajuela to San Jose, Highway 1, or General Cañas:
Take the turnoff at the Mexico Hospital on your right before you hit the Juan Pablo II overpass and go left to La Uruca or right to Rohrmoser, Escazu, or Santa Ana.
When you see the Best Western Irazu hotel on your left, you're too far. However, you can park your car anywhere before hitting the beltway and get an Uber into San Jose.
On Route 27
If you are coming from Escazu – Santa Ana – Ciudad Colon on Route 27, take the turn at Wallmart on your right into Escazu (immediately past the Escazu toll):
If you miss that urn and you to the next overpass, you can still save yourself from getting a ticket!  By veering right just before the overpass, and stay right to the old road. There you take a right turn and come back to Escazu. Or park your car on the old street and get an Uber to take you into San Jose.
On Route 2
When you come from Cartago and Tres Rios into Curridabat – San Pedro (this road becomes Central Avenue):
Take a right turn into the University of Costa Rica – UCR, behind the church. Or make a left turn one block before the Outlet mall. When you see the Mall San Pedro, you are too far. Park your car around the Outlet Mall or the UCR and get an Uber into San Jose.
On Route 32
When you come from Limon – Guapiles on Route 32, you have to get off in Tibas:
Either take is the turnoff right past the Saprissa soccer stadium or the Llorente de Tibas turn off. This turnoff is the next exit over (no clear landmarks here). Park your car and order an Uber on your phone.
When you get to the Radisson Hotel, you are too far.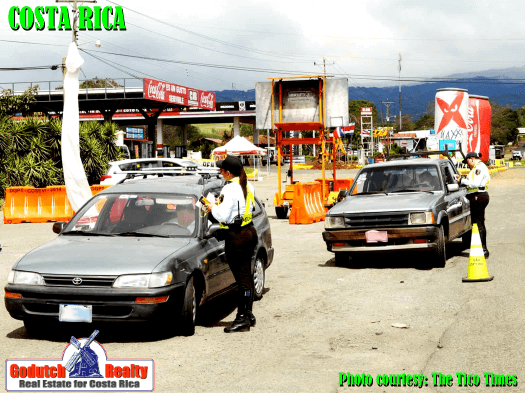 Holidays
Usually, the government suspends the vehicle restriction during the holidays. In 2012, we didn't have tag day from and from the 21st of December 2012 until the 7th of January 2013. The restriction was suspended from the 21st of March until the 1st of April During Easter Week.