There is a large population of English-spoken expats in Costa Rica looking for English language churches and religious services.
I was born and raised a Catholic which taught me to believe in God, though I stopped going to church many years ago. It is almost Christmas and I live in Costa Rica now. Christmas in Costa Rica is a bit different. Just like everywhere else, the shopping malls do not have any parking space left. But we will all go to the beach next week.
My wife Dany and I don't, but most of the rest of the population does go to the beach during Christmas. Not a very Christmas like feeling and it is quite difficult to be religious while sitting on a beach. Up north they're throwing snowballs at each other and soon airports will be closed. In Costa Rica, we go to the beach and eat tamales. It is just part of the lifestyle here.
But you, my reader, might want to go to church, so I decided to do a blog about Costa Rica English language churches and religious services.
Today, the National Register closed, until the 7th of January. No more Costa Rica real estate business to be done this year. We're shutting all down, I got a lot of books to read and work a bit on the websites.
Now is the time to think about your future plans and if you believe in God or something else, Costa Rica has a lot to offer. You will find that Costa Rica does not only has Spanish but also English language churches and religious services to go to.  Article 75 of the Costa Rican Constitution states that the "Catholic, Apostolic, and Roman Religion is the official religion of the Republic" and that same article provides for freedom of religion.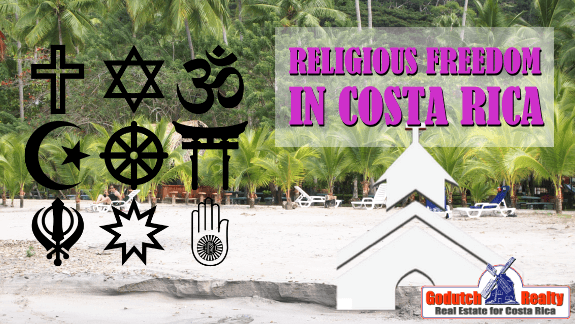 Freedom of Religion
The official religion in Costa Rica is Catholic, so you will find Catholic churches everywhere. The official language of the country is Spanish, therefore the religious services are in Spanish everywhere. If you are looking for a Catholic church, just go to the nearest park and you will find a Catholic church usually on the east side of the church.
If you are a Christian, Mormon, a Buddhist, Jewish or Islam, you will enjoy the freedom of religion in this beautiful country. That freedom of religion has created hundreds of churches and no matter what God you worship; there is probably a church for it. No matter if you just want to go to church during Christmas time or want to go every day of the week, you will always find a Costa Rica church open for you.
For many of you, religion is an important part of your lifestyle but is not something you just pack and bring with you when you move here. There are quite some English language churches and religious services for English speaking people in Costa Rica. If religion is part of your lifestyle, and I know a lot of my readers are religious, I've made the search for your English language churches and religious services in Costa Rica a bit easier.
English Spoken Religious Services in Costa Rica
Other churches without a website
Iglesia Remanente Fiel, there's a church service on the last Friday of the month in Barranca, Puntarenas, Costa Rica all approximately 15 minutes from Esparza and Caldera and the Puntarenas port. Contact iglesiaRFCostaRica@gmail.com or WhatsApp +1-262-661-6132. There is a different preacher in every service. The service begins at 6:30 pm the last Friday of the month and it is an hour long. Praise songs with words on the screen, testimonies, a sound Biblical message, and the occasional "compartir" with food. All are welcome!
The English-speaking La Luz Lodge No.3, Freemasons, meets the 1st and 3rd Tuesday of the month at the Grand Lodge in San José opposite the AM PM supermarket on Avenida Central at Calle 19. Also, for information: Gunner Nuñez, 8387-3903, Howard Smith, 2529-3169 or John Goodman, 2285-5231
Episcopal Church. The Parish of the Good Shepherd in San José, an Episcopal/Anglican community, celebrates Sunday Eucharist in English at 8:30 a.m. and in Spanish at 11 a.m. There is a bilingual Eucharist service on the first Sunday of the month at 9 a.m. There also is a Eucharist service Wednesday at 9 a.m. and Friday at noon. For further information pbuenpastor@hotmail.com or by calling 2222-1560. Now on Facebook.
Comunidad de Gracia, an English-speaking church/bible study in Orosi.  Also, for more information, contact Randy Seiver at 2533-1803 or see their blog.
Feel free to contact us if you know of any other Costa Rica English language churches and religious services so we can include them on our list. Since we will be closed for Costa Rica real estate showings during the holidays, we won't be answering your calls. But, we DO check out emails and make appointments for next year.
---
If you like this blog, subscribe to my newsletter by clicking the banner below.

I DO want to remind our readers that we appreciate any referrals you can send us. Also, please remember the GoDutch Realty agents when you talk about your home in Costa Rica, we appreciate it.