Estimated Reading Time: 6 Minutes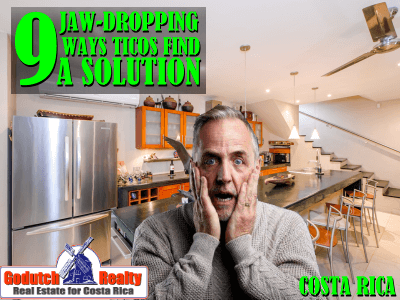 If you're planning to move to Costa Rica, we would like to mention that living costs in Costa Rica are below average, but you better learn how to make things work.
If you were born and raised in a developed country, you are used to going to the store and just buying a replacement for whatever is broken or defective.
Ticos (someone born and raised in Costa Rica), no matter if they have money or not, might not find it available or can't afford it.
They try to find a way to make things work, one way or the other. And if you are an ex-pat, you better learn how to make things work in Costa Rica out of sheer survival.
The fact that the Costa Rican government taxes everything that is imported makes it not only more expensive. It is also very well possible you won't find a replacement available. You have a real good chance that you can't get any spare parts either because the model is not current or the importer went under.
This might happen to you with the office printer you don't use too often, kitchen appliances, and tools. You'll find it's even worse with floor tiles, kitchen and bathroom faucets, accessories, and household articles.  Before you know it, everything falls apart and you won't be able to find a replacement spare part, so you have to make things work. Unless you buy new again.
You'd be surprised how good Ticos are at inventing ways to make things work and even in finding weird solutions to a problem or a shortage. The locals call it a MacGyver, I call it survival and a different lifestyle.
Check out 9 different jaw-dropping ways that show how Ticos make things work that will make your jaw drop:
9 Ways to make things work
1. The Restroom
2. Soap Dispenser
3. Bus Stop
4. Coffee Maker
5. Headlights
6. Bridge
7. Carport
8. Pricesmart
9. Shelf Space
Bad solutions
Not every solution Ticos come up with is a smart one. I have seen cars turn around or drive in reverse on the freeway because they missed their exit.
The other day a driver parked his car on the yellow line right in front of the San Jose fire department. During an emergency,  the fire trucks couldn't get out for 10 minutes until the driver showed up. The driver was mad that they disturbed him in his diligence; he thought his solution for a parking problem was not an issue.
You will find lots of Ticos who will stop in a no-parking zone, on a roundabout, or at a bus stop to talk on their cellphone. They don't want to get caught driving while talking on the phone, go figure…
Will you be able to adjust to this different lifestyle and accept that you'll have to make things work the Tico way? We'd love to have you become part of "the happiest people on the planet" and sell or rent you a property in the Central Valley, contact us now.
---
If you like this blog, subscribe to my newsletter by clicking the banner below.

I DO want to remind our readers that we appreciate any referrals you can send us. Also, please remember the GoDutch Realty agents when you talk about your home in Costa Rica, we appreciate it.