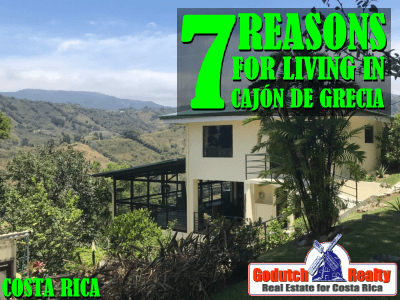 Cajón what? El Cajon de Grecia!
Few imagine that is the name of one of the nicest communities to live in the Central Valley. It's close to Grecia, not to be mistaken with Greece in Europe.
I know El Cajón de Grecia reasonably well myself because I've joined Brooke Bishop, our Grecia agent many times on showings. I've also had a few housewarming parties there because most clients who look at buying a property in Grecia and specifically in Cajón de Grecia will take the instant decision about not having to look any further. They definitely want to live in Cajón de Grecia.
Cajón de Grecia is located on the north side of the city of Grecia on the slopes of the Poas (see map below or go to Google maps).
Since Brooke knows Cajón or El Cajón as they call it, much better than I do, I asked her to come up with 7 good reasons to live in El Cajón de Grecia.
1. Great Climate
The great clime is the best reason to live in Cajon de Grecia, but I'll let others tell you about how great the climate is in El Cajón de Grecia. Gregorio writes in his blog "The weather in Grecia is awesome. In town the temperature range is 65 – 85 degrees and, with our higher elevation, where we are in Cajon, the range is more like 55 – 80, damn near perfect in my mind, and this temperature range holds true all year-long with the only change being more rain during the "Green" or rainy season." Jen writes "Where we live, El Cajón has an elevation of about 4,500 feet, which is much higher than Grecia Central and helps contribute to our cooler temperatures. So even when it is 80-90 F degrees in town – it is always much cooler, and with a breeze, in El Cajón."
In short, El Cajón de Grecia offers a cooler climate as opposed to Atenas, which is much warmer. It just depends on how warm or how cool you want to live.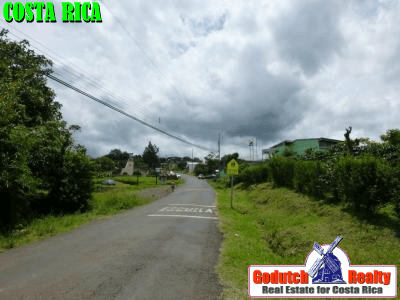 2. Great Views on either side of the ridge
Views of the Central Valley and the Poas are incredibly beautiful from almost every property in El Cajón. Just check out the photos of El Cajón de Grecia in this blog and you'll see why those who live in Cajon de Grecia love their views so much.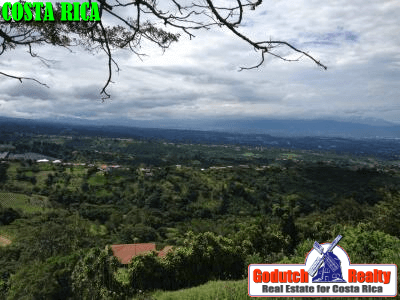 3. A wonderful feeling of rural living
El Cajón de Grecia is part of a farm community, there is coffee everywhere on both ridges and can be seen easily from just about any home or home lot on the ridge. You can see the people picking the coffee, the tractors going up and down the ridge, and the trucks collecting the coffee in December.
Click here to search for homes for sale in Cajon de Grecia
4. Other Expats
You're not going to have to go completely native if you want to live in El Cajón de Grecia. There is a wonderful group of ex-pats, probably 30 families (including 4 published authors that I know of and a yoga teacher). They'll make you feel at home real soon
5. Local population
The local population in El Cajón de Grecia is really easy going and they are used to expats residing in their community. Don't make the mistake of not saying hola, buenos días, buenas tardes or buenas noches. Be nice to them and they're going to be really nice back to you too. Remember, you're the new kid on the block and their guest. Learn as much Spanish as you can, so you can show off to your new neighbors.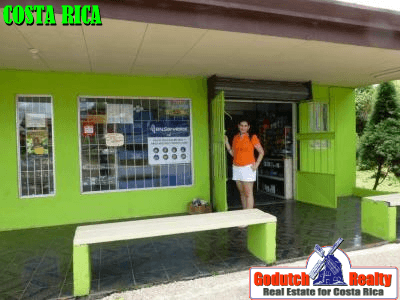 6. Shopping
El Cajón de Grecia is a small village, so there's not much shopping close in. There are the pulpería La Paz and another pulpería, of which we don't know the name. That is kinda it in El Cajon proper. Further down the hill, in Los Angeles, there is Minisuper la Pacifica, about 4 other pulperia's and two fruit places, a couple of bakeries, and the EBAIS (health clinic). There are also a couple of dentist offices in Los Angeles.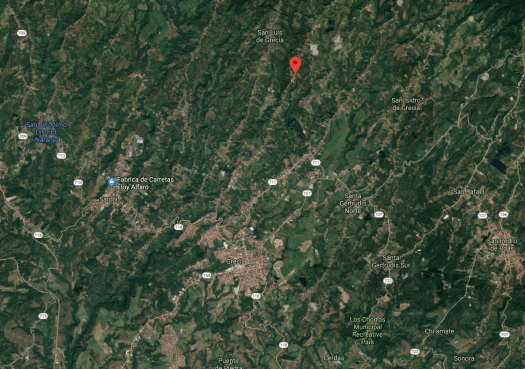 Where is Cajon de Grecia exactly located?
El Cajón de Grecia is only a 10 minute-drive to Grecia and 10 minutes to Sarchi so you can go to the bank, out to eat or shop in Sarchi or Grecia. For grocery shopping, try Rosvil in Grecia, or go to the Mall El Ingenio. All your shopping needs can be met in Grecia, only 15 minutes from El Cajon. Check the GoDutch Realty Grocery Tips on our blog
7. Infrastructure
Because El Cajón de Grecia is only a village, there is only one road. The road in El Cajón de Grecia is one of the newest in Grecia…no potholes! Until the next rainy season?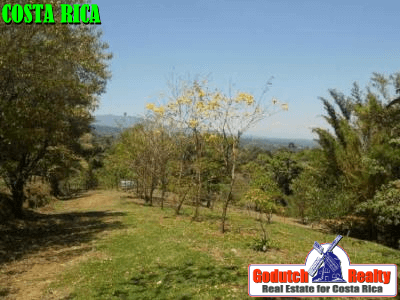 Click here to search for lots for sale in Cajon de Grecia
5 Important amenities near El Cajon de Grecia
A great bilingual mechanic in downtown El Cajon. He will take you to your house and pick you up when your car is ready!
Abundant, clean, fresh, cheap, flowing water from the aquifers above downtown El Cajon.
Great bus service every hour to Grecia, Monday through Saturday (every 2 hours on Sunday).
Fresh milk, cheese, and bread delivered daily.
TIGO cable company offers cable TV, phone and good internet service, the packages are very inexpensive.
There is plenty of Yoga around El Cajon
A special "thank you" to Irina and Jim Just who have supplied some of the photos in this blog. I'm sure you'll love their blog as much as I do.
Did we yet catch your attention? Are you interested in buying a home in El Cajon de Grecia? Or maybe buy a home lot and build your custom home on your property so you can also live in Cajon de Grecia? Then contact us now, no one knows El Cajon better than Brooke Bishop and Karina Ugalde.
---
If you like this blog, subscribe to my newsletter by clicking the banner below.

I DO want to remind our readers that we appreciate any referrals you can send us. Also, when talking about your home in Costa Rica, please remember the GoDutch Realty agents. We appreciate it.