Did I learn Spanish before moving here? No, I didn't. And that was stupid.
Before I moved to Costa Rica there was so much to do and there was no time to take Spanish classes nor did I realize how important it was to learn at least the basics. As soon as I started to live in Costa Rica, I understood I had to learn Spanish, I had made a major mistake by not learning anything.
As most Dutch do, I spoke Dutch. Nobody in Costa Rica spoke any Dutch and they still don't. Not a good language.
I spoke pretty decent German, but again, no good. My English was pretty fluent but at the time almost nobody spoke any English at all in Costa Rica. I had never realized how difficult it was to speak in sign language and no matter how hard I tried, most locals did not understand anything of what I was trying to tell them. So guess what! I had to learn Spanish.
English spoken people are usually not used to make an effort to learn another language and do not realize that doing so has a lot of benefits.
Respect the locals
I hired a bilingual secretary who helped a lot in the beginning, at least in my business, but soon I realized that I needed to make the effort to learn their language. Not only because it made life easier. I realized that to get respect from the locals, I had to start to give them respect and I could only do so by learning their language. Yes, we owe them respect, we live in their country. Imagine me going on a trip to Los Angeles and speak Dutch to everyone there. Do you think people will try to understand me?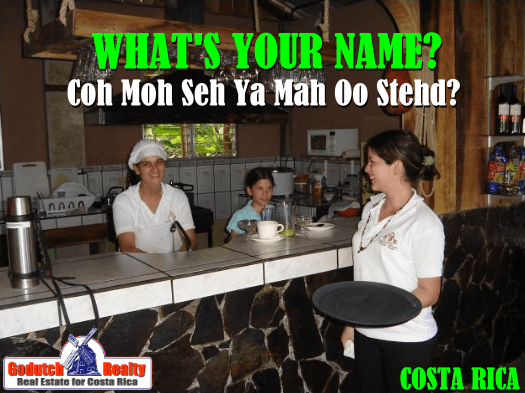 A rolling r
Of course, once you start learning certain words, pronunciation becomes an issue. Ticos roll their "R" and we Dutch have a potato in our throat, which makes it impossible to pronounce the word when it has a lot of r's in it, Ticos still look at me like "what the hell is he saying" even though Spanish is my most fluent language.
Being Dutch gives me the advantage of having learned several languages in school. So learning a 4th or a 5th language comes much easier than it does to others, especially when it comes to writing. The grammar in the Spanish language is a bit different, but you can afford to make mistakes. No matter how bad you pronounce it will still be reasonably understandable and at least you'll be trying.
The Spanish Alphabet
English spoken people should realize that each language has its own alphabet and is not pronounced as it is in English. The Spanish alphabet is pronounced in Spanish and NOT in English. The name Andrea is, for example, pronounce in Spanish "Ahn DRAI ah" and not "AN dree ah" or "An DREE ah" as you do in English.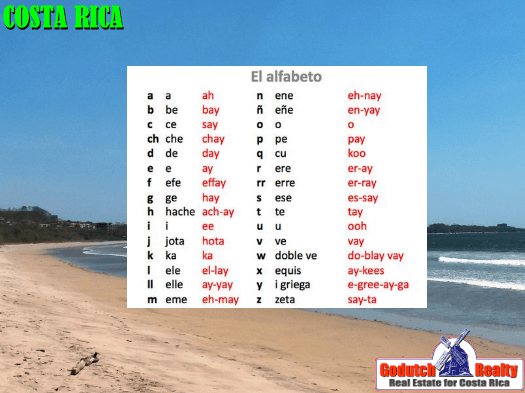 The Rosetta Stone
With new clients, I always try to make a point about learning the basics of the Spanish language as much as you can before you even move to Costa Rica. Many future expats start
using the Rosetta Stone,
cd's in the car,
listening to a tape while sleeping
and all kinds of things that don't teach you anything.
It might be okay before you get here. But once you arrive in Costa Rica, I recommend you take up learning Spanish as a full-time job for a couple of weeks.
You will see that will do miracles for you. From then on life in Costa Rica will make so much more sense to you. No more hassles. No running around with a dictionary on your iPhone, you will be able to handle everything you need. The Ticos will love you for trying!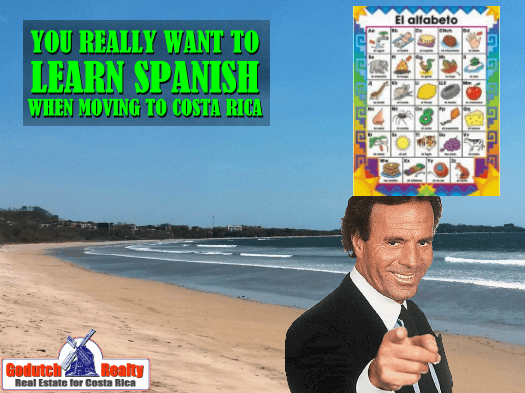 A Spanish Course for Retirees
I can recommend you learn Spanish with Spanish School for Residents and Expats. We strongly recommend this language school as your best choice to learn Spanish, click here to contact them.
One last recommendation: learn one word a day in Spanish from the moment you have decided to move to Costa Rica. Just one! And soon you will know how to say "Quiero comprar una casa en Costa Rica". That's when you'll be ready to contact us.