Estimated Reading Time: 4 Minutes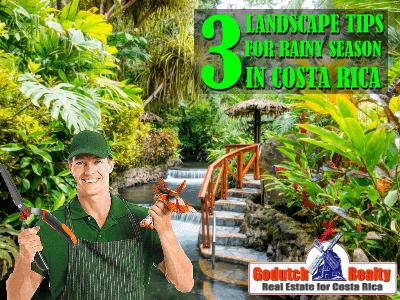 Rainy seasons can get rough in Costa Rica, so I'd like to give you 3 simple landscape tips to follow. Because this year's season starts, it is vital to prepare for the many changes that could occur in your landscape.
Yes, your plants and lawns love water. But too much of it can have various negative effects on your landscape.
Apart from making the ground soft, heavy rains can also cause some trees and shrubs to lose their branches or leaves. On top of that, steady winds accompanying the rains can cause havoc for your shrubs and trees by making them stoop or even break.
This is not only dangerous but can also reduce the value of your home as a result of damaged curb appeal. To maintain your landscape and keep it in tip-top condition throughout the rainy season, here are some maintenance tips you can try.
1. Proper drainage
The first of my landscape tips is about water. Your best defense against water damage and flooding in your landscape is to ensure that your plants are growing in a well-drained area. One way to achieve this is by planting in raised beds.
Whether you're planting shrubs, perennials or ground covers, make sure that the beds you prepare for them are at least 6 inches higher than the surrounding soil. You can also install a proper drainage system that ensures smooth movement of water away from your property.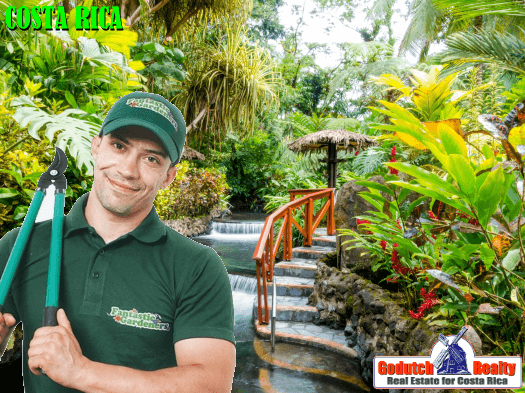 2. Timely trimming and pruning
The second of my landscape tips is about the size and weight of your trees. If you don't trim your trees on time, they'll become top-heavy. This increases the chances of going down or losing branches during heavy rains. This can be dangerous. Especially if the trees are close to your home or a power line.
According to Rich's Tree Service, proper trimming and pruning before the rainy season ensures
Structural strength,
Much longer life for your foliage,
Increased safety.
In some cases, you may have to get rid of the entire tree. If you see signs of rotting in the bark, for instance, you might have to chop the tree down. It not, there's a good chance that it might come down under strong winds.
3. Know when to water your plants
The third of my landscape tips is about when it's time to water. Just because it's the rainy season, it doesn't mean that your plants have all the water they need. You still need to water your plants from time to time, especially if you have a good drainage system.
Check the sogginess of the soil by thrusting your finger into it to feel the texture. Then you will know when it's time to water your plants.
If the soil is damp, no watering is required. If you have automatic sprinklers, you can install a rain sensor that shuts them down when it's raining.
The rain is a gardener's best friend. But if you're not prepared for it, it can end up being your worst enemy. Please take the measures outlined above in the 3 landscape tips. This will ensure keeping your plants and trees alive and looking healthy at the end of the season.
---
If you like this blog, subscribe to my newsletter by clicking the banner below.

I DO want to remind our readers that we appreciate any referrals you can send us. Also, please remember the GoDutch Realty agents when you talk about your home in Costa Rica, we appreciate it.