Until recently, dogs were not part of our family in Costa Rica. Now you'll see almost everyone has one or more pets at home.
A week or so ago, a client was complaining that in their condominium, dog owners generally do not clean up the poop their dogs leave behind.
This reminded me of a vacation Dany and I had in Las Vegas in 2011. We did a day trip to Lake Mead, on the of Nevada and Arizona state line. There are several campgrounds right on the lake. This is where I found this Pet Waste Bag pole shown in the picture, something unheard of in Costa Rica.
There is still so much difference between a pet-friendly culture in other countries and ours.  Many people are still unaware of what is necessary to enjoy your pet and have a happy one. This blog is another attempt to explain the cultural differences you will find when you move to Costa Rica that you will need to adjust to.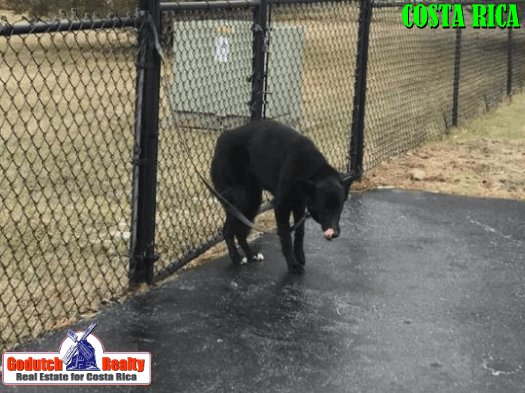 Tied to the gate
Not until recently, Costa Ricans have started to get a pet. Those treating their pet as part of the family are mainly younger generations. Or they have lived abroad in a country where there is a pet culture.
Very few local families used to have their pets live inside the house. They would have their dogs tied to the gate, for security.
That is because most have not grown up with pets as we did. I have had dogs all my life myself. When I got married, I already had a dog. My wife Dany learned from me how to love and care for a pet. Now she is the one who wants more and more pets.
If I would let her, we would have 20 dogs running through the house.
Poop free neighborhood
Dany's family members try to stay away from the dogs when they visit. But little by little, over the years, some of them actually have started to like them.
But there is no way they would walk a dog, pick up the poop in a bag, and take the bag to the nearest garbage can.
You do not only need to love your pet to be able to do that. You also need to respect your neighbors enough to keep the neighborhood poop free, which is a big step.
We also buy toys and treats for our pets. The locals are not used to this yet and it probably will take a whole generation (or two) to reach the level of pet culture that you will find in more developed countries.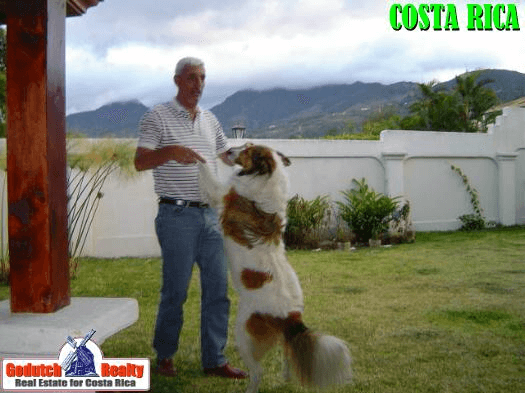 Adopted
In Costa Rica, I have never had to pay for a dog. All my dogs have been stray, adopted, or a gift from people who didn't want the pet they acquired. Most people don't realize it but there is a huge need for foster homes for pets.
Too many people buy a dog for their children when they are still small and cute. Then, after a while, they get fed up with the poor animal. Or they find out that their pet is alone all day while they are at work. When they get home, there's poop and pee all over the place. Or the neighbors complain about the dog barking all day long.
Dumping the dog
So they get the dog in the car, drive to another neighborhood and dump the dog when nobody sees them. Max, our stray Collie, is still scared to death to get into a car. That's because he thinks we're going to dump him. He's lived on the streets for years and we received him half dead.
Cats and Birds
Usually, people don't talk much about cats and stray cats. They're there, believe me, all over the place.
If you like birds, first find out if it's legal to have the bird of your preference.
Don't buy a pet
If you love dogs and cats and not bringing your own pet when relocating, there are many ways to get a pet. Don't go and buy one at the vet's or in the pet shop. There is a huge need for good homes for stray and mistreated dogs, but people who care.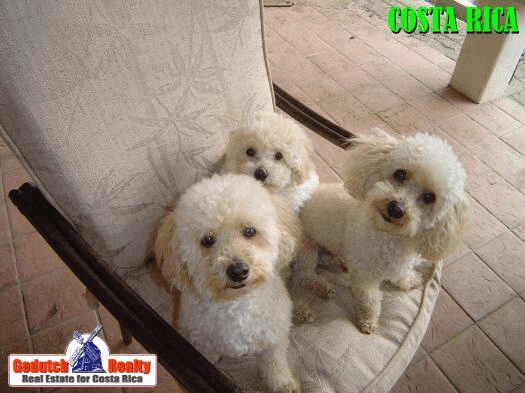 Help Organizations
Below you'll find a few links of help organizations. Some of these are happy with small donations, like ¢1,000 a month so they can buy food and medicine for the strays they find while they look for a foster home for them. Some are in Spanish but using Google Translate, I'm sure you'll figure it out.
With all the hundreds of expats we have moving to Costa Rica, I am sure some of you will find a way to help some of these organizations. And please check them out before you buy a pet. Thank you!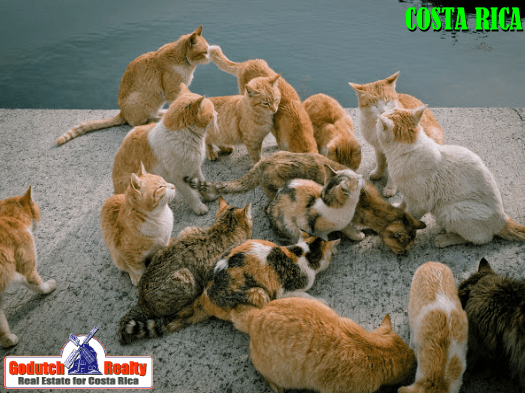 Blogs like this are important for your learning curve, I hope it's helpful.