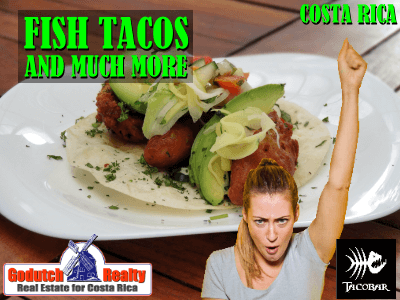 I just updated this blog about Taco Bar that I published in November 2012. Taco Bar now offers 4 locations: Playa Jacó, Escazú, Santa Ana, y Pinares.
They are open during the Coronavirus emergency but check on their Facebook if you'd like to order.
Every time I go to Jaco Beach, I need to stop over for lunch at the Taco Bar Restaurant downtown, across from the Pops ice cream parlor. This first Costa Rica Taco Bar has some incredibly awesome Tacos and at very reasonable prices and it's a quick in and out as it is set up like a fast-food restaurant.
In December 2011, my friend Pete Scott called me to say they opened a restaurant in Santa Ana (he's friends with the owners) and they were giving free lunches away. A real Dutchman would have gone because it was free but I was just too busy. I guess I've been here too long and I am losing my Dutchness.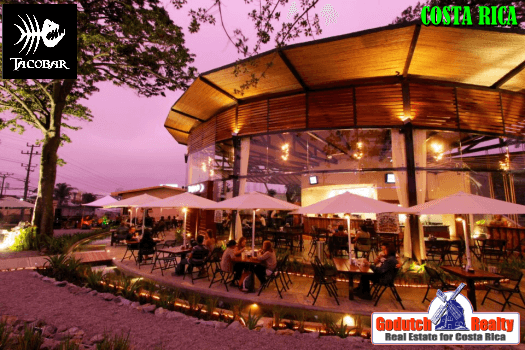 The Taco bar in Santa Ana is one I can definitely recommend for a quick bite. Their prices are very, very reasonable. They don't serve liquor, only natural drinks, and fantastic smoothies. There is now also a Taco bar in Escazu, across from Saretto's supermarket.
Living in Santa Ana – a great option
Santa Ana is growing fast and now there is a wide range of restaurant options in Santa Ana that makes living in Santa Ana an option you should look at. Contact our Santa Ana specialist Andres and he can show you a wide range of Santa Ana property for sale like building lots with a view starting at $100K or homes starting at $150K. There are even quite a few beautiful luxury homes around.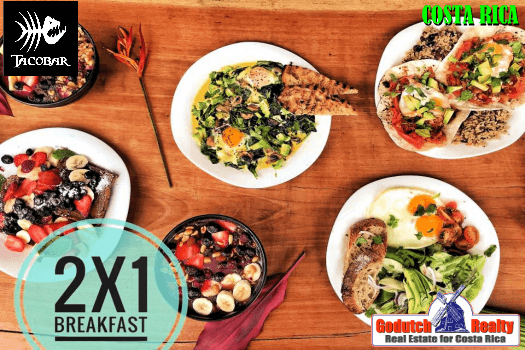 Tacos & Burritos
Just like in Jacó Beach, tacos, burritos, and sandwiches are the Taco bar's specialty and also include the all you can eat salad bar. Their menu features mainly Mexican and Mediterranean style food, specializing in a wide variety of taco options with their signature dish, the fish taco. The house specialty is the fish tacos of dorado, snapper, salmon or squid but you can also order beef, chicken or hummus. The menu is very complete with desserts, gourmet coffee, and natural drinks. They have a $3 breakfast you should try.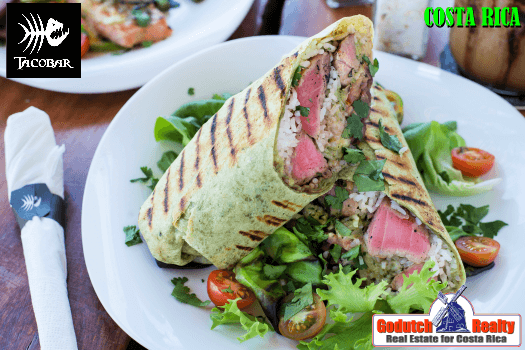 Healthy fast food
I'm not so crazy about the self-service because if you want something else, like coffee and dessert after, you need to go stand in line to order again but is the reason they are able to sell cheap. I am not a fast food guy but the Taco Bar food is very healthy and delicious.
The Nautilus shell
The Taco Bar began the first venture in Jaco Beach in 2007. This was during the beginning of the Costa Rica real estate boom. Their restaurant has done very well because of the simpleness and the consistent quality of the food.
The Jaco beach Taco Bar Restaurant is a funky, open-air restaurant. It has the surfer beach vibe going for it, including cool swing seats. The construction of the Santa Ana restaurant building is based on a Nautilus shell. The building has an interesting circular shape that you can see from far. When you drive from the highway to the Red Cross in Santa Ana, you can't miss it on your right. It's only 3 blocks before you get to the Red Cross.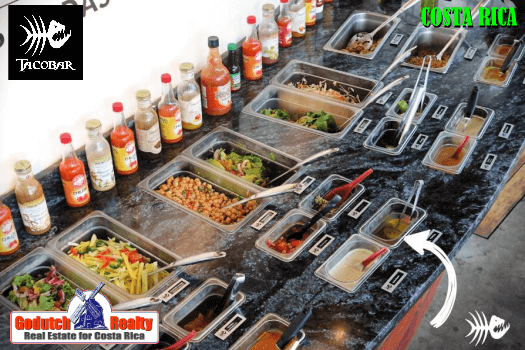 Next time you are looking for Santa Ana real estate, make sure you invite your realtor for lunch to the Taco Bar. For $30 you'll have a great lunch for two and you'll make your realtor happy.
---
If you like this blog, subscribe to my newsletter by clicking the banner below.

I DO want to remind our readers that we appreciate any referrals you can send us. Also, please remember the GoDutch Realty agents when you talk about your home in Costa Rica, we appreciate it.