Do you need ambulance services to get to the hospital in Costa Rica? Then make sure you know your Tico address. This is important so the ambulance will know where to find you. We don't have real addresses you know!
If you don't want the ambulance to get lost, ask your neighbor for your address now. Don't wait until you need ambulance services. By then, it might be too late! Many clients who bought a home from us took months to learn their address.
Because we don't have any street addresses in Costa Rica, some of these hospitals might be a bit difficult for you to find, so it might be easier to call 911 and ask for an ambulance, so they will send a Red Cross ambulance.
If you don't want to wait for the ambulance just hop in a cab and tell the driver "al hospital más cercano, urgentemente por favor".
There is very little control over the over 50 ambulance services offered in Costa Rica. Therefore, do your homework before you need to make an emergency call. Do your homework now!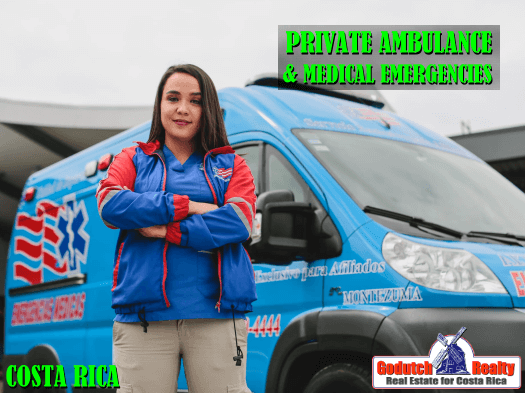 Private Insurance or Caja?
When you are picked up by the ambulance, tell them if you want to go to a public hospital or at a private hospital.  Customarily, ambulance drivers will take you to a hospital that belongs to the Caja (Public).
If you have an INS or other insurance, you might want to go to a Private hospital like the CIMA or the Clinica Biblica. If you're registered at the CCSS, you can go to any of their hospitals, learn here which ones are public hospitals.
Red Cross Ambulance Services
The Red Cross or la Cruz Roja, has branches all over Costa Rica. Most of their employees are volunteers. They are the ones that will give ambulance services when you call 911. The Red Cross is country-wide.  They are also equipped to take care of medical emergency services. And they are also  present for
rescue work in the mountains
medical assistance on the beaches
assist in fighting forest fires
medical assistance at different events like the tope.
The Red Cross depends mostly on donations. get some help from the government but cover their cost mostly by holding Bingos and other
In the past, they'd cover their cost by distributing phonebook from house to house. We all know what happened to that!
Therefore, it is important you help a hand when they request your financial help.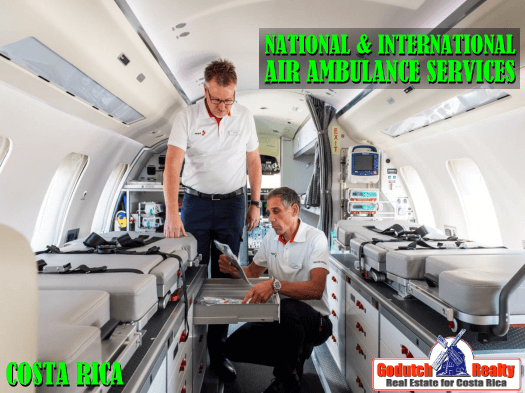 Private Ambulance Services
There are very few private ambulance services in Costa Rica and most function by affiliation.
Air Ambulance
You might have the need to be flown in from difficult places outside the Central Valley and if you have private health insurance it is probably better to get you to a private hospital than being attended in the boonies.
LifeGuard offers air ambulances. They offer payment with different credit cards.
Costa Rica Medical Response offers national and international air ambulance services.
Horizon Air Ambulance can do international ambulance services into and out of Costa Rica.
Helijet Local and International EMS. 24/7 Helicopter Medical Emergency Services (HEMS), weather permitting.
Air Charter Central America offers ambulance charters in and out of the country from Juan Santa María International Airport in Alajuela and from Tobias Bolaños airport in Pavas
Central de Vuelos Ambulancia – Air ambulance and repatriation.
---
If you like this blog, subscribe to my newsletter by clicking the banner below.

I DO want to remind our readers that we appreciate any referrals you can send us. Also, please remember the GoDutch Realty agents when you talk about your home in Costa Rica, we appreciate it.