Estimated Reading Time: 4 Minutes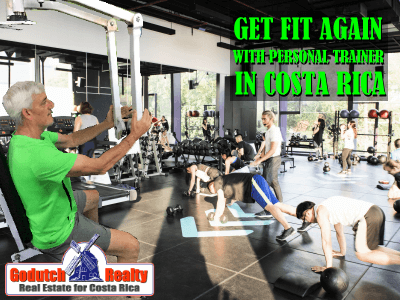 After I quit smoking, I needed to get fit again. Getting back in shape is hard work but a lot of fun if you do it in the right place and with the right guides.
No matter where you live now, and if you are in good health or not, exercise is necessary when you get older, grow fat, or don't want to watch TV for the rest of your life. You will have several options to stay fit in Escazu and Santa Ana, high budget and low budget.
There are plenty of options to get fit again In Escazu and Santa Ana. Although fitness centers come and go. There are a few that are nothing fancy and their prices are very reasonable. Others are expensive but offer higher quality fitness machines.
Quit smoking and eat like crazy
I have done a lot of sports my whole life. I have always been a skinny guy, so it was easy to stay in shape. Getting too busy working in Costa Rica real estate made it too difficult to spend much time with sports. The smoking made sure my lungs went to hell. Until I quit a few years ago.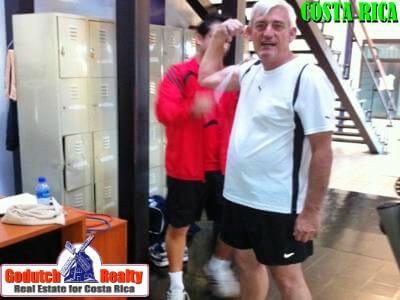 I never understood why people go fat when they quit smoking, but I do now.
Before you know it you are tucking your shirt into your pants all day. This is when you realize you shouldn't wear medium-sized shirts but extra-large. Or get fit again. I'm now almost back to my old sizes and I feel a lot better and healthier.
Join the gym
I decided to join my wife, Dany, at the gym twice or three times a week. Though Dany wasn't happy about it. But as a good Dutchman and following my ancestor's customs of saving money when you can, I decided to share her personal trainer. And it actually works out well and she is used to it by now.
Having a personal trainer obliges you to work harder to get fit as you would on your own. Although I have the necessary discipline to exercise on my own, it's nice to have an expert guide. Someone who knows what he is doing and is more fun too.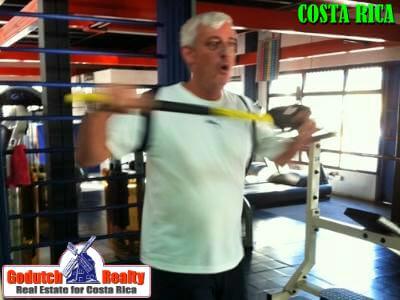 Pablo Herrera
Every fitness center has personal trainers available on request. Dany and I use the services of the best personal trainer in Costa Rica though: Pablo Herrera.
Pablo is from Alajuela and not only Liguista but also a very capable personal trainer. And he is very personable. You have to be if you want to seriously train both Dany and me at the same time.
You can get fit with Pablo. He has been in charge of putting me back into shape for the last 9 months. Everybody tells me I look better. I also feel better and that's what really matters. You can hire Pablo to attend your own fitness center or he can go to your house. Thanks, Pablo for getting me back into shape.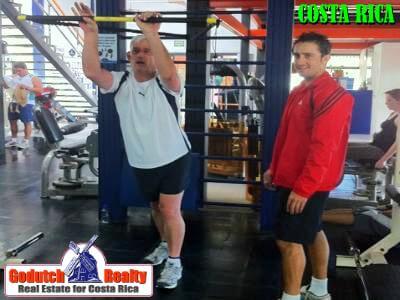 Ask Pablo to use the TRX Suspension Trainer which is the stick with an elastic string that I am using in the photo. You can call Pablo on his cellphone 8326-7973 or email pabloherrera08@gmail.com
---
If you like this blog, subscribe to my newsletter by clicking the banner below.

I DO want to remind our readers that we appreciate any referrals you can send us. Also, please remember the GoDutch Realty agents when you talk about your home in Costa Rica, we appreciate it.