Estimated Reading Time: 5 Minutes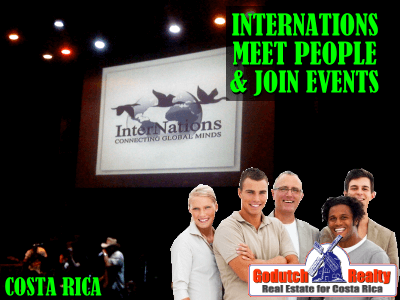 Nobody Stands Alone is one of InterNations' slogans and the expat community in Costa Rica is no exception.
Costa Rica has well-established expat communities in many of its towns and cities. For instance, as an InterNations member, you are able to connect with fellow expatriates and share the wonderful experiences that come with living in a foreign part of the world.
What's an expat?
The dictionary may define an expatriate as simply "a person who lives outside their native country" but we at InterNations see expats as so much more! An expat is someone brave and adventurous. Someone, who has dared to leave the safe and easy confines of their natural environment and, instead of just venturing out into the world, has made the planet his or her home!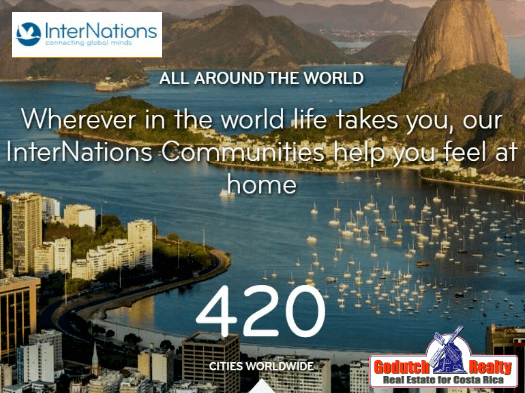 What is InterNations?
InterNations is the largest online and offline network of expatriates in the world. The factors that make it unique are
Exclusive membership criteria,
Events and Activities in more than 390 Communities around the world,
and local Volunteer Programs.
What does InterNations do in Costa Rica?
Events
Official InterNations Events are always unique and exclusive. InterNations aims to have at least one official Event per Local Community per month. They allow members to
strengthen their virtual friendships with their InterNations contacts
get to know new people in a foreign environment
engage in some low-key business networking
exchange tips and advice
and, above all, socialize and have fun.
Communities that have reached a stable number of attendees per Event organize their monthly get-togethers as ticketed events, i.e. there is an admission fee. Albatross Members enjoy free or reduced entry.
Some examples of recent events in San Jose include the InterNations San Jose June Gathering at Sueño Español Restaurant and the InterNations San Jose Get-Together at Alta Hotel. In addition, all event participants received a welcome drink upon arrival, and the Sueño Español Restaurant Event even included some Tapas!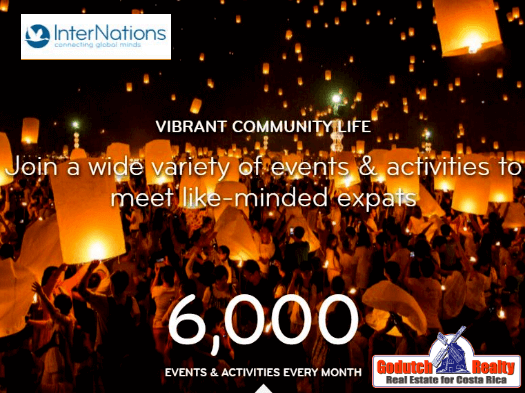 Activities
An Activity is a get-together of an Activity Group, organized around a specific interest or hobby. Activities have smaller attendance numbers than Events, and thus make it easier to get to know people with shared interests. InterNations does not charge admission for Activities: therefore, all participants cover their own Activity-related expenses. Albatross Members can attend as many activities as they like. Basic Members have one or two free trials before they need to upgrade in order to join.
An Activity Group is a group within any given Local Community based on a specific topic, hobby, or interest. It is headed by one or several voluntary Group Consuls, who organize regular Activities for the group members. Only Albatross Members can join an Activity Group. However, it is possible for all members to create their own Activity Group in accordance with the Activity Guidelines. As no minimum number of group members is required, Activity Groups can vary in size.
Recent Activities in Costa Rica
Professional Networking meeting
The monthly InterNations San José Professional Networking meeting is a chance to meet other members of the business community. During the meeting, members share knowledge about important aspects of doing business in Costa Rica.
Mastermind Group meeting
The InterNations San José Digital Mastermind Group meeting is an open forum for people, from beginners to experts, interested in business and digital media.
Out & About Group
Various Activities of the InterNations San José "Out & About" Group, for instance, Bruce Callow at Jazz Café, Escazú; La Paz Waterfall Gardens Tour & Buffet Lunch; and Flying Crocodile – Flying and Beaches Tour.
How do I become a member?
Becoming an InterNations member is as easy as saying, "hola!" Just visit InterNations, fill in some basic details, and voilà!
In conclusion, to take advantage of everything InterNations has to offer, consider the premium Albatross membership; the Albatross is seen as a symbol of the expat as it is capable of traveling huge distances and regularly circles the globe.
---
If you like this blog, subscribe to my newsletter by clicking the banner below.

I DO want to remind our readers that we appreciate any referrals you can send us. Also, remember GoDutch Realty when talking about your home in Costa Rica to friends and family. We appreciate it.