Estimated Reading Time: 4 Minutes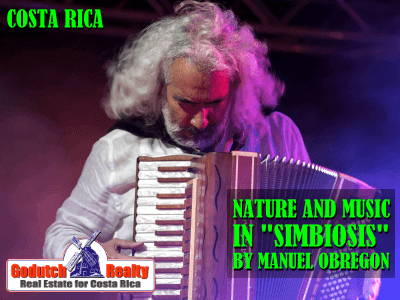 Talented musician Manuel Obregon is someone you'd want to check out.
Many of you might remember Catalina, who was my assistant for quite some time. When I hired Catalina, I didn't know that she is Manuel Obregon's sister.
Manuel is one of Costa Rica's most talented musicians and now Laura Chinchilla's government's Minister of Culture and Art. Manuel Obregón found a way to combine Costa Rican nature and Costa Rican music.
About 10 years ago, Cora and Marianela invited us to a piano concert by Costa Rican musician and composer Manuel Obregon. We were surprised by how good he is. If you are not really involved very much in Costa Rican cultural life, you don't realize that Costa Rica does have great musicians and artists. That's because they are not very well advertised.
The Costa Rican market is too small for most good artists to make a living here. So they leave for Mexico or the US and most never come back.
Simbiosis
Let's go straight to the issue. Simbiosis, a mix of piano, and rainforest is just one of his CDs worth listening to.
Manuel left the country, educated himself, and came back.  Manuel was born in 1961 in a political family. His father was an ambassador for Costa Rica in many countries. This gave Manuel the opportunity to live in other places. He started his Jazz and Flamenco studies with Jean Luc Vallet in Barcelona, Spain in 1982 and later at the Swiss Jazz School of Bern, Switzerland. At the same time, he was a cultural attaché for the Costa Rican government in Europe.
Manuel Obregón is the author of more than 20 "solo" CDs and the same amount as an invited musician and composer. He has concentrated his creativity over the past 10 years on Central American music and most in relation to the natural environment.
The Papaya Band
In January 2002 Manuel accomplished to get 14 musicians of 7 central American countries together and with this starting the first regional band "La Orquesta de la Papaya" which means "The Papaya Band"). Through Papaya music, they found a great way of making Central American music known to the general public.
In 2000, Manuel received the "best concert of the year" award in New Orleans and was declared an International Honorary citizen of New Orleans.
Obregón has also accomplished a synthesis between academic formation, tradition, and experimentation. We can trace this through the different music groups he has formed:
Afro Cosmos,
Cahuita,
El Cuarteto Esporádico de Jazz,
Gospel Caribe,
La Orquesta de la Papaya
and, in my opinion, the biggest hit "Malpaís".
Amazing Grace
Manuel Obregon and Masterkey
You can buy Manuel Obregón's music in most music stores in Costa Rica and also on Amazon.com. Check the YouTube videos I am including in this blog. You will see that is an incredible artist and has been able to combine the fabulous nature we have in Costa Rica with even more fabulous music.
Check it out, I'm sure you'll love it and make the guy some money by buying his music.
---
If you like this blog, subscribe to my newsletter by clicking the banner below.

I want to remind our readers that we appreciate any referrals you can send us. Also, remember GoDutch Realty when talking about your home in Costa Rica to friends and family. We appreciate it.