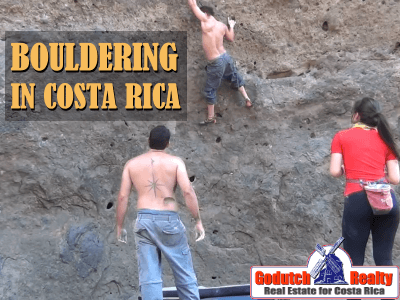 Have you ever heard of bouldering? Well, they do bouldering in Providencia de Dota. Where the heck is that? It's a beautiful little town tucked away in the Los Santos mountains, near the National Park Los Quetzales.
Most of you have never heard of El Valle de Los Santos. Well, we use to have a really good Costa Rica real estate agent there, Tony Warren. Tony has lived in the Los Santos area for some years now. He was the one who told me about bouldering.
Last time I saw the word, I probably didn't have time to call Tony. But now I needed to ask him what the word bouldering is in Spanish. Well, today you're going to add another word to your Spanish vocabulary as it is Escalada.
What is bouldering
Since I didn't really know what bouldering was all about, I checked on Wikipedia which gives a long explanation but in short: Bouldering is a style of rock climbing undertaken without a rope and normally limited to very short climbs over a crash pad (called a bouldering mat) so that a fall will not result in serious injury.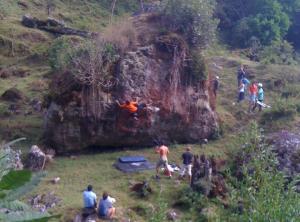 Participants practice bouldering typically on large natural boulders or artificial boulders in gyms and outdoor urban areas. However, another way to practice is at the base of larger rock faces, or even on buildings or public architecture.
Unfortunately, we missed the Providencia Annual Bouldering Festival 2012, but check out this video here. It shows very well how beautiful the area of Providencia is.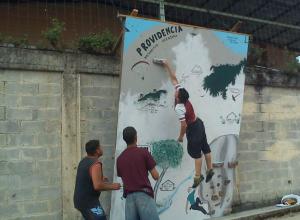 Providencia
The community of Providencia, which with the efforts of its people has seen the small village grow from practically nothing into a natural paradise, surrounded by mountains, crystal clear rivers, now introduces mountain sports to Costarican society.
It's important to know that Providencia is located just over one hour drive from San Jose and about 45 minutes from Providencia, just like most of the Los Santos Valley is a place away from the usual commercial developments, utilities and other elements of modern life where the locals have managed to maintain an appropriate balance between the modern, useful and necessary, including communication with the modern world and the tranquility of living in a safe, clean, peaceful and ecologically balanced environment.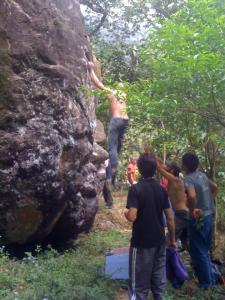 The values that now seem absent in many communities across the country are still maintaining there as the locals still have that spirit of cooperation and progress you only find in rural communities.
Other entertainment
The beauty of this area is that if you're not really interested in bouldering, you can still make this a nice trip for the weekend. There are many places around to stay overnight. Many farms have fruit orchards full with apples and plums, and you can also fish your own tilapia and rent little cabins in the woods.   There is always something to do in de Los Santos Valley for those who get bored, as the horse parade. You should, of course, stop somewhere to get a great cup of that world famous Los Santos coffee.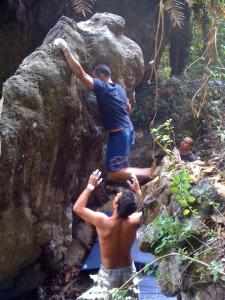 Tony now retired from Costa Rica real estate. He went back to farming. So if you want to buy or sell property in Dota, I'm sorry. We can't assist anymore.
---
If you like this blog, connect with me on Google+ or subscribe to my newsletter by clicking the banner below.

I DO want to remind our readers that we appreciate any referrals you can send us. Also, please remember the GoDutch Realty agents when you talk about your home in Costa Rica, we appreciate it.