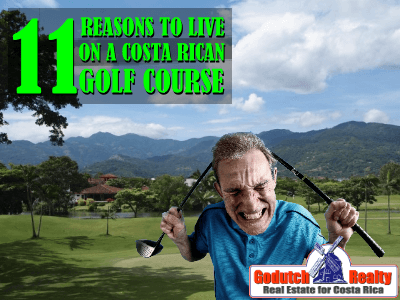 I'm not a golf player myself, but would I live on a Costa Rican golf course? From a real estate investor's point of view, yes, I would. I'm also quite sure my wife would love a Costa Rican golf course as her landscaped backyard.
Studies show that only 30% of the residents of a golf course development actually claim to play golf. Even non-golfers can benefit by enjoying the views and amenities offered by a well-planned golf community. On the other hand, many golf courses are losing money now.
As you know, I'm addicted to what I do: write about and sell real estate. Therefore, I have no time to play golf. I played golf a couple of times when I was the marketing manager of two real estate developments in Jaco. Then I had lots of time on my hands as I'm not a surfer. I suck as a golf player. I can get the ball on the green quickly (I used to play hockey in my days), but once on the green, I find the hole is too small for me. But I do understand why lots of people just love to play golf.
Living on a Costa Rican golf course is not for everyone. First, you'll have to love living in Costa Rica. And second, you have to love living on a golf course.
You have no idea where to find a golf course in Costa Rica? That's easy, just read this FAQ and you're well informed quickly.
There are 11 reasons to live on a Costa Rican golf course. But you should also look at the pitfalls.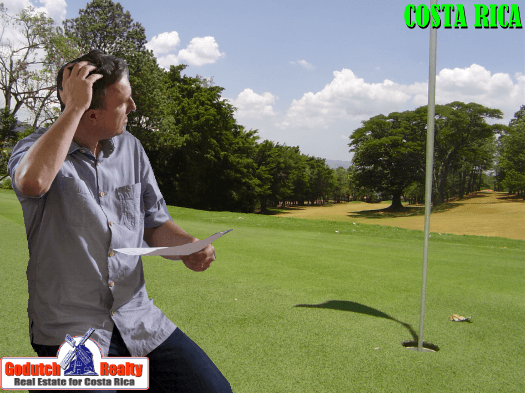 Why live on a golf course?
1. Value
In Costa Rica, a property doesn't always maintain value. Everything can happen to you. As an example, I live in a nice single-family home in a small neighborhood. Suddenly, they built a grocery store in the back of my house. A few years later, my other neighbor rented to an Italian restaurant. So now I have parking lots on two sides of my house. Of course, now the value of my house went down.
That will NEVER happen to you when you live on a Costa Rican golf course!
Most homes on a golf course are in the same price range, and property values are high. Therefore, you will never find a shack on the golf course.
2. Access
You can roll straight out of bed into your own golf cart and from there on to hole 1. You can crawl home after spending too much time on hole 19.
3. Well-manicured
Although gardener's salaries are still affordable in Costa Rica, you'll have a unique backyard with rolling fairways and well-maintained landscaping.
4. Nature
For sure, you'll see the most incredible trees while playing. Be ready to also meet iguanas, birds, howler monkeys, and even the occasional snake on the course.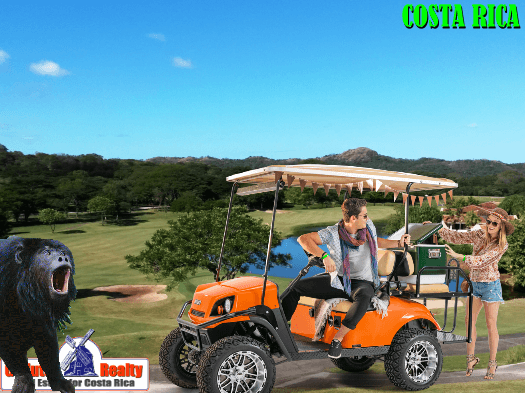 5. Bylaws
Your family and your investment will be protected by the community's bylaws.
6. Health
Even if you're not playing, you can walk, jog or run safely throughout the community
7. Socialize
You'll be able to socialize with people of your own social level at your convenience.
8. Other amenities
Sometimes, golf communities have other amenities than just a golf course:
a)       Clubhouse
b)      Pro-shop
d)       Restaurant
e)      Meeting rooms
f)      Spa
g)       Tennis
8)      Swimming pool
i)      Fitness center
9. Discounts
Most golf communities have nice discounts on membership or tee-fees for residents.
10. Traffic
You don't need to fight traffic to get to the golf course. You can save multiple hours and have no need to fill up the gas tank just to go hit balls. When you get tired and want to quit mid-way through the round, just drive right up to your backyard and you are home.
11. Security
Not all golf communities are gated communities. When they are, 24-7 security is an additional advantage. In that case, since there are so many homes in the community, the HOA fees are usually quite low because there are a lot of property owners in that community.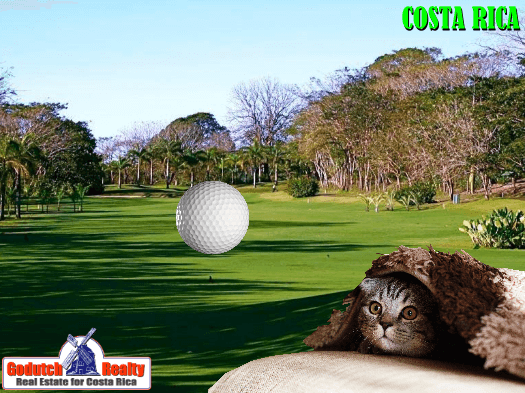 Pitfalls
Let's not forget about the disadvantages that you can have when you live on a golf course in Costa Rica:
a)       Broken windows as a result of golf balls.
b)      Some golfers can make more noise than you want.
c)       Loss of privacy.
d)      A failed golf course, but in Costa Rica, they have all been successful and built out.
e)      Pesticides and fertilizer runoff. The large volumes of water used for irrigation, are harmful to the environment, although most courses use rainwater.
Looking for country-wide listings on a Costa Rican golf course, check the golf listings out here.
For golf homes in the Central Valley, check here.
We'd love to assist you in your golf property purchase, contact us now.
The grammar of the Spanish version of this blog was checked and corrected by Wagner Freer of Spanish School for Residents and Expats. We strongly recommend this language school as your best choice to learn Spanish, click here to contact them. 

---
If you like this blog, subscribe to my newsletter by clicking the banner below.

I DO want to remind our readers that we appreciate any referrals you can send us. Also, when talking about your home in Costa Rica, please remember the GoDutch Realty agents. We appreciate it.