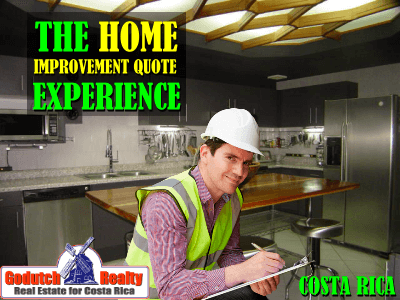 It's time to tell you about the home improvement quote. We passed the point of no return on our purchase of House #3. The decision could be responsibly taken after a favorable home inspection report.
We decided to get serious about getting a formal home improvement quote from the architect and contractor who had visited the property earlier. They gave us an informal quotation on our original list of improvement projects. We sat down and inserted more specific details about what we wanted. Then we added a few more projects that we needed to do while construction workers would be on the premises.
Once again, it took a bit of time to convince the contractor and architect to invest even more time on a formal home improvement quote. I give lots of credit to agent Brooke Bishop, for making our case with these guys.
Here, I'm going to pass along some advice that has proven to be extremely helpful for us. My Spanish was somewhere between meager and non-existent during our house purchase process. Still, I thought it was very important to be able to send an email. Or to be able to express myself with Spanish-speakers.
Bilingual Version
So, I wrote down everything as simply, but specifically as I could in Word. Then I copied each description into "Spanishdict" on the Internet. Spanishdict does free translations and provides three translators of your phrase, sentence, or paragraph. I picked the one I thought did the best job of translating my entry. Then I copied it back into my Word file.
That way, I had Spanish and an English version of everything need each thought, request, or project to get a home improvement quote with one language above the other. Spanishdict is not perfect and does not take into account the many words and meanings that are unique to Costa Rica. However, it does a better than adequate job of getting your point across.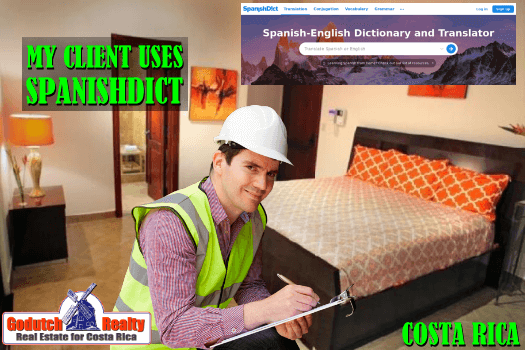 Construction Words
I also started a list of "construction words and terms". It was probably a good idea to use that to communicate with the construction crew during our projects. I never found the time to memorize the words and terms. But the act of finding and familiarizing myself with the terms proved to be a valuable exercise.
I put the formal request for a quotation together. Then I passed it on to Brooke Bishop, for her feedback. Brooke was married to a Tico and her Spanish is quite good. I made a couple of edits recommended by Brooke first. Then I passed it over to our architect/contractor team along with a copy of our house's architectural drawings. Now, we just needed to sit back and wait until they were ready to get together to give us our home improvement quote.
New Prices
After a usual couple of weeks wasted and missed deadlines, we finally met at the architect's office. We were to receive and go over the formal quotation. Brooke set it up the meeting and attended to act as a translator and mediator.
Everything went fine until we finally got to the cost estimates. All of the projects previously quoted had been increased by exactly ten percent across the board. None of the requirements or descriptions had changed from the first informal home improvement quote.  All the new projects were, we felt, outrageously out of line.
I looked at my wife's stunned face and whispered in her ear "we have been 'gringoed."' The sum total of the repairs, and improvements exceeded by $42,000 what we were paying for House #3 and its acre of land.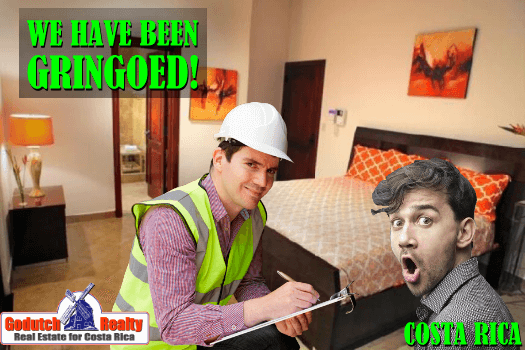 A new Quote
At first, I thought, we had failed to express our desires and define our project instructions accurately. But it became clear that they realized we were a couple of gringos and had become greedy. We discussed the elements of their home improvement quote. Suggestions were made about how we could change some of the building materials and make other modifications to get the price down.
In the end, we thanked them for their effort and told them that we were going to have to look for other quotes. We did encourage them to consider sharpening their pencils and working up a new bid.
No matter where in the world you reside, you never know what you'll get. That contractor came highly recommended, did beautiful work and we wanted to use him. I think, teamed with this particular architect, he was influenced to go along with an inflated bid.
Start Over
The bottom line for us was having to start over in the bidding process. We should also look for other qualified local builders. We asked Brooke to help again. She came up with a big builder located in our future community. Our other GoDutch realtor, Isa Jones had her husband recommend approaching another builder. This one would maybe willing to make the daily 35-minute drive in each direction from his community to ours to make a bid.
At about this point in time, our escrow closed and we were faced with owning a house badly in need of repair and no contractor lined up to execute them. In my next blog, I'll spend a minute discussing the actual sale process, closing, and our attempts at initiating a home improvement quote from another builder.
The Author
The author of this blog, Ticonuevo, is a US expat who moved to Costa Rica. He and his wife and used the services of GoDutch Realty to purchase a property in Costa Rica. In his blogs, Ticonuevo describes his own experiences of taking the step of moving to Costa Rica and getting a new life started.
---
If you like this blog, subscribe to my newsletter by clicking the banner below.

I DO want to remind our readers that we appreciate any referrals you can send us. Also, please remember the GoDutch Realty agents when you talk about your home in Costa Rica, we appreciate it.