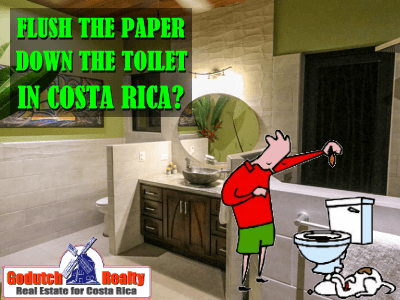 Not allowed to flush the paper down the toilet? How is that?
Once in a while, people who visit me in my office, ask if they can use the restroom. Some, who have been staying in an older hotel or Bed & Breakfast or live in a rural location, open the door of my restroom, peek in and ask "can I flush the paper down the toilet"?
For an outsider, that is a very weird question. For an old Costa Rica hand like me, it's one of those things that gives me a chance to show off that my bathroom is built to the latest standards of decency.
If you read on, you will understand why this weird or even shocking question is being asked after a peek into the bathroom.
When I moved to Costa Rica, quite a while ago, I wondered why everyone had a paper basket next to the toilet. At the time, pedal flip waste baskets didn't exist. So everyone had a regular open waste paper basket in the bathroom with a plastic supermarket shopping bag in it (see picture below).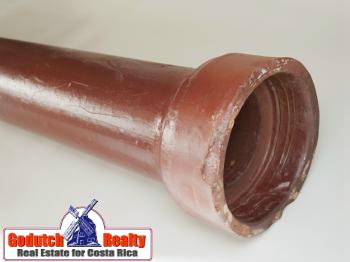 It takes a while to get used to this tradition. For sure you learn how to empty the basket a couple of times a day.  To understand the need for the waste paper basket you need to learn a bit about the sewage system in Costa Rica.
Before condominiums existed in Costa Rica, every home had its own septic tank in the yard. Condominiums have a wastewater treatment plant and septic system installed. Homes constructed before 1975 had mostly clay pipes connecting the toilets to the septic tank.  Toilet paper would get easily stuck in those pipes, even though Durman started to import PVC pipes in 1963.  Toilet paper, in those days, would not dissolve as easily as it does now. But I wouldn't run the risk flushing it down the toilet in such an older home if I were you.
You will still find homes in the older areas of Costa Rica, like downtown areas of the cities. Quite a few farmhouses in rural areas also still have those clay pipes and an old septic system. If you live in one, you don't want to be calling a plumber every week. So make sure you have one of those modern stainless steel auto sensor waste bins.
If you live in a modern house as I do, you will have PVC pipes leading to your septic system. Therefore, you don't need to bother with the waste bin and you can just flush the paper down the toilet.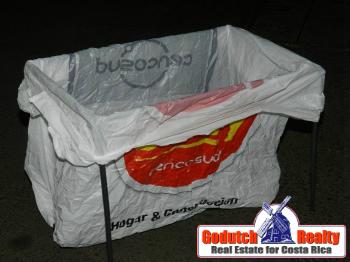 More about bathrooms
And let me throw in a Spanish lesson while we're talking about toilets. If you would like to use the correct words for the restroom in Costa Rica, you have two choices:
El baño (el banyo) means bathroom. This is used when asking for the restroom or powder room if you are in someone's home.
El servicio sanitario means sanitary services. This is used when you ask for a restroom in a commercial location like a store, a restaurant, a mall or at the airport. Although you will be perfectly understood if you use the word baño.
So if you purchase a Costa Rica house for sale, make sure you ask your realtor for the age of the house. An expert real estate agent in Costa Rica will be able to tell. Ask the home inspector if the house was built before 1975, and if the sewage pipes are PVC or clay. That way you can just flush the paper down the toilet with no worries.
When you are a guest in a home or a B & B where there is a sign in the bathroom that says "por favor no tire el papel higienico en el inodoro", please don't.
Buying or renting a house in Costa Rica? Then contact the experts!
---
If you like this blog, connect with me on Google+ or subscribe to my newsletter by clicking the banner below.

I DO want to remind our readers that we appreciate any referrals you can send us. Also, when talking about your home in Costa Rica, please remember the GoDutch Realty agents. We appreciate it.