Estimated Reading Time: 5 Minutes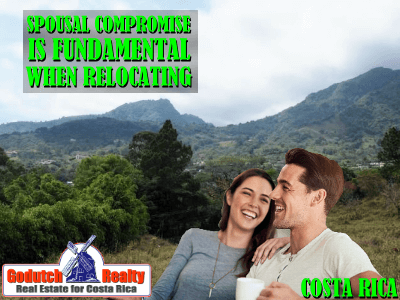 How important is the spousal compromise when moving to Costa Rica? My purpose in this blog is to show that there will be surprises and unknowns harbored by all parties when making the decision to move.
The success of your move to Costa Rica will be measured by how well you have openly addressed all of the inner details and emotions involved. It's incumbent upon you, your partner, and others that are part of your decision to come clean and discuss concerns and desires. Therefore, a spousal compromise is fundamental to a successful relocation.
Upon our return from our due diligence trip to Costa Rica, my wife and I agreed to remain silent for a few days. We decided to not make any decisions or show independent inclinations we may have formed to each other.
Cooling-Off Phase 1
I recommend a "phase 1 cooling-off period", This period will allow time for the euphoria of your dream vacation to wear off first. Then you can discuss what could easily be the biggest decision of a lifetime.
Later that week, my wife and I had a long talk. We discussed three important topics:
Our impressions of the country,
The favorite communities,
Our trip in general.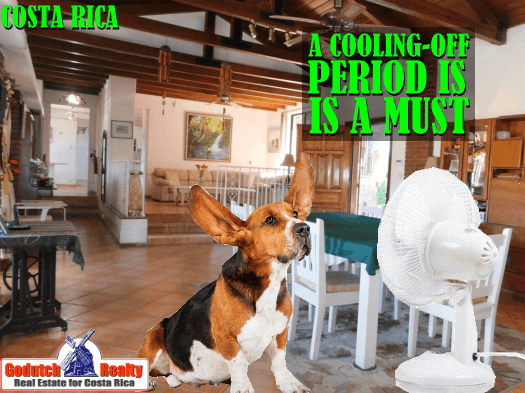 Too Young
During this conversation, my wife reminded me that we were still too young to retire. We'd need to have some business or avocation to keep us busy. We agreed that we thought we could make a fun and rewarding retirement home in Costa Rica. And we set a goal of one year to be moved to Costa Rica. Our first spousal compromise was reached.
B & B
I quickly discovered "retirement" for my wife included an idea that I thought had died long ago. This idea was operating a small bed and breakfast inn. To be honest, in fact, I had vetoed that Bed & Breakfast idea before.  Now, I ran out of vetoes, so I agreed to focus our relocation efforts on finding a residence that could become a B & B.
In reality, a B & B fit both our interests and skills. It also offered us the opportunity to close part of the year and travel. This has always been an important item on our retirement to-do list. So, it seems we had agreed on our second spousal compromise.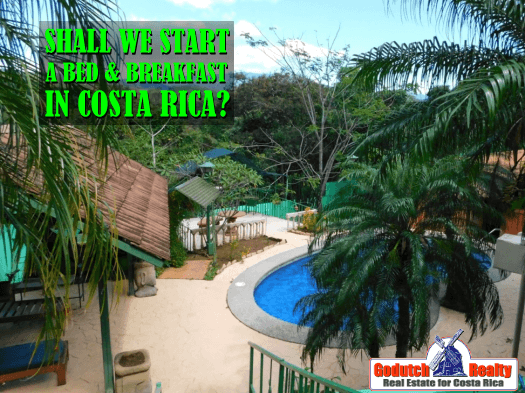 Cooling-Off Phase 2
The month progressed at home after making our decision to retire in Costa Rica. We agreed to keep our big decision to ourselves for a while until we worked through more details. This was our "phase 2 cooling-off period." It gave both of us one more chance to have a change of heart.
We felt there was no need to break the news to family and friends until we felt 100% comfortable with our decision. I mean, what if we were to hit an insurmountable obstacle? Or if one of us had a sudden case of cold feet.
Embarrassment
Keep in mind, there is the potential of a terrible embarrassment of announcing a decision to vacate one's family and friends and then crying wolf and canceling your plans. Telling everyone in your community about your plans can have very long-term negative consequences.
In our case, it had very little to do with our discontent with our community and a number of truly dear friends. It had a great deal more to do with weather and financial considerations as we advanced into our golden years. And again, there was a spousal compromise on this decision.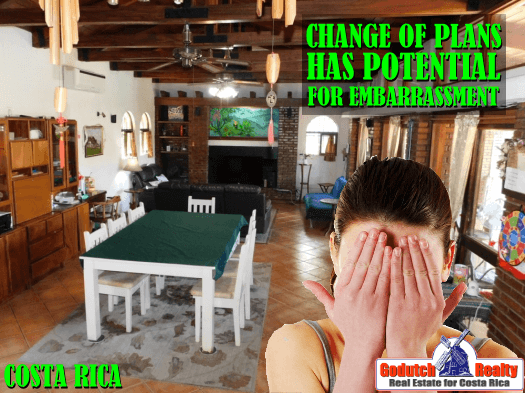 The Details
There were plenty of details to work through. Who could know what obstacles we uncovered that might cause us to abort our "big adventure."
Ahead lay the attempt to sell our business, our house, some of our belongings, then store the rest. We also had to cancel or change all of our accounts. The next step would be to get the required documents ready for immigration, make travel plans for ourselves and our dog. Once that was don't we'd need to make arrangements to find a place to live in Costa Rica.
Behind any stone or around any corner was a potentially large barrier or even a deal killer. All of those, we agreed, was our last necessary spousal compromise before making the move.
The Author
The author of this blog, Ticonuevo, is a US expat who moved to Costa Rica. He and his wife used the services of GoDutch Realty to purchase a property in Costa Rica. In his blogs, Ticonuevo describes his own experiences of taking the step of moving to Costa Rica and getting a new life started.
---
If you like this blog, subscribe to my newsletter by clicking the banner below.

I DO want to remind our readers that we appreciate any referrals you can send us. Also, please remember the GoDutch Realty agents when you talk about your home in Costa Rica, we appreciate it.