Estimated Reading Time: 7 Minutes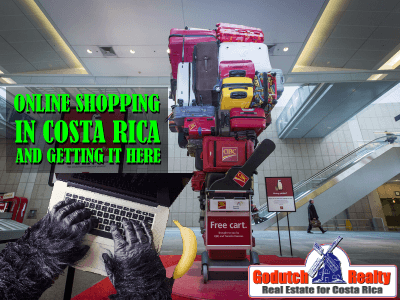 Online shopping is now becoming a routine for most. My past three blogs discussed shopping in Costa Rica.
Let me now spend a bit of time on online shopping. About what happens when you decide to give up looking for that special something.
Or if you believe it is easier and probably cheaper to buy it in the U.S. or Canada.
I am told most Costa Rican newbies do what we have been doing. That means coming fully loaded with items we feel we just can't live without on the flight when moving here full time.
Eventually, I suspect, we'll
Get tired of the hassle,
Find an affordable source here,
Learn to do without,
Go Costa Rican and improvise.
Now, online shopping is the solution. I'm sure that there are a plethora of items that you either,
Forgot,
Underestimated your need,
Discovered you can't find or afford to purchase here.
If you plan to buy items from back home, I'll suggest a couple of things to remember.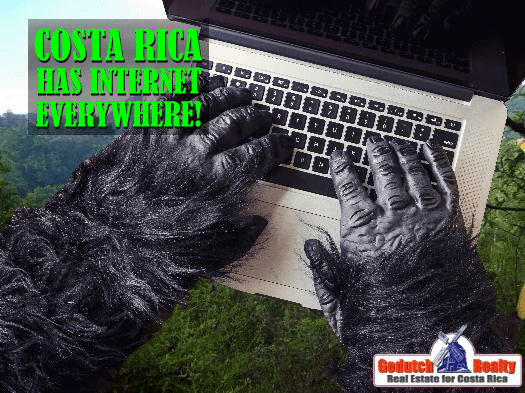 Online orders
U.S. online Internet merchants have been burned plenty by online fraud and they are very wary. Online purchases originating from a foreign country throw up a red flag. They can be terminated before completed or before they are shipped once a non-U.S. server is recognized. Even if it is a U.S. address. Yes, it still happens.
VPN
Subscribe to a VPN or Virtual Private Network for about $100 a year. Log on through one of your VPN's U.S.-based servers and that problem is avoided. Now you're ready to do all the online shopping you want.
Not having a U.S. contact phone number also throws up a red flag. And, ordering through an 800 number is not practical without a U.S. number. Or try following up when there is an ordering problem, that's a fun task!
VoIP
These problems are resolved using a Voip phone system -Voice over Internet Protocol – such as Babelforce, Vonage, NetTalk, or Magic Jack. They also give you virtually unlimited phone service to any number in the U.S. or Canada. You'll have the added benefit of keeping close contact with family and friends at all times.
Depending on your service and plan they can include free or inexpensive calls to most of Europe and other parts of the world. We use Vonage because we had trouble getting support from others. We don't with Vonage, but I know folks here that are very happy using one of the other services. Some are cheaper than Vonage.
Shipping Address
When you do online shopping, it's important to have your shipping address match your billing address. More red flags go up when it does not. We used a mail and freight forwarding service for a few months. But the address was recognized as a P.O. box. This caused lots of problems for us.
Now, we have an arrangement with our daughter and use her as our billing and mailing address. We order items and they are shipped to her (our) address. Then we pick them up when we visit her. Most of our ordering problems have vanished.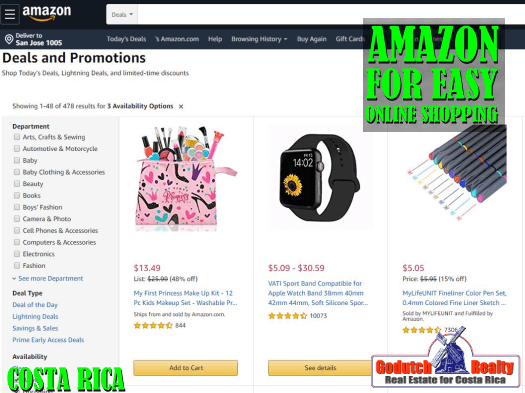 Amazon
Another way to minimize online shopping and shipping problems (and costs) is to subscribe to an online buyer's service like Amazon Prime. It costs $60/yr. and has paid us back many times over.
Extra Bags
If you are at an elite level with one of the airlines, you may be allowed an extra bag for you on the same ticket purchase or "miles" exchange. Take full advantage of the privilege. It's a great benefit.
If you do not have airline elite status, it's still probably the cheapest and safest method pound for pound (or kilo for kilo) to get your goodies to Costa Rica. Even if you have to pay $40 per extra bag. Just pack a suitcase inside of another empty suitcase with empty check-ins. Use your carry on when you leave Costa Rica. You'll have quite a bit of room to return with your purchases.
Remember there is a weight limit (usually 50 lbs 23 kg) and a size limit (usually 62 total inches—length + width + depth) on check-in baggage. There are sizable penalties for going over the maximum size or weight.  Oversize check-ins on American Airlines are $200 each.
Friends & Family
There is also the unofficial courier service. When our friends and acquaintances in Costa Rica head home to the States, we arrange for them to pick up items we have had delivered to their destination. In return when we go up north, we will pick up items, take items to deliver to their friends or relatives or mail packages for them once we're in the States. That way, you can do your online shopping without having to worry about delivery.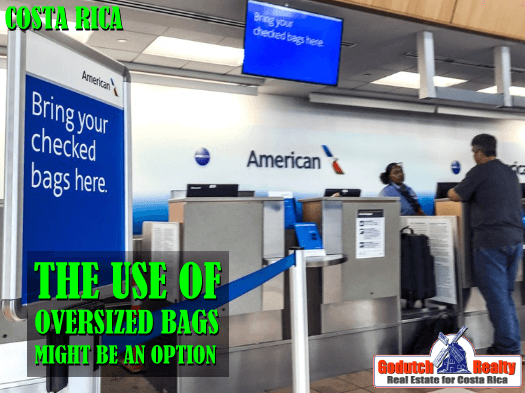 Shipping Services
There are also door-to-door cargo shipping services. They will bring things from the States into Costa Rica. You have your order shipped to their U.S. address first. Then they will ship it here by air or sea. It is relatively expensive, I would recommend using such companies for larger and/or expensive items or groups of items.
Once a week
There is one service that ships exclusively from their "warehouse" in New Jersey into Costa Rica by sea. They have a container that leaves about once a week. Their shipment is door-to-door. The fee includes customs duty.
For example, I bought seven appliances and related items from a discount warehouse on the West Coast. The discount center's price included free shipping to anywhere in the U.S.
I had $2,700 worth of new merchandise shipped to New Jersey and it was delivered to our door in about four weeks. The cost of shipping, handling, customs duties, and delivery was $790. However, the $2,700 of discounted merchandise would have easily cost more than double if we could have purchased the exact items here.
This company is Mario Barquero. Their info can be found on their website and they have English speakers to help you.
The Author
The author of this blog, Ticonuevo, is a US expat who moved to Costa Rica. He and his wife used the services of GoDutch Realty to purchase a property in Costa Rica. In his blogs, Ticonuevo describes his own experiences of taking the step of moving to Costa Rica and getting a new life started.       
---
If you like this blog, subscribe to my newsletter by clicking the banner below.

I DO want to remind our readers that we appreciate any referrals you can send us. Also, please remember the GoDutch Realty agents when you talk about your home in Costa Rica, we appreciate it.