Estimated Reading Time: 6 Minutes
Our arrival was exciting, just like our decision of moving to Costa Rica.
Now that we are here living in Costa Rica, I'm throwing my chronological approach out the window. I'm trying to cover topics that may have value for you. Hopefully, they're interesting subjects and observations that perhaps will put a smile on your face. Or, they may help you better understand living in Costa Rica. You could start by also reading my blog about getting around and checkin' out Costa Rica.
I want to mention something that may grab your immediate attention after your arrival. Please keep this a secret. if this gets back to Costa Rican customs, I may ruin it for everyone that follows.
Skycaps
Accept the offer for help from one of the Costa Rican "Skycaps" hanging around the airport baggage carousel. Engage them in friendly conversation. Be congenial. They will grab all of your bags as you identify them and throw them on their cart. Then they'll escort you through customs outside the terminal entrance.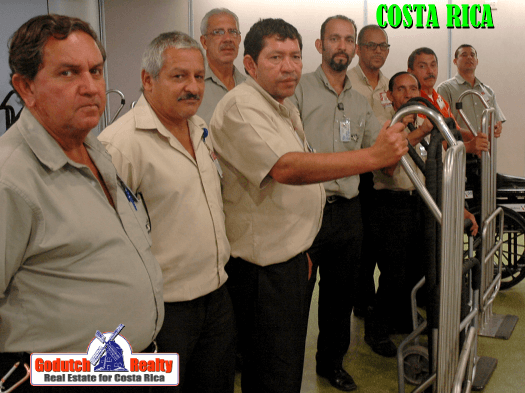 Chances are excellent that if you use one, your bags will be sent through the x-ray scanner. But you won't be stopped for custom inspection.
Thank them and tip them well for their ability to get you through customs undeterred. It is well worth a nice gratuity.
You are allowed to bring in $500 of new personal items per person on each visit. But you don't want to get stuck taking the time trying to prove that you haven't exceeded the valuation limit.
Pre-arrange for your transport
If you're like us, your arrival will be with a load of six months' worth of necessities stuffed into your baggage. Then you are probably going to need a vehicle that exceeds the ability of the standard Hyundai Accent red taxi.  Especially if you also have a dog to pick up.
If you get a reference and have a chance to have pre-arranged transport, it will be less stressful. And probably a bit less expensive than using an airport taxi. However, there are plenty of orange taxi vans available as you exit the airport.
You can exchange U.S. dollars into colones in Arrivals at the airport. Most taxis accept payment in U.S. dollars. Stop by an ATM as soon as you are settled and pick up some colones.
Arranging for your stay
Your arrival in Costa Rica is the smoothest if you have reserved pre-arranged accommodations. We arranged to rent a one-bedroom casita in Atenas. We had stayed there for a week during our working vacation the year prior. Our arrangement was to stay for a month or so until we found more permanent housing.
There are a number of online rental agencies, many of them part of or affiliated with a great Costa Rican real estate firm.
Sometimes availability varies with the season and the area. But often these days none of that matters. There were few long-term available rentals in the area of our rental casita. We wound up with a six-month lease in a rental at our arrival.
If at arrival you haven't already mastered the Spanish language, you may feel most comfortable in an area of English-speaking residents at first.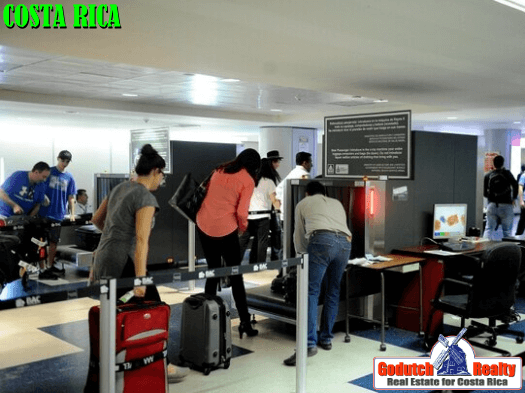 Settling near the English-speaking populace
If, after arrival, you don't know where to stay, there are some great options. In the Central Valley, there are several areas that have attracted more foreigners.
Escazu
Escazu, the Beverly Hills of Costa Rica, and nearby Santa Ana plus their neighboring communities are a bit pricier. But they sport upscale malls, shops, trendy eateries. As well as many recognizable North American franchises.
There are some bargains, but much of the housing in this area is fairly pricey. However, you can probably find more North-American-style condos and apartments here than anywhere else in the Central Valley. And, they are close to some of the best private medical facilities in the country.
Grecia
Grecia is in the northwestern foothills of the Central Valley. In its recent past, it was voted the cleanest city in Central America. There is a fair amount of gringos living in and above it.
Heredia
The same can be said of the college town of Heredia. There seems to be a tendency for ex-pats here to head for the hills and the splendid views above Central Valley cities and towns.
Atenas
Recently, Atenas, in the western hills of the Central Valley) and only an hour from the Pacific coast has been the focus of much ex-pat interest.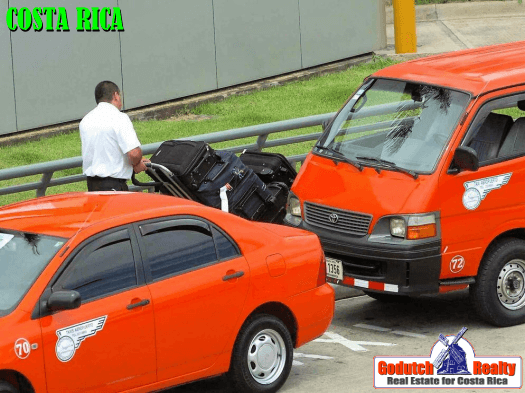 Seasonal
There are many other cities and towns on the Pacific and Caribbean Coasts, in the forests and jungles, that have some level of an ex-pat population. However, in many places, these populations tend to be seasonal and transient in nature. Still true—much of the ex-pat populace live in Costa Rica for only part of the year. That doesn't mean that ex-pats hole up in their casas – houses and don't get involved. There are English-speaking social groups in almost every area.
But time and again, we have also seen numerous ex-pat efforts geared at becoming involved, finding a need, and targeted at helping their communities.
The Author
The author of this blog, Ticonuevo, is a US expat who moved to Costa Rica. He and his wife used the services of GoDutch Realty to purchase a property in Costa Rica. In his blogs, Ticonuevo describes his own experiences of taking the step of moving to Costa Rica and getting a new life started.