Estimated Reading Time: 4 Minutes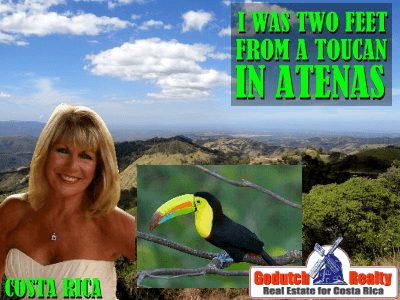 Carole and her husband Don live in Atenas and met a toucan for the first time in their life. They are baby boomers and retired in Atenas, Roca Verde to be exact.
It's a pity that Carole's blog doesn't exist anymore. But you can order her book "Flying High with Carole Jean" online. Here is Carole's story about the toucan in her community.
I am not a birder. When I think of "birders", the image of that lady on the Bob Cummings Show comes to mind. She wore a funny hat, actually. I think it was a pith helmet and maybe had a whistle around her neck. She was kind of geeky, which today is considered cool. Yeah, that's it: geeky is the new cool.
I was taking my morning walk through the steep hills of Roca Verde. With me were my two visiting dogs, Turner, the Brazilian Mastiff, and Hootch, the white American Standford (pitbull).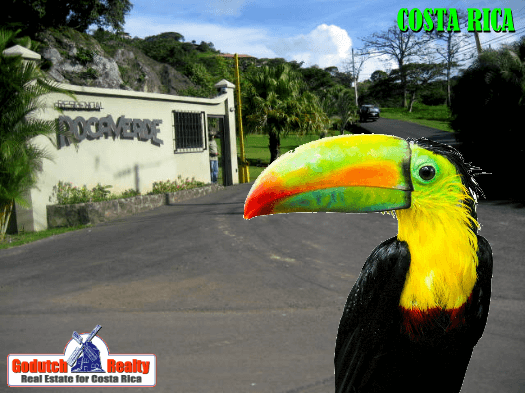 I stopped at the top of the steepest hill, which is nicknamed "The Matterhorn", to catch my breath. I'm surprised at how quiet my two canine companions get after a trek up The Matterhorn.
The three of us stood under a tree, panting. I felt the energy to my left and turned my head in that direction. Two feet from my shoulder was a toucan. He sat still for a moment. While the dogs remained quiet focused on breathing, I gasped which broke the spell and the bird took off.
Other birds
I've seen flocks of green parrots squawking their way over hill and dale in the neighborhood, ten scarlet macaws in the tree in my front yard in Esterillos, and a beautiful Motmot with his long skinny swinging tail while walking in Nosara. But I've never been two feet from a toucan in the wild; well it's a gated community, not all that wild. It makes me want to get myself a birder hat and walk around with a color chart of the native species.
No Photo
You just never know when one of Mother Nature's creatures knocks on your door. And no, I did not take the photo of the toucan; I borrowed it from stock by Peter Boyer in Atenas. The only photo I was able to snap was the one that shall remain in my memory and the feeling of peace and joy it brought me. Look around. Maybe there will be a surprise on your shoulder when you least expect it!
Author
Carole Connolly-Shaw is an expat who moved to Atenas from Santa Cruz, California. She was a fervent blogger when she lived in Atenas. Then Carole became famous after publishing "Flying High with Carole Jean". We invited Carole to write a couple of blogs for us and she happily accepted. Thanks, Carole!
---
If you like this blog, subscribe to my newsletter by clicking the banner below.

I DO want to remind our readers that we appreciate any referrals you can send us. Also, remember GoDutch Realty when talking about your home in Costa Rica to friends and family. We appreciate it.